Ladies in blue: Top 5 most iconic blue dresses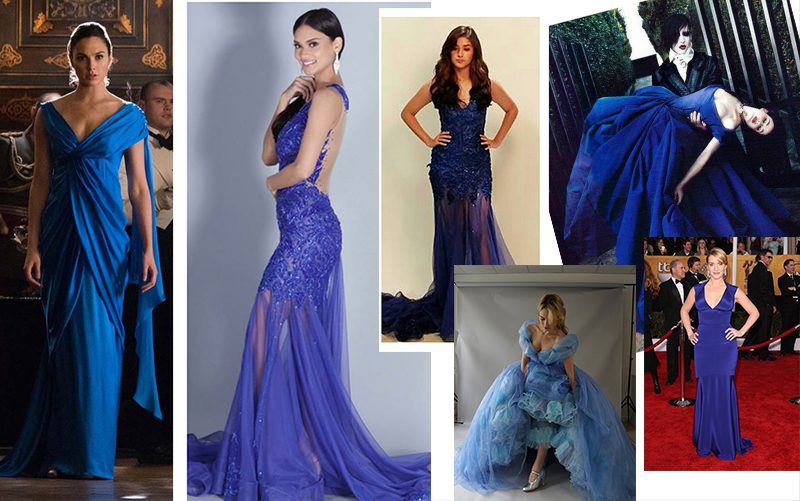 Whether fair and blonde like Kate Winslet or with dark skin and hair like Rihanna, blue is a versatile color that flatters everyone, which is why it is the traditional color of jeans.
Blue, according to history books, did not exist during the ancient Greeks' time. It was only invented around 6,000 years ago, and was so hard and expensive to produce that only royalty could wear it for centuries in Europe and Middle East.
When the Catholic Church began color-coding saints in 431 A.D., it assigned blue to the Virgin Mary. As such, the color has come to signify trustworthiness and innocence. The color has also been a popular police and military uniform as it represents trust.
In the entertainment world, blue has been a favored by some of today's biggest personalities as it starkly contrasts against the red carpet. Here are five most unforgettable five blue dresses in movies, TV and real life.
1. Pia Wurtzbach's blue Miss Universe 2015 dress
Blue became Miss Philippines 2015 Pia Wurtzbach's lucky color in the Miss Universe 2015. The Albert Andrada creation was arguably the first Filipino-designed piece ever worn by the Philippines' representative to the pageant.
According to Andrada, he made the front simple to highlight Pia's pretty face, while the back features an intricate beadwork inspired by the sun's rays, draping into a mermaid cut down the hemline to symbolize the Philippines' rich fish and marine life.
Pia's dress has since been widely copied by designers and celebrities alike. It has even been compared to that worn by Presidential daughter Sarah Duterte to her dad's inauguration. It has become so popular that there are now Pia dolls and teddy bears dressed in blue.
The following year, Pia passed on the Miss Universe crown in a voluminous blue ball gown designed by another Filipino designer, Michael Cinco. Cinco said he also made the gown blue as tribute to Andrada.
In Liza Soberano's "Maaalaala Mo Kaya" portrayal of Pia Wurtzbach shown on ABS-CBN last Saturday, one of the highlights was Liza's donning of Pia's blue gown.
Indeed, it has become so iconic that from "Pearl of the Orient," the blue dress is now called "The Pia Gown" and has become like a museum piece on display at Andrada's Makati boutique and a peg at pageants all over the globe.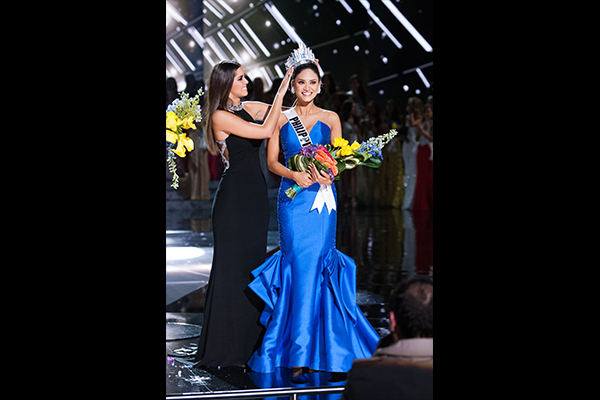 Pia Alonzo Wurtzbach, Miss Universe Philippines 2015 is crowned the winner at the conclusion of The 2015 MISS UNIVERSE® Telecast airing live from Planet Hollywood Resort & Casino on FOX Sunday, December 20. HO/The Miss Universe Organization/Darren Decker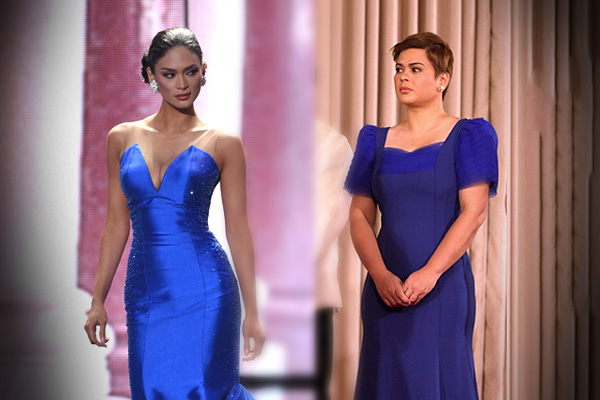 Inday Sara's gown resembles with Pia Wurtzbach's royal blue gown, which the beauty queen wore as she claimed the crown at last year's Miss Universe pageant. AP/Malacanang Photo Bureau, edited by Jonatahan Asuncion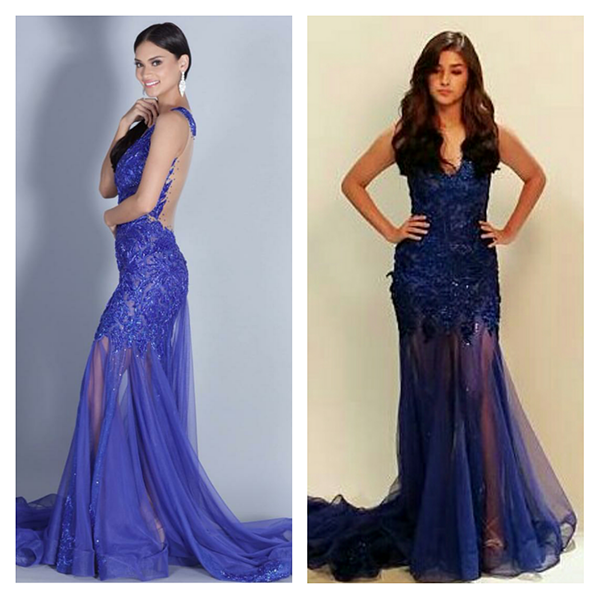 Twinning: Trending photo of Pia Wurtzbach and Liza Soberano in blue Albert Andrada gown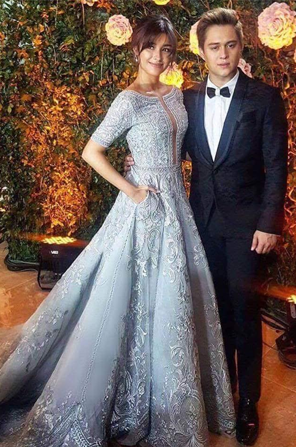 Last year, Liza Soberano won Best Dressed at the Star Magic Ball in a powder blue Michael Cinco creation. ABS-CBN/File
2. Gal Gadot's blue "Wonder Woman" ball gown
At the ball scene of "Wonder Woman" still showing in theaters worldwide, Gal Gadot can be seen in a draped blue garb that stuns in its simplicity and practicality. The dress might look common, but what makes it stand out is its ability to seamlessly incorporate Wonder Woman's God Killer sword into the design.
British costume designer Lindy Hemming explained in various interviews that she envisioned Wonder Woman's costumes as "modern" and "realistic."
Like the God Killer, Gal's blue gown is indeed such a killer that would pierce the memories of fashionistas worldwide.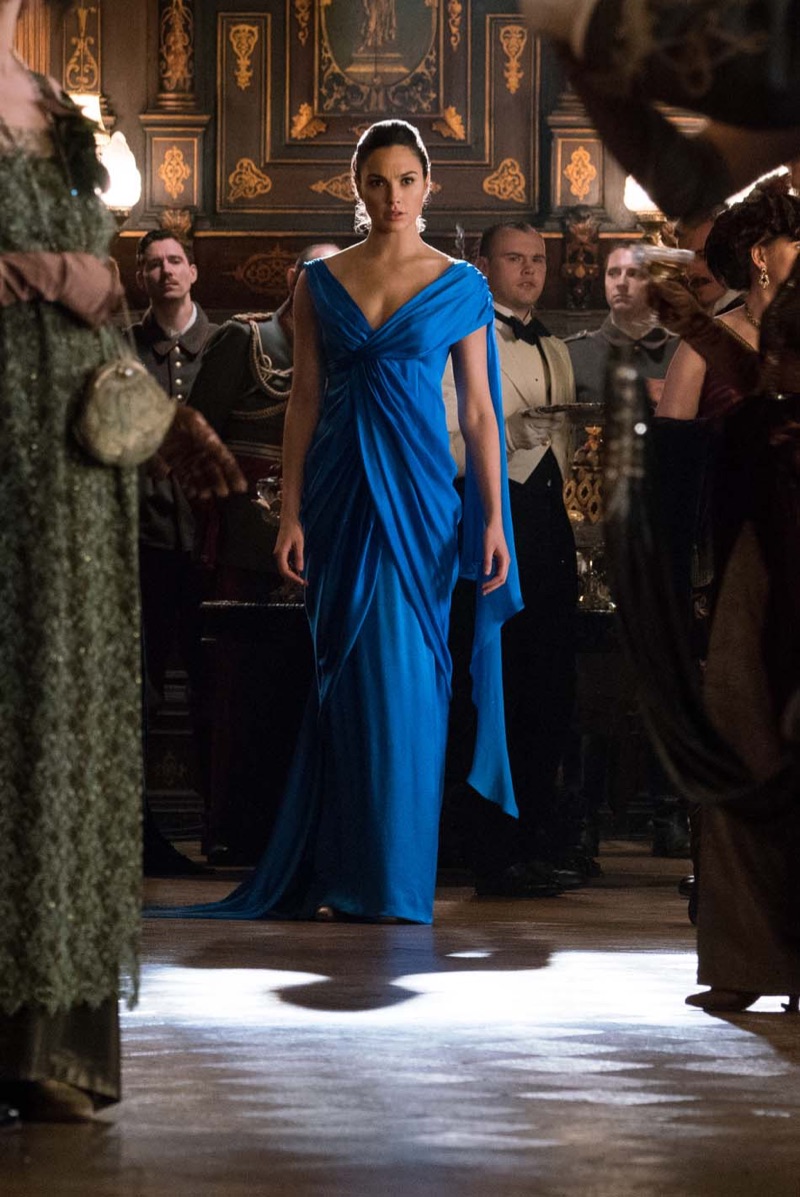 A scene from "Wonder Woman" (2017) by Warner Bros.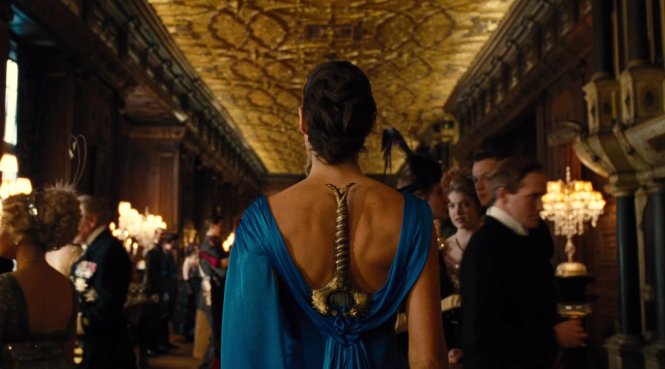 The God Killer ingeniously incorporated in Wonder Woman's blue dress.
3. Aishwarya Rai's baby blue Michael Cinco gown at the Cannes Film Festival 2017 red carpet
One of "the biggest, most dramatic looks" on the red carpet, according to fashion magazine Vogue, is Bollywood star Aishwarya Rai Bachchan's blue princess gown by Dubai-based Filipino fashion designer Michael Cinco.
Aastha Sharma, Bachchan's stylist, told Vogue India in an interview that he chose Cinco's piece when he saw the designer's collection last March. According to him, when Aishwarya tried the gown on, "it was a perfect match."
The gown is so big, it has its own room, said Sharma.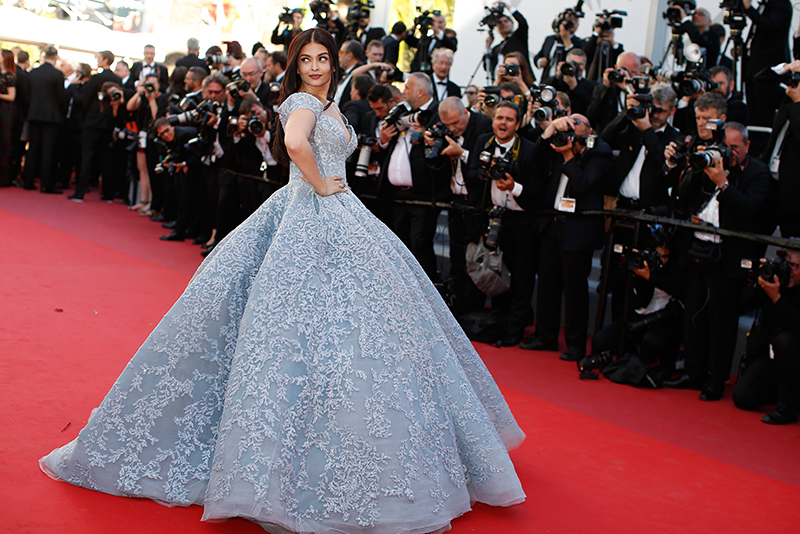 Model Aishwarya Rai poses for photographers upon arrival at the screening of the film Okja at the 70th international film festival, Cannes, southern France, Friday, May 19, 2017. Thibault Camus/AP
4. Lily James' "Cinderella" dress
It reportedly took costume maker Jane Law and her team of 20 around 4,000 hours to create eight varieties of the flouncy blue dress "Downtown Abbey" star Lily James wore to the ball to lure the attention of the prince.
According to Law, since "Cinderella" is a fairytale, she made sure the dress would be "very big" and would be "a showstopper" but at the same time, seem as light as air as Cinderella dances and runs away.
Law and her team achieved this by using different fabrics in varying blue shades, reinforced by a steel crinoline.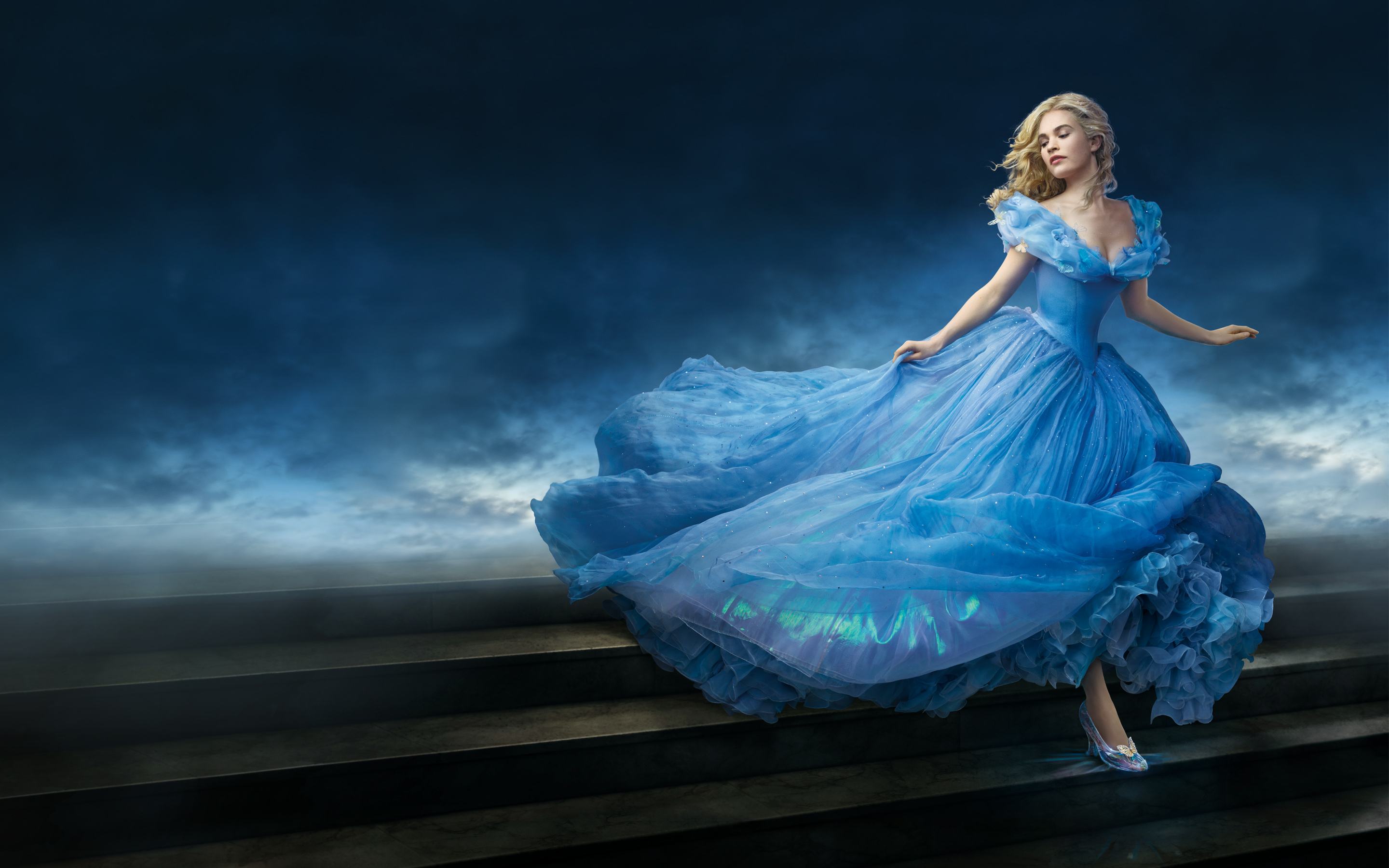 Lily James as Cinderella Disney/File
Lily James showing the intricacies and layers of her blue dress. Pinterest/Jane Law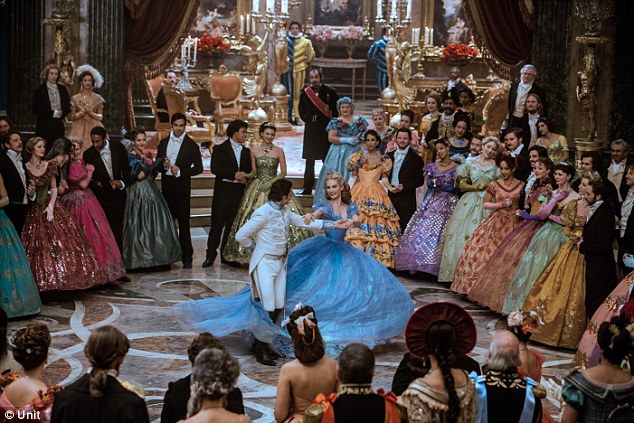 The ball scene in Cinderella showing how the protagonist attracts the prince with her blue dress. Pinterest/Unit
5. Dita Von Teese's Vivienne Westwood wedding dress
Pin-up model Dita Von Teese's marriage to goth rock star Marilyn Manson might have ended in divorce, but there is still such a thing as "forever" for her blue wedding dress designed by the British "Dame of Fashion," Vivienne Westwood. It is listed in Vogue's most memorable dresses of all time and was exhibited in Great Britain's Victoria and Albert Museum.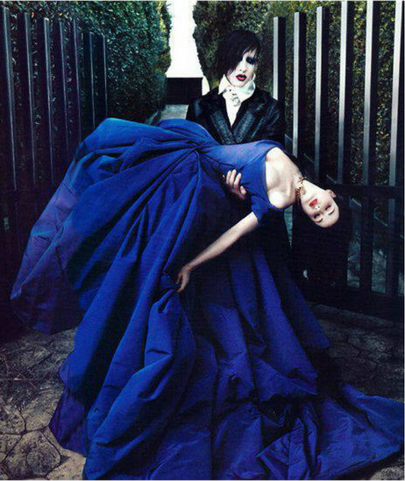 This 2005 photo, published in a Vogue book, shows rock star Marilyn Manson with Dita Von Teese in a blue-violet "Bird of Paradise" Vivienne Westwood wedding gown.