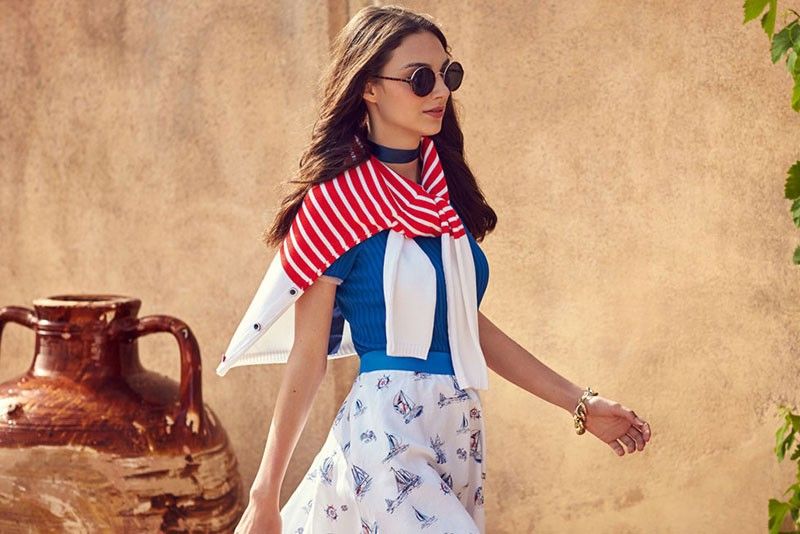 Italians do it better: Athleisure is luxurious with Paul & Shark
You don't go to Pantelleria, Italy, for the beaches. From the distance, it is a gleaming black mass amid the Strait of Sicily, second home to vacationers Giorgio Armani, Luca Zingaretti alias Inspector Montalbano, and the celluloid selves of Tilda Swinton and Ralph Fiennes in the 2015 thriller A Bigger Splash. Its varied coastlines are breathtaking, yes, but they are also starting points to greater adventures at sea, something Italian luxury sportswear brand Paul & Shark lives for. For spring/summer, it is where they draw inspiration.
Manila-based Italian entrepreneur Gabriele Boschi first came across the brand while yachting at Jesolo, a resort town near Venice. Everyone looked sharp; he had to ask what they were wearing. With wife Julie Jalandoni-Boschi, they franchised Paul & Shark. Their company Brand Gateway's portfolio includes niche luxury brands Linda Farrow eyewear, Rudy Project eyewear and accessories, Piquadro leather goods, Luminox watches, and Orca sportswear.
Paul & Shark (which stands for founder Paolo Dini and his friend-slash-nemesis, "the king of the ocean," as he calls it) is made 100 percent in Italy. It started as a knitting mill outside Milan in the early 20th century producing pieces for designer brands, including French maisons Dior and Balenciaga. Dini had the light-bulb moment of developing their own sportswear brand out of this expertise, coming up with sportswear and smart-casual clothing that kept its wearer protected from the elements.
Not all journeys are at sea. Some are 1,400 meters above sea level, to be exact. In January, their -40 Capsule Collection for fall/winter was put to the test by Italian explorer Alex Bellini when he climbed one of the biggest and most impenetrable glaciers in the world, the Vatnajökull.
On our side of the world, the brand is being steered by Frenchman Raymond de Malherbe, regional managing director for Asia-Pacific. While working for fashion lifestyle powerhouse Chanel, accessory-focused Italian brand Salvatore Ferragamo, and Italian coffee purveyor Illy, he was already wearing Paul & Shark. Aboard the Boschis' Little Mermaid, he reveals in what direction he is steering the brand.
THE PHILIPPINE STAR: The Paul & Shark man — who is he?
RAYMOND DE MALHERBE: We originally dressed landed, wealthy Italians who want comfortable and elegant clothes for leisure time. There are warm summers, cool winters, it rains quite a lot, so we do clothes that make everyone feel comfortable in every type of weather based on what we experience.
Aside from Manila, in Asia, Paul & Shark is also in Shanghai. Has the brand adjusted to the Asian market?
We do limited editions for certain markets. We have the Asian fit which is the Shark Fit, slim with shorter sleeves and torso. We came out with a lot of organic cotton shirts from Egypt this season, and buyers from China ordered a lot of our striped polo shirts and a lot of bright, loud colors.
We are not driven by one or the other market. We are driven by the Italian tradition and taste. We follow trends to a certain extent but we have our classics. We're mostly men's —making up 80 percent of the collection — and men don't like too much change. We can go to the same hairdresser, go back to the same type of food, the same type of restaurant. With clothes, we like classics but with new details. Paul & Shark is consistent. We present technical innovations.
What is your favorite piece from the brand?
The seersucker summer jacket I am wearing now is unique to the brand. Everything has been done with a sense of detail, which is what makes it luxurious. Others won't have this softness, which is achieved through diamond brushing, and it is fully lined. I wear it when I'm on the plane. People in Asia like to wear these jackets for offices where it is air-conditioned. When they step out, it wicks off humidity. In general, you feel more comfortable.
Paul & Shark is popularly known as a sportswear brand with a niche in yachting. What are your fondest memories at sea?
I'm more of a country guy; my family comes from Normandy and I would rather go horseback riding. When I go to the sea, it's for fishing mackerel and oysters in Brittany. The most successful item by Paul & Shark is a waterproof wool jersey, which I wear to Brittany where it is very cold. You need to be protected from the wind and water. Most of my memories of sea are Mediterranean, like Paul & Shark.
Spain has the culture of sea resorts, very close to Italy. I used to fish in Cadaques in Spain with my parents, for octopus sometimes. The best seafood is not where the fish is; it's where the money is. It is where Salvador Dali lived. Dali used to come out to sea every day around 5 o'clock to walk around with his ocelot and he would take his boat. Mind you, this was in the '60s. A German tourist rushed up to him and said, "Please, autograph?" He handed Dali an ink pen and Dali opened the pen, sending a line of ink splashes on the paper (laughs).
* * *
In the Philippines, Paul & Shark is distributed exclusively by Brand Gateway in the East Wing of Shangri-La Plaza Mall, Ortigas; City of Dreams, Pasay; and Boracay Shangri-La Resort, Aklan.