This 'super facial' treatment can give you immediate anti-aging results
MANILA, Philippines - Everyone wants a younger-looking skin. But can we really achieve the skin we have always wanted without going under the knife?
In an exclusive interview with Philstar.com, Dr. Hazel Calixto, a dermatologist and one of the medical directors of Centro Estetico Rejuvenation and Wellness, says it actually is possible.
Sixty to 70 percent of Filipino women are affected by dry, sensitive skin and a greater number is affected by acne scars and dark spots. With too many skin treatments surfacing in the market, investing in one or two that would fit your needs and give you immediate visible results is a daunting task.
Thus comes OxyGeneo, the newest skincare platform breakthrough by Pollogen, the Israel-based medical aesthetic developer and manufacturer of revolutionary beauty technologies.
What is OxyGeneo?
Similar to the glow that you get from natural hot springs, the treatment is the world's first system that significantly increases the nutrient-absorption capacity of the skin through three unique rejuvenation methods such as gentle skin exfoliation, effective nutrients infusion and natural skin oxygenation from within.
From the Israel-based medical aesthetic developer and manufacturer of revolutionary beauty technologies Pollogen, OxyGeneo™ is the newest facial service being offered by Centro Estetico Rejuvenation and Wellness.
"Oxygeneo is the latest innovative technology in the field of beauty and aesthetics. We call it the 3-in-1 super facial technology. It involves radio frequency (RF) technology combined with oxygeneo," Dr. Calixto said.
"What happens is that there is exfoliation, natural oxygenation and infusion of nutrients in our skin," she added.
2 types of formulation you can choose from
Oxygeneo has two formulation, depending on your skin need - the NeoRevive and NeoBright. NeoRevive smoothens the appearance of fine lines and wrinkles, and revitalizes dull complexion while the latter reduces skin igmentation and lighten dark spots.
"NeoRevive is more of anti-aging. As early as 30s pwede na," Dr. Calixto said when asked about at what age is NeoRevive recommended.
Calixto also said the NeoRevive is okay for those beyond their 60s, but supplemental treatment like botox is needed to make it more effective since the skin is already old.
Exfoliate. Infuse. Oxygenate
The treatment duration of the superfacial treatment is about 30 to 40 minutes. The process starts with cleansing, wherein the face is washed with hypoallergenic cleanser to remove the excess dirt in the face.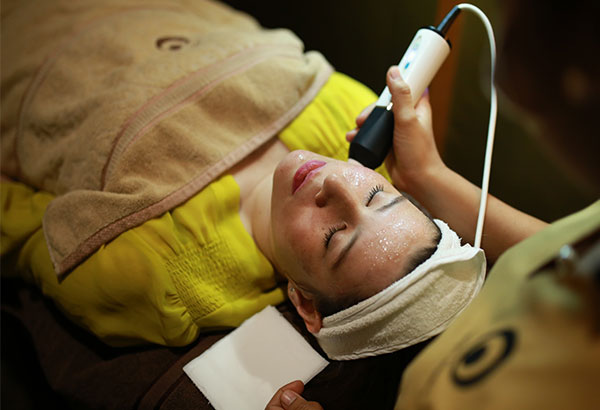 Oxygeneo is one of the newest aesthetic treatments being offered by Centro Estetico Rejuvenation and Wellness.
"The cleanser that we use in clinic is our own formulation and then kumuha kami ng lab to assist with it," Dr. Calixto explained.
After cleansing, the use of RF technology follows. The RF technology enables contouring and lifting of the skin. It removes the dead skin through gentle exfoliation as it prepares that skin to receive the active nutrients.
After exfoliation comes infusion of the nutrient-rich active gel through massaging onto the face the Capsugen that is attached to the applicator.
"Yun kasing Capsugen and yung nutrient rich gel kapag nagkaroon ng contact sa skin they create a chemical reaction. Yung chemical reaction na yun, nagproproduce ng carbon dioxide. Kapag rich yung carbon dioxide sa face nagkakaroon ng effects like gumaganda yung blood flow ng skin and nagkakaroon ng rich oxygenation," Dr. Calixto said, explaining how oxygenation works after infusing the nutrients.
Is it suitable for all skin types?
OxyGeneo treatments are suitable for all skin types – any age, ethnicity and pigmentation and even for those who have light scars.
What are the benefits of this treatment?
Benefits of the oxygeneo technology includes skin plumping and hydrating, increased collagen, reduces hyper-pigmentation, improved cell production, reduced appearance of lines and wrinkles and renewed youthful glow.
Will you get immediate results?
Yes. The treatment provides results by treating the skin at a deeper level, thus making the results visible at first try. "The best thing about OxyGeneo™ is that it is a relaxing yet effective facial that rejuvenates the skin from within. Through its massage-like skin exfoliation and natural oxygenation process where the vitamins are literally infused into the skin, clients will see and feel the stunning results immediately," said Calixto.
"Clients tell us their skin glows for several days, even weeks right after the first session," she added.
How often should you have the treatment?
To treat skin issues,once a week treatment is recommended.
"Ideally, once a week siya. We recommend to have it in six consecutive weeks and then after the six weeks kahit monthly nalang," Calixto said.

Where can you get the treatment?
You may get the treatment for as low as P5,000 in Centro Estetico, a 100% Filipino-owned clinic located in Timog Avenue, Quezon City.
Established in 2009, Centro Estetico Rejuvenation and Wellness combines sophisticated skin treatments with personalized pampering services guaranteed to produce amazingly visible results for every client. This is made possible by the center's state-of-the-art equipment, carefully selected products and medical protocols strictly adhered to by its highly-skilled and experienced staff of therapists and licensed doctors.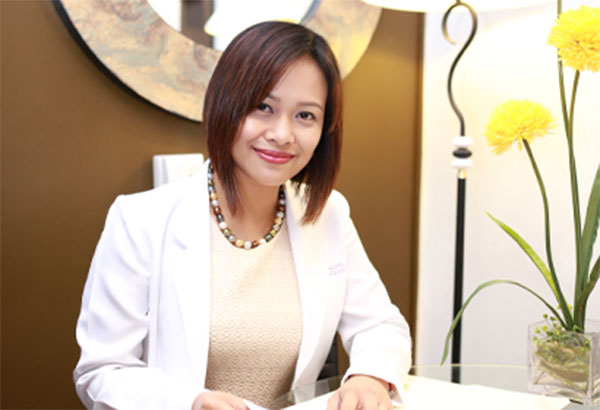 Centro Estetico Rejuvenation and Wellness Medical Director and COO Dr. Hazel Calixto