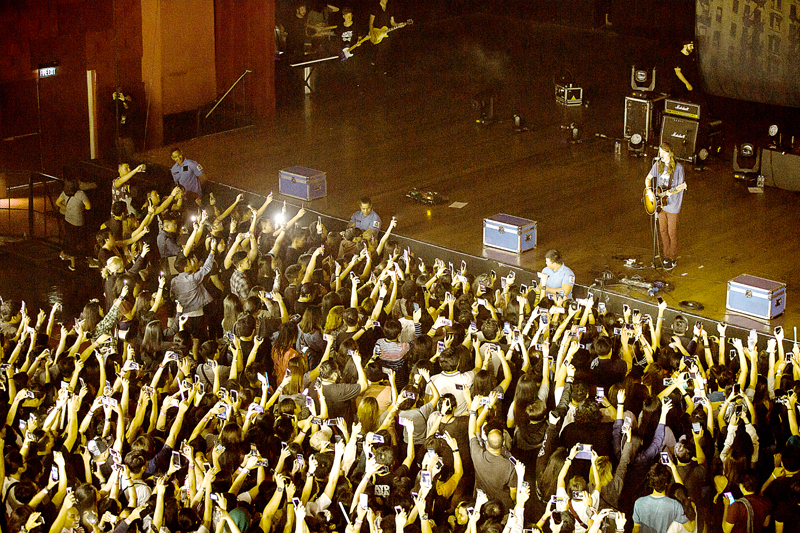 Mayday Parade performs before a sold-out crowd. Photos by Joel Garcia / Stephen Lavoie
Celebrating 10 years of 'A Lesson in Romantics'
(The Philippine Star) - December 2, 2017 - 4:00pm
MANILA, Philippines - After all these years, Mayday Parade still manages to surprise fans. Each time they come here, people feel like it's the best Manila show they've ever played and that their act couldn't possibly be outdone. Yet on their sixth Manila gig that took place last Oct. 7 at the KIA Theatre, fans found themselves more awestruck than ever, yet again.
The Manila stop of Mayday Parade's extensive 10th anniversary tour for their debut album, A Lesson in Romantics, was the only tour date in Asia. Released in 2007 under Fearless Records, A Lesson in Romantics remains a fan-favorite – an album most Mayday Parade fans grew up listening to, and one with anthems that have proven themselves timeless through these years.
Come show time, everybody present at the show could feel just how special every moment was, from the time the powerful riffs of opening song to the time they played the highly-emotional album-closer, and all the memorable bits in between.
To hear an album live in its entirety was an experience fans surely won't forget for a very long time. From start to finish, the band gave their Filipino fans a phenomenal experience. At many points throughout the night, one would almost feel KIA Theatre shaking as fans kept up with their incredible energy.
Mayday Parade Live in Manila: A Lesson in Romantics 10th Anniversary Tour was presented by SMART and PLDT in cooperation with PULP Live World, and brought to you by VON DUTCH with official residence at B Hotel Quezon City.