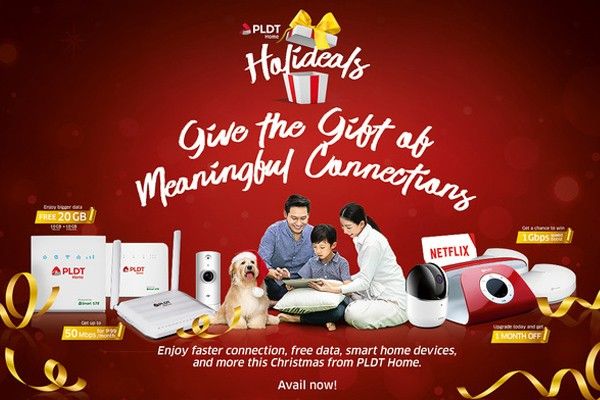 PLDT Home Holideals is available until December 31.
Photo Release
PLDT Home gives subscribers the gift of meaningful connections with Holideals
(Philstar.com) - December 23, 2020 - 2:35pm
MANILA, Philippines – The year 2020 has proven itself unlike any other. Despite the challenging landscape, leading digital services provider PLDT continues to provide meaningful connections this Christmas with the return of Holideals – PLDT Home's biggest holiday sale!
"Christmas remains the most important celebration for many Filipino families. Now more than ever, we need to uplift each other by staying connected and by celebrating this special season with our loved ones," says Butch Jimenez, senior vice president and head of Consumer Business-Home Group.
"PLDT Home gives the gift of meaningful connections to its customers through a seamless digital experience at home with our exciting Holideals offers," he added.
Holideals features big discounts and exclusive offers which are perfect home upgrades in this new normal.
Home holiday presents
New subscribers can enjoy waived installation and activation fees and no cash-out when they sign up for any PLDT Home Fibr Plan. Plus, they get a chance to be one of the 75 winners of a Smart Home bundle which includes free 1,000 Mbps of internet for one month and PLDT Home devices.
'Superspeed' deals
Existing PLDT Home Fibr subscribers, meanwhile, can enjoy up to 300 Mbps of internet at a discounted price. Until February 28, 2021, PLDT Home Fibr 1699 and 1899 subscribers need only to add P99 to their monthly subscription fees to upgrade to the next higher plan for an additional 50 Mbps.
Subscribers of Fibr Plans 2099, 2299, and 2399 can just add P149 to enjoy a speed boost of up to 100 Mbps. Customers of Fibr Plans 2899, 3099, and 3299 can likewise top-up P199 to get up to 150 Mbps. And finally, subscribers of Fibr Plans 4099 and 4299 can enjoy up to 300 Mbps speeds by just adding P249 to their monthly subscription package.
Holiday bonus data
For families looking for a budget-friendly internet connection, purchase a PLDT Home Wifi Prepaid device and enjoy 20GB free data (10GB more than regular offer). With this family-sized prepaid internet, families can enjoy a lag-free virtual reunion with their loved ones as it's powered by Smart LTE, the country's fastest mobile data network as awarded by Ookla.
PLDT Home is also donating P100 to PLDT-Smart Foundation for every purchase of a PLDT Home Wifi Prepaid device. Not only do you get to enjoy a seamless internet connection, but you also get to provide a Noche Buena package to less fortunate families.
As we celebrate a more profound Christmas this year, PLDT Home Holideals makes meaningful connections happen by bringing families and their loved ones together at home, and that is really what counts the most.
Holideals is available until December 31.
To learn more about the Holideals offers, visit www.pldthome.com/whatsnew.