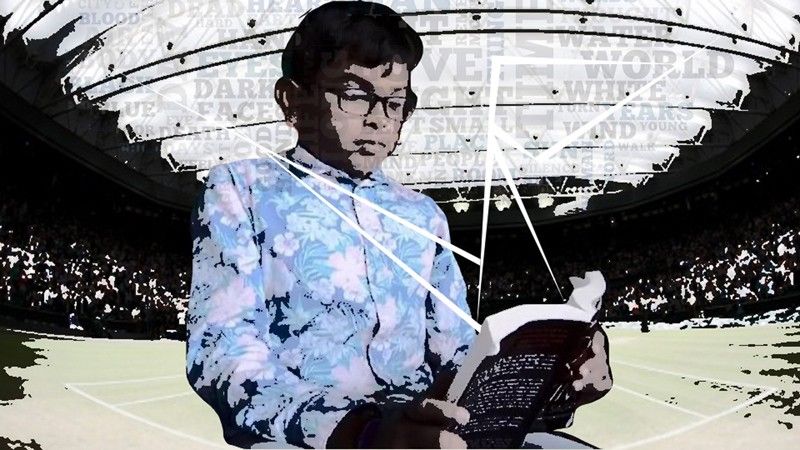 Thus quipped Vijay Amritraj, lead commentator for the Wimbledon semis match between Federer and Nadal.
Computer graphics by Igan D'bayan
Now is not the time to be reading. Put it down. Your dad got you a ticket."
Thus quipped Vijay Amritraj, lead commentator for the Wimbledon semis match between Federer and Nadal. As Federer was about to serve at 5-all in the first set, the camera caught a boy in the stands who wasn't watching at all, immersed as he was in a thick book.
The photo grab went viral in the next few days, with comments disputing one another long after the impact of the scintillating five-setter that fan favorite Roger Federer won to get him into the Finals against No. 1 seed Novak Djokovic.
A majority of the comments supported Vijay's instant reaction upon seeing the Indian boy reading a book while an important Wimbledon match was in progress. For those not as aged a tennis fan as I am, Amritraj, himself of Indian descent, was one of the triumvirate that formed the "ABC" of tennis in the 1970s, together with Bjorn Borg and Jimmy Connors.
After retirement, Vijay became "the face and voice to the Asian continent during Grand Slam tournaments — with his witty remarks as well as his closeness to the players (making him) a sought-after broadcaster."
Some of the comments were unduly harsh. One man huffed: "He should be walked out by security and receive a Wimbledon lifetime ban." Many others felt similarly cross over the oddity above Centre Court. After all, the demand for the semi-final contest was at an all-time high, with second-week tickets normally priced at £185 selling up to £7,200.
Others argued that even if the boy had been studying for an exam, then he shouldn't have yielded to his father's wish for company just to waste a ticket. But cooler heads accepted the vagaries of privilege, and urged others to let up on the poor boy with the damning book.
What the incident illustrated was the increasing evidence of a truly global village united at certain hours to indulge in memorable sporting events by way of television or Livestream coverage.
Here in Manila, us loyal Federer fans had to forego customary hours of sleeping patterns just to be in on the moment. For the heartbreaking Finals that historically laid claim to having been the longest at Wimbledon, as well as the first to go to a fifth-set tiebreak after getting to 12-all, it was bad enough to have to stay up to 3 a.m., without seeing the dreaded Novak display his champion's heart to escape two championship points, and go on to hoist the trophy next to the much older Roger with his consolation runner-up plate.
Oh, we'll still be hoping he gets his 21st major title sometime soon, even if that record will likely be eclipsed by the younger Rafa and even younger Novak.
The fascination for sports involves records gained and broken, rivalries that take a decade or more to resolve, and of course the drama of live competition, whether it features the elegance and finesse of tennis strokes or the brutishness of ponderous left hooks that suddenly end it all.
In fact, I like to envision a time, long after this present age of disruption has ended — and all the Trumps, Dutertes, Putins, Xi Jinpings, Kim Jong-uns, uncivilized Middle Eastern potentates and terrorists, African and Latin American throwbacks to faulty governance, have all been beamed up to space by an extraterrestrial power that will also establish peace and order in our planet. Then all we'll be doing in our spare time, even beyond that, is to listen to music, watch movies and travel videos, and catch all the sporting events we want, without having to worry about anything else.
Oh, and read books when the time is right, such as when we're not behind the wheel of a vehicle, engaged in conjugal exercises, or socializing over a meal with our cellphones already at hand.
The latest slew of sporting activities worldwide provokes such a distant fantasy as my submitted vision. Maybe within the century. E.T.s, come now!
That way, when we see how the USA Women's Football team steamrolls over all opposition and takes the FIFA trophy for the fourth time in eight tries, we can applaud captain Megan Rapinoe without having to hear her trade verbal jibes with the current White House pretender.
Over the past few weeks, we've been regaled with stirring triumphs in Lyon in France six hours away, as well as Simona Halek's upset over Serena Willams and Nadal's nth title repeat at Roland Garros in Paris, Brazil beating Argentina (with Messi) at the Copa America semis before its hometown finals win over Peru, and our Gilas Under-19 squad beating China at Heraklion, Greece.
And before those, locally, we saw the Red Lions pipping the Green Archers once again for the pre-season Fil-Oil Cup trophy, before winning the first few of its NCCA regular season games. We only occasionally took in professional women's volleyball, and the 2019 Chooks-to-Go Pilipinas 3x3 Patriot's Cup.
We only got to read up on how Ceres-Negros FC failed to reach the ASEAN Zonal Final with its aggregate loss to Hanoi FC. Meanwhile, we wait for the UAAP basketball showdown between defending champs Ateneo and likely challenger UP. And the PBA has become exciting with its newfound parity despite the frequent domination by San Miguel.
The NBA Summer League in Las Vegas, featuring mostly strangers, was so-so. But we keen for the exciting start of the NBA regular season with its superstar-duo parity. There was the Formula One British Grand Prix in Silverstone two Sundays ago. Never mind England surprisingly taking the 2019 Cricket World Cup Final over New Zealand. That's one game we'll never understand, so we'll take cliff diving any time.
Mighty Sports looks to be on its way to re-annexing the Jones Cup in Taiwan. Do we read a book while Pacquiao goes up against Thurman? Memories of Wimbledon 2019 remain as fresh as a thrill, inclusive of seeing David Becker as a spectator, the elegant Duchess of Cambridge putting in her hours at the Royal Box, while a jeans-clad Duchess of Sussex (Serena's close friend Meghan Markle) opting out of it in compliance with attire protocol.
Then there was a boy reading a book. But that's all right. Maybe he was just blitzing through a page or two during game breaks.