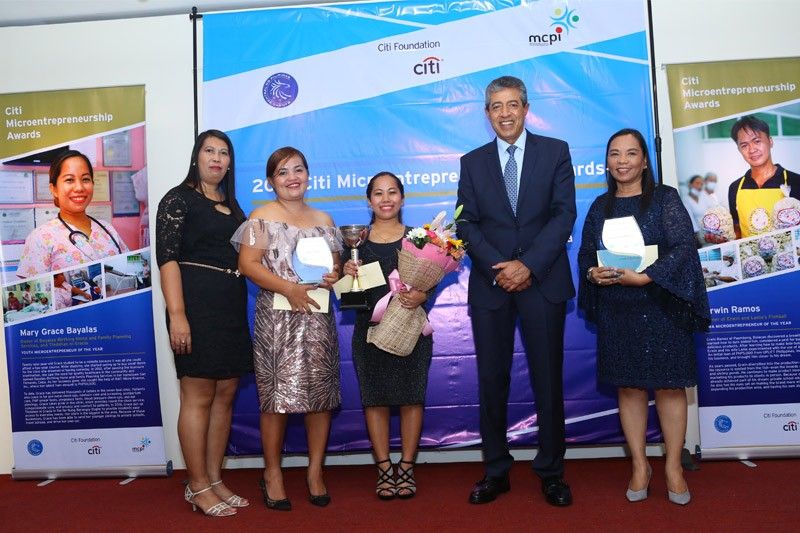 Fruit of her labor. Mary Grace Bayalas (middle) was recognized as the 16th CMA Youth Microentrepreneur of the Year at the Metropolitan Museum of Manila last December. Joining her in photo are (from left) Naomi Navacilla, district head for RAFI Micro-finance Inc. (RMF), Lafe Caño, Grace's account officer, Aftab Ahmed, chief executive officer for Citi Philippines, and Ma. Theresa Catipay, executive director for RMF.
Cebuana midwife's labor of love for her community
(Philstar.com) - March 20, 2019 - 12:01pm
CEBU, Philippines — Mary Grace Bayalas, Youth Microentrepreneur of the Year, found her life's purpose while achieving success in business at the same time.
In the face of poverty, a young girl from the barrio would not have a lot of options for finding a career, let alone a life purpose. But a bright-eyed, spritely lady named Mary Grace Bayalas from San Fernando, Cebu, refused to believe that. After studying to become a midwife, she set out to make a difference for the women in her community.
The birth of hope
Bayalas' inspiring tale of how she put up the Bayalas Birthing Home and Family Planning Services in her hometown is what made her the Youth Microentrepreneur of the Year at the 16th Citi Microentrepreneurship Awards (CMA).
The CMA is a signature initiative of the Citi Foundation aimed at generating economic opportunities for low-income people, including youth, around the globe. The awards program provides entrepreneurs with resources to strengthen their business, including access to networks, capital, tools and training; and enables individuals to create economic sustainability for themselves, their families, and their communities.
The CMA program highlights the combined efforts of the Bangko Sentral ng Pilipinas (BSP), Citi Philippines, and the Microfinance Council of the Philippines Inc. (MCPI) to strengthen microfinance and enterprise development, and financial inclusion in the country.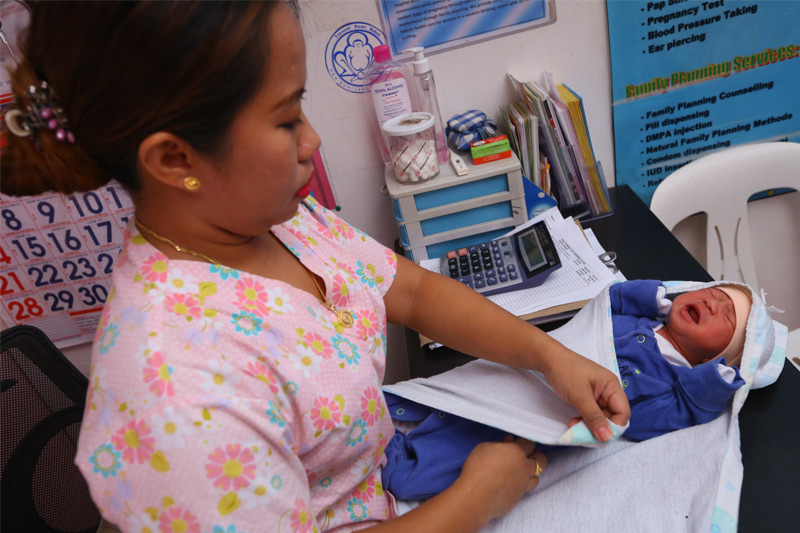 Mary Grace Bayalas estimates that she has delivered more than 2,000 babies to date. Despite her busy work schedule, she remains a very active member and volunteer of the Integrated Midwives Association of the Philippines Inc.-Cebu Midwife Clinic Inc., and of RAFI's Eduardo J. Aboitiz Cancer Center.
Dreaming big
Throughout the nine months a baby is carried in the mother's womb, he or she needs special care and attention like no other. Believing that proper prenatal care is every mother and baby's right, Bayalas was determined to offer this to the women in her hometown of San Fernando.
Even while she was struggling as a student, she would buy her own forceps and other birthing equipment, in the hopes of one day putting up her own birthing clinic. In San Fernando, which is more than 30 kilometers from Cebu City, women were still giving birth in their homes.
In 2012, after passing the board examinations, Bayalas decided to help address this gap by turning a small apartment into a clinic. She did everything from delivering babies to cleaning the facilities.
"I was only 22 when I started the clinic. When people found out I was the midwife, they would ask me if I was skilled and experienced enough. Not only was I young, I am also barely five foot tall," she exclaims.
It would take more than a year before her clinic would be accredited by the Philippine Health Insurance Corp., so Bayalas made use of this time to offer prenatal checkups free of charge. She knew it was important for mothers to save what little money they had to buy their vitamins.
Her endeavor, no matter how noble, was not without its share of intrigues. Some municipal health personnel tried to convince pregnant women to seek care only from the municipal birthing center, or else their babies would not be able to avail of free vaccination.
Bayalas talked to the municipal health officer and brought her concern to the provincial health office, emphasizing that it was a mother's right to choose where to receive healthcare.
To gain the trust of her community, she went to barangays to hold free seminars, prenatal checkups and counseling for mothers.
With the help of RAFI Micro-finance Inc. (RMF), Bayalas' clinic went from having two beds to seven. The clinic also offers family planning services, among many other services necessary for women, pregnant mothers, and their babies.
In addition, Bayalas is now able to finance her siblings' private school education, travel abroad, and drive around in her own car.
Sometime in 2016, Bayalas put up a sari-sari store Tindahan ni Gracia in far-flung Barangay Bugho to provide residents easy access to everyday needs. Her store is currently the biggest in the area.
Bayalas continues to face business challenges today, such as the impending requirement of the Department of Health (DOH) for the use of a DOH-accredited ambulance, which would mean increasing her operating cost.
Her other option would be partnering with the nearest facility that has a DOH-licensed ambulance and there is none in her area at the moment. Still, what keeps her going is the desire to bring much-needed healthcare to women and their babies.
An innate love for what she does is key to Bayalas' success. "Before you go into any business, you have to love what you are doing. Take it one step at a time. You don't have to be wealthy right away. In the first two years, you will see your loss and your gain. If you don't love what you are doing, you will not have a productive outcome," she says.
Microentrepreneurs in the spotlight
As CMA Youth Microentrepreneur of the Year, Bayalas received a cash prize of P100,000, as well as a laptop, life and health insurance coverage for one year, and access to grassroots entrepreneurship management and basic computer training at the Citi Microenterprise Development Center, another Citi Foundation program in partnership with Bayan Academy. Celebration in her hometown was also held to recognize her success.
Bayalas and eight other winners were chosen by a National Selection Committee, co-chaired by the late Nestor Espenilla Jr., governor then of the Bangko Sentral ng Pilipinas, and Aftab Ahmed, chief executive officer of Citi Philippines.
The committee members are: Jose Ma. A. Concepcion III, president and chief executive office of RFM Corporation, Teresita T. Sy-Coson, vice chairperson of SM Investments Corporation, Atty. Felipe L. Gozon, chairman and chief executive officer for GMA Network Inc., Hon. Ramon M. Lopez, secretary of the Department of Trade and Industry, Mary Ann M. Montemayor, representative for Mindanao Private Sector of the National MSME Development Council, Imelda M. Nicolas, president of the Samahan ng mga Pilipina para sa Reporma at Kaunlaran, Marixi Rufino-Prieto, former chair of the Philippine Daily Inquirer, Michael L. Tan, chancellor of the University of the Philippines Diliman, Orlando B. Vea, president of Voyager Innovations Inc., and Fernando Zobel de Ayala, president of Ayala Corporation.