Last December 7 at the Metropolitan Museum of Manila, Maria Elena Estadola (second from left) was presented the Regional Awardee for Luzon honors. With her in the photo are (from left): Cristina Maturana, business development services officer for PALMFSI, Sr. Adelia Oling, president and chief-executive officer for PALMFSI, and Fr. Jose Victor Lobrigo, chair for MCPI.
These three entrepreneurs faced failure before making it big
(Philstar.com) - March 13, 2019 - 2:27pm
MANILA, Philippines — A physical disability, a devastating typhoon, a painful return to poverty. These may seem insurmountable challenges, but not enough to destroy the spirit of these outstanding entrepreneurs: Maria Elena Estadola from Sorsogon, Rosario Amoroto from Eastern Samar, and Arnold Viado from South Cotabato, the new regional awardees during the Citi Microentrepreneurship Awards (CMA).
Inspiring stories
The CMA, now on its 16th year, recognizes outstanding microentrepreneurs across the Philippines. It is a signature initiative of the Citi Foundation aimed at generating economic opportunities for low-income people—including youth—around the globe. The awards program provides entrepreneurs with resources to strengthen their business, including access to networks, capital, tools and training. It enables individuals to create economic sustainability for themselves, their families and their communities.
The CMA program highlights the combined efforts of the Bangko Sentral ng Pilipinas (BSP), Citi Philippines, and the Microfinance Council of the Philippines Inc. (MCPI) to strengthen microfinance and enterprise development and financial inclusion in the country.
Turning challenges into opportunity
Despite enjoying a good life in Manila as a civil engineer, Elena was forced to make the difficult decision of returning to her hometown Gubat, Sorsogon—even if it meant living in poverty. Her family had been using coconut twigs (nito) to create handicrafts for a long time, but Elena saw that so much more could be done. This gave birth to her handicraft business, New Life Crafts - Infinito, in 2015.
For additional capital, she turned to People's Alternative Livelihood Microfinance Foundation of Sorsogon Inc. (PALMFSI). Always in search of ways to add value to her products, Elena uses nito vines to make plates, lampshades, baskets, tissue holders, among others. These products have found their way into hotels, fast-food chains, malls, pasalubong centers, as well as local and international trade fairs. She is also an indirect exporter to Italy and Japan.
Elena believes, "When a problem comes, be thankful because that means an opportunity will come next. When you overcome your problem, you will enjoy greater success."
Weathering the storm
Rosario started her calamansi processing business in 2004 after seeing farmers in Homonhon island struggle with an oversupply of the local citrus fruit. After undergoing training with the Department of Science and Technology, Rosario was able to build her own production facility.
Alas, her hometown Guiuan, Eastern Samar was one of those hit hardest by the super typhoon in 2013. It nearly decimated her production area. But Rosario kept going, as calamansi farmers depended on her business for survival. A loan from CARD Bank Inc. would prove to be instrumental in resurrecting her business, Island's Best Foods.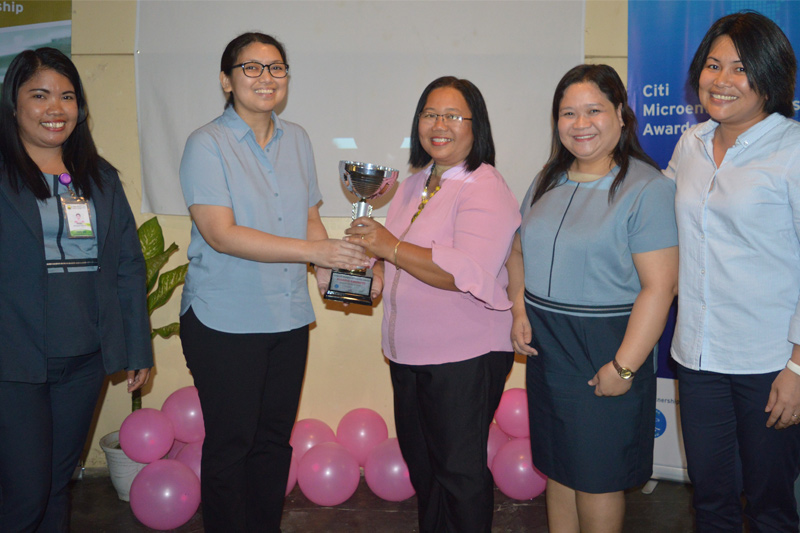 Regional Awardee for Visayas Rosario Amoroto (center) is with her family, friends and fellow microentrepreneurs in a celebratory town hall in her hometown Guiuan, Eastern Samar. In photo are (from left) Ma. Nilda Evardone, Rosario's account officer, Aileen Paglinawan-Gardon, finance and admin manager for MCPI, Baby Analyn Malaborbor, senior regional director for CARD Bank Inc., and June Frances Eguia-Hamoy, program coordination for MCPI.
An important lesson that Rosario learned from that ordeal is disaster preparedness. "That failure turned into a challenge for us to secure our business," Rosario says.
Hatching a plan
The storm in Arnold's life came in the form of an illness more than 10 years ago, causing a physical disability. But even at his lowest, Arnold, then a balut vendor in Koronadal City, South Cotabato, did not let this stop him from earning a living for his family.
He thought of building an incubator in order to increase his inventory. A loan from Rizal Microbank in 2012 proved to be a huge assistance, as Arnold was able to build four egg incubators and three hatchery incubators, jacking up his production volume to thousands of eggs per day. He also formalized his business: Bam & Jhon Balut Maker.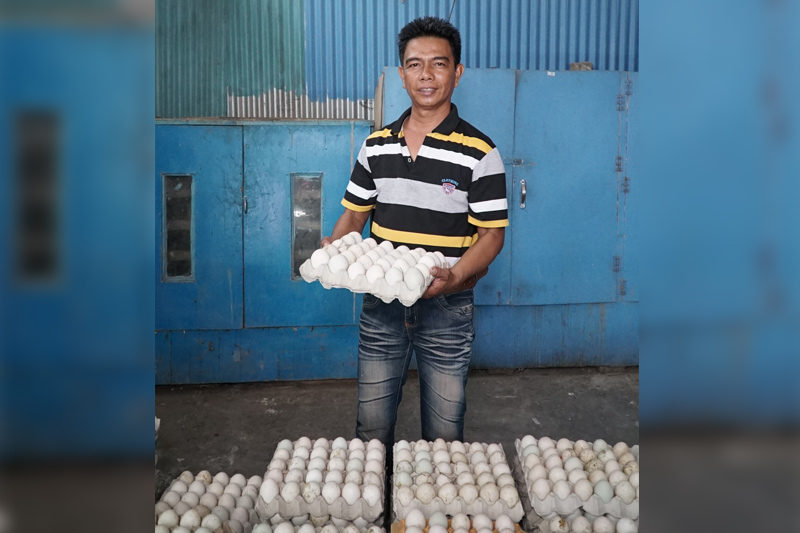 Arnold, whose business started on a P1,000 borrowed capital, has now become a go-to person of people who are interested in starting their balut-related businesses.
"You shouldn't think about your failures. Always move forward. Most of all, be honest in your business dealings," Arnold shares.
Microentrepreneurs in the spotlight
As CMA regional winners, Elena, Rosario and Arnold received a cash prize of PhP100,000 each, as well as a laptop, life and health insurance coverage for one year, and access to grassroots entrepreneurship management and basic computer training at the Citi Microenterprise Development Center, another Citi Foundation program in partnership with Bayan Academy.
Elena, Rosario, Arnold, together with six other winners were chosen by a National Selection Committee co-chaired by Nestor A. Espenilla Jr., the late governor of Bangko Sentral ng Pilipinas, and Aftab Ahmed, chief executive officer for Citi Philippines.
The committee members are: Jose Ma. A. Concepcion III, president and chief executive officer of RFM Corporation, Teresita T. Sy-Coson, vice chairperson for SM Investments Corporation, Atty. Felipe L. Gozon, chairman and chief executive officer for GMA Network, Inc., Hon. Ramon M. Lopez, secretary of the Department of Trade and Industry, Mary Ann M. Montemayor, representative for Mindanao Private Sector and National MSME Development Council, Imelda M. Nicolas, president of Samahan ng mga Pilipina para sa Reporma at Kaunlaran, Marixi Rufino-Prieto, former chair of the Philippine Daily Inquirer, Dr. Michael L. Tan, chancellor of the University of the Philippines Diliman, Orlando B. Vea, president of Voyager Innovations, Inc., and Fernando Zobel de Ayala, president of Ayala Corporation.