Poetry that glides through specifics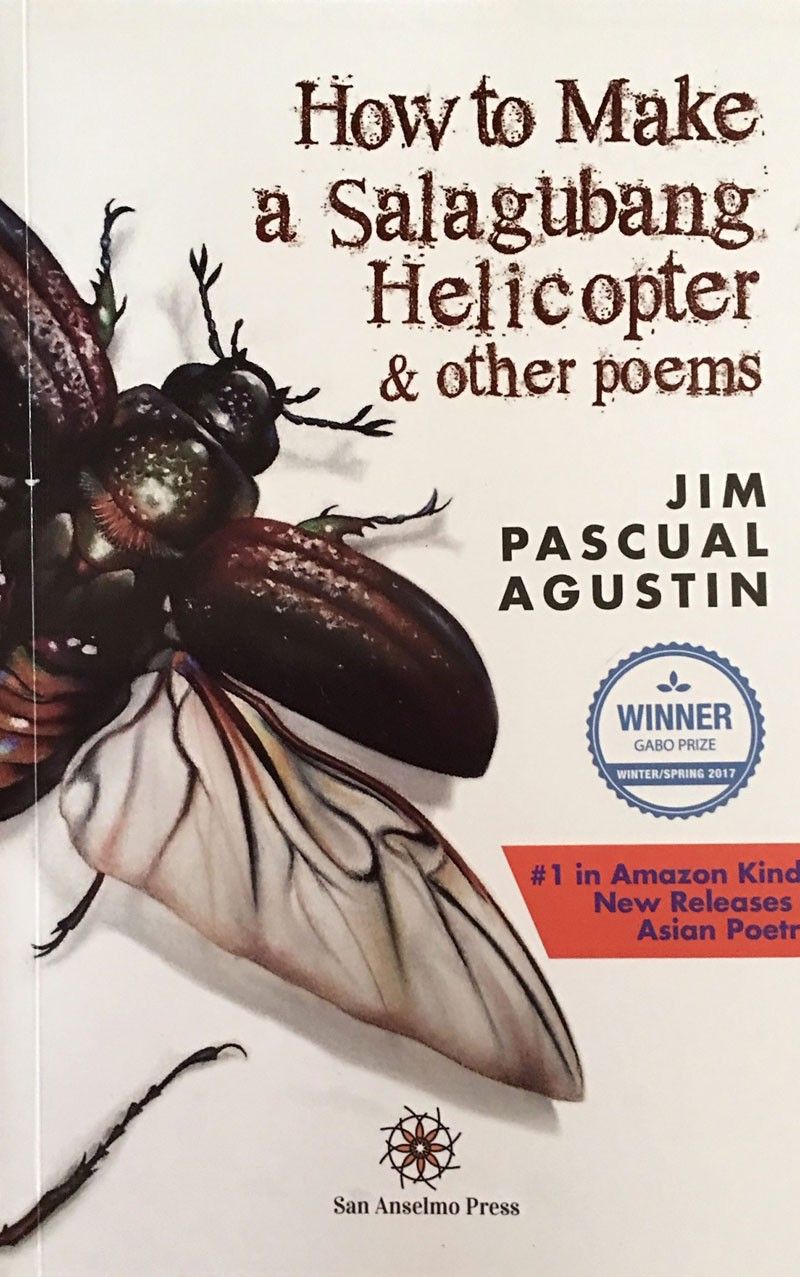 Part of Sasha Martinez's foreword reads:
"The poetry possesses an undercurrent of begrudging stillness and stoicism — signaling a narrator who has long fought the good fight against monsters way beyond his reach. The underlying voice threaded throughout the collection is that of someone who has come close to exhausting the belief that society will turn away from the new normal of impunity and violence and corruption and bent socio-political beliefs that tear asunder our core values. The quiet voice, with every line that falls, wonders whether humanity is still worthy of championing."
She trumpets one of the strengths of a new collection of 60 poems by Jim Pascual Agustin, How to Make a Salagubang Helicopter & other poems, published by San Anselmo Publications Inc.
The book has four sections: "Poems Meant to Fit," "The Human link," "Abominations" and "Frantic Wings." What I've quoted from the Foreword applies to the distinctive voice throughout, but in particular to what seems to be nearing exhaustion in the face of the current ills that have befallen our society.
It's in the section "Abominations" where Agustin lifts his utterances in utmost consternation over the new-normal monsters, albeit the rise in his vocal pitch remains subtle since he never screams in rage or for attention.
This section includes the poem "Danica Mae," lamenting a child victim of EJKs, with its opening quatrain quietly positing: "The President's helicopter will never land/ near your barangay. He will never walk/ up to your mother's house, dust his shoes/ off before stepping through the door."
The poem's translation by the author from its original in Filipino won the Gabo Prize for Literature in Translation and Multilingual Texts from Lunch Ticket (www.lunchticket.org) and Antioch University.
Also in this section is "Tokhang Santa" (with the headline leading off an epigram: "PNP Chief Dela Rosa plays Santa to kids of those killed, caught in Tokhang"), which ends: "…These kids may not remember/ that lost parent for a day, or forever// if they're lucky to be too young to retain/ memories. But surely they'll never forget/ the day Tokhang Santa came for them, the chosen/ 120 from the ever-growing thousands."
Another is titled "More Wig than Human," with an epigram that's a quote from former Justice Secretary Vitaliano Aguirre II. Then there are two poems with "Duterte" in their titles.
Another evident strength of Agustin's poetry is his effective use of imagery, which allows him to glide through specifics with elliptical ease, thus ensuring subtlety.
From the other sections where he focuses on and occasionally contends with private observations and meditations, or concentrates on thematic threads, poems that serve up arresting metaphors and fulfilling imagery include "Bird Moved" (which I like very much, from its opening lines onwards: "I saw a sparrow on its back, wings clipped,/ out the kitchen window this morning./ Claws in half-clutch, beak dulled by the quivering/ shadow of early summer leaves.") and "I Don't have to Kill You": "The villain in a superhero movie/ has to show something ugly/ to break// the human link. It could be the way/ he withers a child's sense of awe/ by crumpling a paper boat// or letting the camera/ focus on a fine line of saliva/ as he speaks."
Political poems are also featured in the last section with the title poem — with the poet's memories turning up "Martial Law Blackout Games," "The Others" ("One took to the hills at 18, in search/ of Emmanuel Lacaba's footsteps."), and "My Father was a Marcos Loyalist."
But it is in the third section, "Abominations," where Agustin picks up the gantlet thrown his way by today's monsters, and hurls it back with the self-assured guile of a poet of power, such as in "Duterte's Dead": "are squirming with worms/ that take the place/ of forensic investigations.// They seek the shortest/ and most efficient way/ of exposing bone.// To those unacquainted/ with the language/ of final repose,// the worms render/ each body/ nearly identical.// Duterte's dead/ have lost the need/ for food and water,// for the rare solace/ of undisturbed moments/ at the toilet."
"Duterte Confesses His Crimes" is a triumph of peripheral takedown, with the lines seemingly wandering elsewhere, yet summing up in a different, vestigial space what there is to condemn.
I will not quote from it. Reader, you may acquire your own copy of this collection, Agustin's ninth and his sixth in English, by emailing the publisher at [email protected] or calling 584-5074.
Jim Pascual Agustin writes and translates in Filipino and English. He grew up in the Philippines and moved to South Africa in 1994, where he still resides, and where he's won several poetry prizes. His 2017 collection Wings of Smoke was published by The Onslaught Press in the United Kingdom, while an expanded Philippine edition is forthcoming, also from San Anselmo Publications Inc.