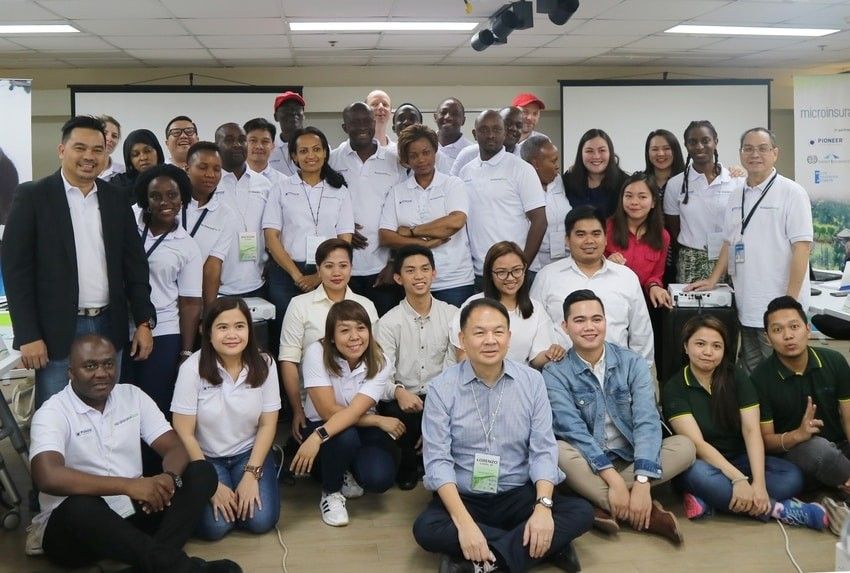 Since its establishment, CARD Pioneer Microinsurance Inc. has been at the forefront of offering need-based, affordable and relevant microinsurance products to help underserved Filipinos recover from life's unexpected challenges.
Photo Release
CARD Pioneer leads in bringing microinsurance closer to the marginalized
MANILA, Philippines — In times of calamity and unforeseen circumstances like sudden death or income loss, it's the people from low-income households that are particularly vulnerable.
To help protect marginalized households, there is a need for a microinsurance mechanism specially designed to protect them against the adverse effects of these risks.
Partners with a vision
In 2013, two trailblazing companies, sharing the same heart to help Filipinos, partnered to provide appropriate insurance products responsive to the marginalized sector's needs, like accidents, death, calamities, crop failures or sudden income loss.
CARD Mutually Reinforcing Institutions (CARD MRI), which aims to transform economically challenged families into responsible citizens, and Pioneer, a pioneering and trusted group of insurance companies charting milestones since 1954, joined hands to form CARD Pioneer Microinsurance Inc. (CPMI).
Since its establishment, CPMI has been at the forefront of offering need-based, affordable and relevant microinsurance products to help underserved Filipinos recover from life's unexpected challenges.
The range of offerings includes bundled coverages such as burial, personal accident, and protection from fire, flood, typhoon, and earthquake.
"Pioneer has been an important partner of CARD-MRI and our relationship has been tested time and time again.
This is the kind of partnership that has kept us on track with our goal.
As of today, we at CARD have insured and protected 23 million lives plus an additional 8.5 million people with CARD Pioneer.
During times of calamities, we are one of the first responders, checking on our members and paying out claims in cash," shares CARD MRI founder and chairman Dr. Jaime Aristotle B. Alip.
"Our goal is to provide an insurance product that is easily affordable and accessible for those who need it most. The last 10 years have been crazy in terms of development and evolution of microinsurance. It took us a bit of effort, but at last, we have proven that it can be done, it can be sustainable," discusses Pioneer Life president and CEO Lorenzo Chan.
Protectors of the marginalized
On its first full year of operations in 2014, CPMI had about 650,000 enrolments, climbing to about 18 million enrolments by the end of 2018.
Today, it has implemented a customer dialogue and feedback process that ensures more responsive and efficient service to individuals and families.
Its quick action on claims and unwavering support have allowed microinsurance policyholders to begin the rebuilding process and get their lives back on track as soon as possible.
"We are in the business of poverty eradication; our mandate is to help eliminate poverty in this country and microinsurance is a component in this vision.
And when it comes to microinsurance, it is important that the claims be paid in the soonest possible time.
During Typhoon Haiyan, CARD Pioneer was one of the first responders in the calamity area.
When we arrived, we started paying the claims and kept our promise and dedication.
All told, we disbursed about P500 million during the calamity rebuilding efforts including claims paid, relief assistance and rehabilitation loans.
Pioneer was such a good partner in helping us uphold this commitment," explains Alip.
"When we look back, it's really a long journey we have been through. This partnership with CARD has made us rethink the way that we do business. We had to review the whole picture. Working with them, we designed new products, some for the family, another with wider insurance coverage, additional risk protection and added value," recalls Chan.
"From utilizing the 1-3-5 scheme where submission of documents, processing, and payment takes about five (5) days, we are now targeting an eight to 24 hours processing with the help of technology and payment facilities," adds Chan.
Microinsurance master
The business model and success story of CPMI in the Philippines not only established CPMI as the leader in non-life microinsurance but also captured the attention of those interested or those pursuing microinsurance in other parts of the world.
Twenty delegates from various countries, some coming as far as Europe and Africa, have gathered to learn and immerse in microinsurance in the Philippine setting during the second edition of the Microinsurance Master program hosted by CPMI and Pioneer in Manila this February.
This two-week hands-on leadership training program aims to realize the potential of microinsurance in spurring economic and social development.
It begins by empowering microinsurance leaders and strengthening organizations through the exchange of knowledge, techniques and insights, frameworks, and tools.
The free flow of best practices is intended to enable microinsurance practices to thrive, pursuing financial inclusion to communities globally.
The program is an initiative of Microinsurance Master founder Bert Opdebeeck, who has joined forces with several organizations and microinsurance coaches to implement a unique training design.