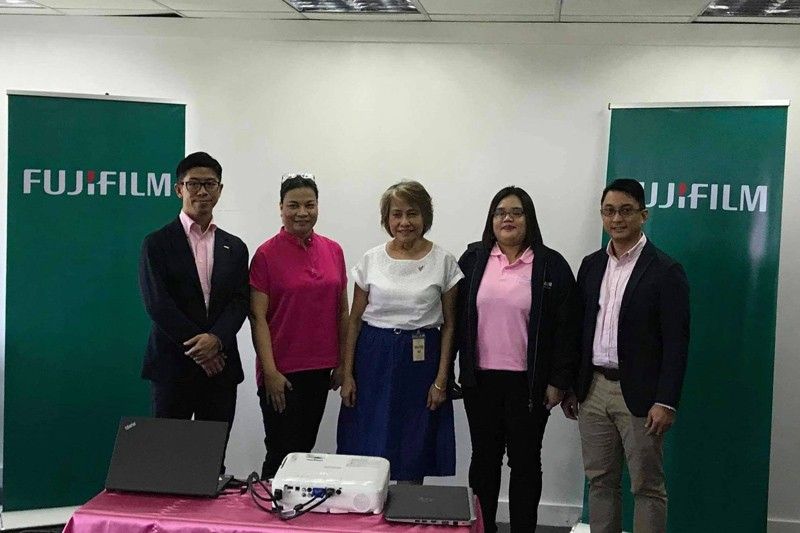 Fujifilm, in partnership with the Philippine Foundation for Breast Cancer, Inc., seeks to combat the illness by raising awareness through the Pink Ribbon Campaign. (From left) Tomoyuki Fukura, president of Fujifilm Philippines, Aileen Antolin, trustee for program development at the Philippine Foundation for Breast Cancer, Inc., Maria Lourdes V. Cortez, chairperson for the Philippine Foundation for Breast Care Inc., Neliza Ann Zita, product marketing manager for Fujifilm Philippines Medical Division, and Evan Reyes, medical systems division manager for Fujifilm Philippines.
Released
Fujifilm Philippines advocates for early detection of breast cancer
(Philstar.com) - November 16, 2018 - 12:57pm
MANILA, Philippines — Fujifilm Philippines Inc., one of the most trusted camera and film brands in the world, echoes the call for regular testing for the early detection of breast cancer. The illness is still the leading cause of death among Filipino women.
Fujifilm Philippines is reminding women to have themselves screened and checked for breast cancer due to the alarming rates of breast cancer cases in the country.
"Even with all the advancements in the medical field, there's still no cure for breast cancer. Early detection and prevention are still key. We at Fujifilm PH would like to appeal to women to not be afraid and have themselves checked. The higher your risk factors, the earlier you should have a mammogram," said Tomoyuki Fukura, president of Fujifilm Philippines.
He adds that women should no longer dread undergoing a mammogram because digital technology has made the test more comfortable, quicker and pain-free! The mammography machines of old have caused undue stress and trauma to women that most of them do not want to go through the same experience again.
However, Fukura stresses that testing and early detection are critical in lowering the mortality rate from breast cancer.
For many years, Fujifilm has been contributing to the early detection and treatment of breast cancer through the promotion of the Pink Ribbon Campaign. The company has partnered with the Philippine Foundation for Breast Care Inc. in a breast cancer learning session with the media.
Prevention still better than cure
According to the Philippine Council for Health Research and Development, one in every 13 Filipino women is seen to likely develop breast cancer in their lifetime. Research also revealed that there are more cases of breast cancer in Manila compared to other Asian Cities.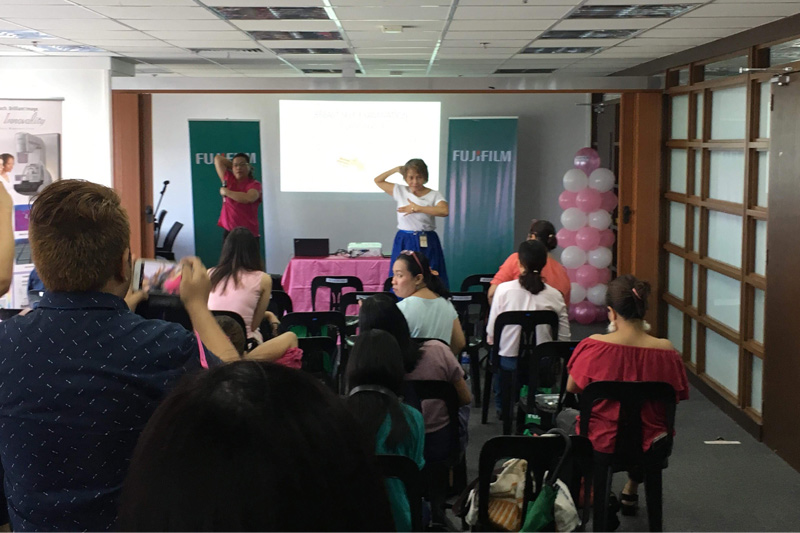 Aileen Antolin and Maria Lourdes V. Cortez of the Philippine Foundation for Breast Care Inc., demonstrate proper self-examination in detecting potential breast cancer. Released
Unfortunately, majority of cases are only diagnosed in the late stages. This leaves them with very little time to explore various modes of treatment. By this time, too, the cancer has likely spread to different parts of the body, making it even more difficult to treat.
Unknown to many, the Fujifilm brand produces more than just cameras and film. The global company, established in 1934 has continuously worked to improve its proprietary core technologies. They have made countless contributions in healthcare, graphic systems, optical devices, digital imaging and product documentation.
The company's revolutionary techniques and wealth of experience have enabled them to come up with high-precision and high-resolution mammography devices. The line of mammography machines offer exceptional image quality, versatility and practicality. Because of Fujifilm's digital imaging expertise, expect the machine to offer crisp and high-resolution images coupled with Fuji's proprietary dual-side reading technology.
These state-of-the-art machines are available in the country. Earlier in the year, the government-run Philippine General Hospital in Ermita, Manila acquired a Fujifilm Innovality Mammography Machine, which is now used to detect breast cancer and related ailments.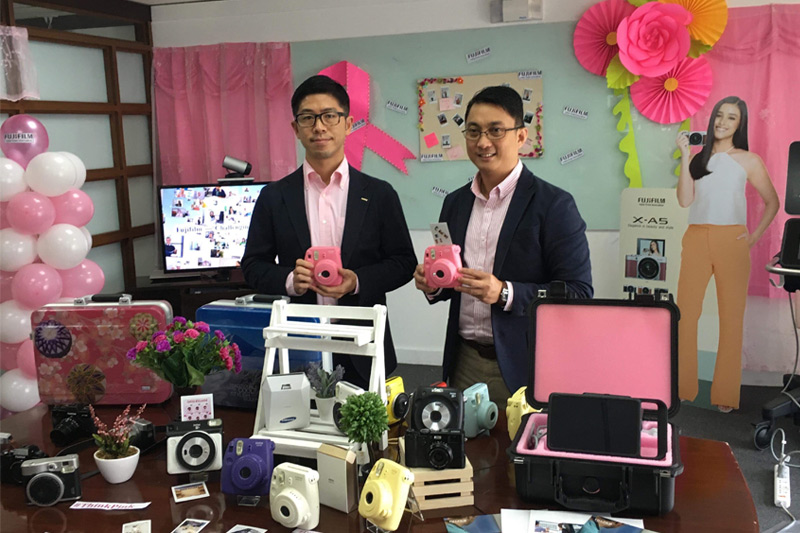 Tomoyuki Fukura and Evan Reyes of Fujifilm Philippines during the event. Released
For more information about FUJIFILM and their digital mammography machines, visit http://fujifilm.com.ph and https://brand.fujifilm.com/neverstop/global/.