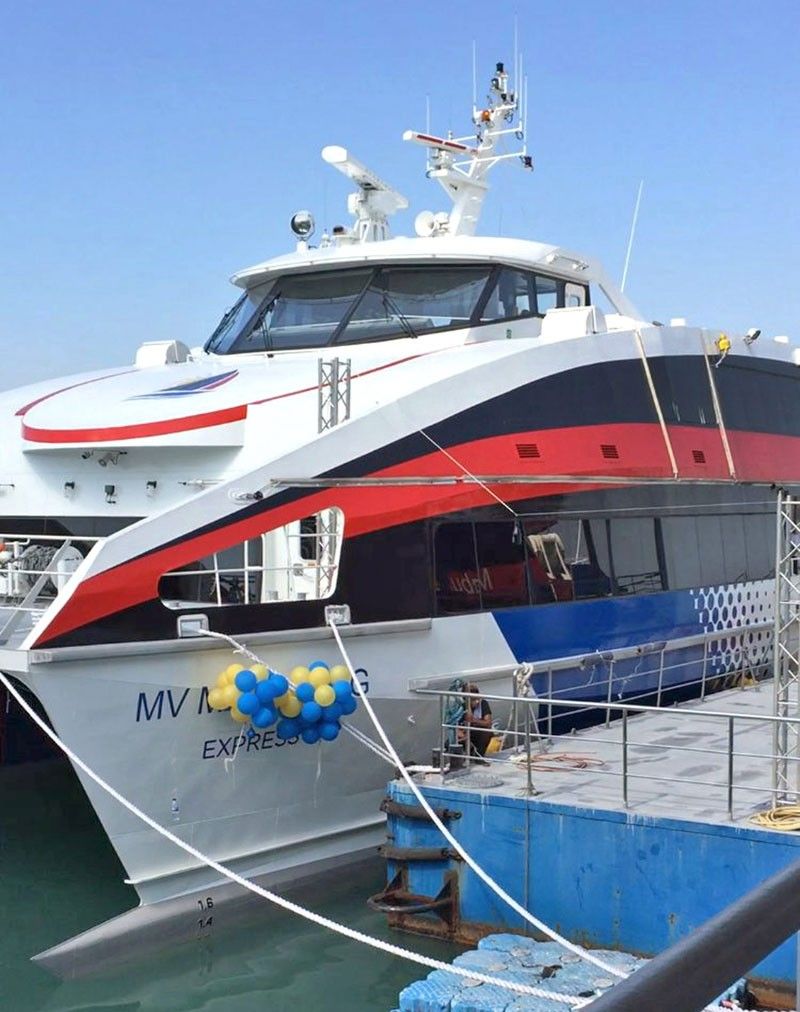 The MV Magalang, one of two 410-passenger, high-speed ferries launched by PAL's Mabuhay Maritime Express, will run Kalibo-Boracay service.
Time to sail away — with PAL's new ferries
MANILA, Philippines — Philippine Airlines has always been a leader in the skies. Now they're set to take on the nautical market as well. Last Tuesday, Mabuhay Maritime Express — a subsidiary of PAL — launched two 410-passenger, high-speed ferries, the MV Malambing and MV Magalang, in a naming ceremony held at Esplanade Seaside Terminal. There, PAL chairman Lucio Tan, wife Carmen and PAL president Jaime J. Bautista helped launch the 42-meter catamarans and joined media and industry guests on a — yes — three-hour tour between Manila Bay and Pico de Loro Beach & Country Club.
"We decided to join — and revolutionize — the inter-island ferry service business, to complement local air travel as a holistic approach to promoting Philippine tourism," said PAL president Bautista in welcoming remarks. "We aim to offer travelers a seamless air-to-sea transfer, taking passengers to their favorite destinations as fast and as comfortably as possible."
The first ferries will service tourists between Kalibo and Boracay. For starters, MME will offer four ferry trips per day, coordinated with PAL flights. No more transferring from van to jeepney to banka, a land-sea trip that can take over two hours from Kalibo; MME's ferries go direct from the airport to Cagban jetty port in Boracay in 90 minutes.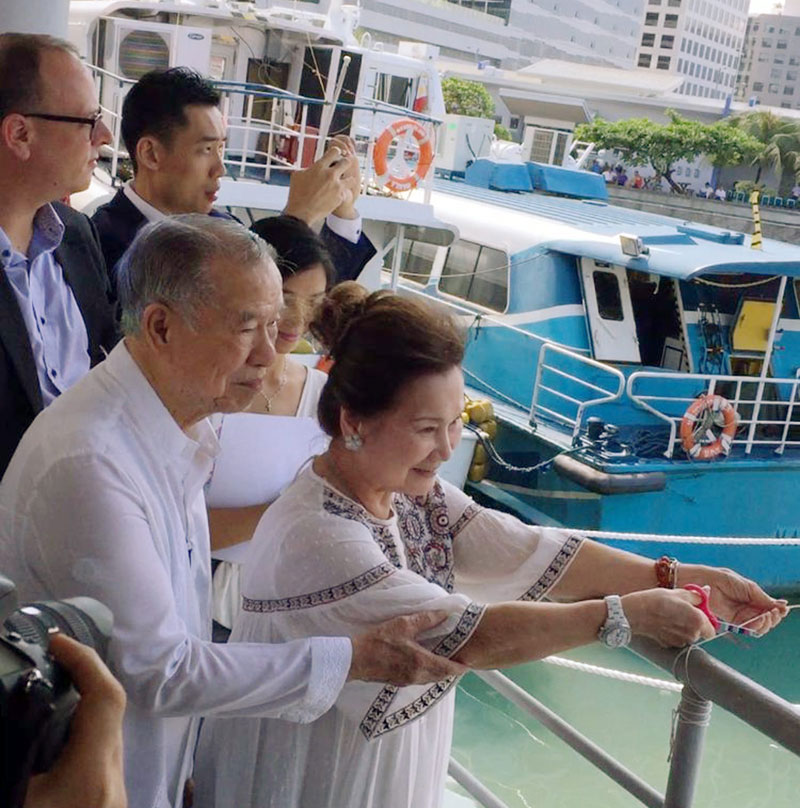 Christening: PAL chairman Lucio Tan and wife Carmen release champagne bottles to formally christen the MME ferries.
We asked why Kalibo and not Caticlan, which has become the preferred route for Filipinos coming to Bora from Manila. PAL corporate communications VP Jose E.L. Perez de Tagle noted that Kalibo International Airport allows bigger planes, with up to 200 passengers coming in from Korea, China and Japan. So MME saw an opportunity to make the journey to the just-reopened Bora more pleasant. "In the old days, we used to say it was the 'adventurous way' to travel to Boracay," says de Tagle. "You know, everybody likes to climb up on a jeepney, with 15 people hanging off of it. But that can be risky, so we said why not find a more efficient way to get people to Boracay, in addition to Caticlan?"
Built by Damen Shipyards Singapore, the Malambing and Magalang are Fast Ferry 4212 tri-class vessels that travel up to 25 knots (50 kms per hour) and offer 286 regular, 70 premium and 54 first class seats. The ships provide WiFi connectivity and first class includes reclining seats and USB ports for each passenger. (Round-trip tickets start at P1,500 for regular, up to P2,500 for first class.) According to Damen managing director Michel Goedegebuure, MME has purchased two vessels, with construction set for at least two more. "What MME is doing is copying the model of air travel. It makes a lot of sense: they brand this route as similar to, or an extension of, their airline routes, with multiple classes. I do think there's a market for more premium, luxurious transport on the water as well."
Guests climbed aboard either ship and found clean, new interiors with an upper deck for premium and first class, and even a small cocktail area at the stern (rear) of the vessel. Snacks were served by friendly MME employees from a colorful cart as people settled in for the luxury ferry experience. This is a high-tech, largely automated vessel, meaning navigation is a matter of computer screens and settings, not the old captain's wheel; the Fast Ferries built by the Holland-based Damen company are equipped with stabilizers for smoother, more stable journeys and night vision equipment. As STAR "Money-Go-Round" columnist Vic Agustin put it after the maiden voyage, "If you close your eyes, you might think you're on the Mediterranean!"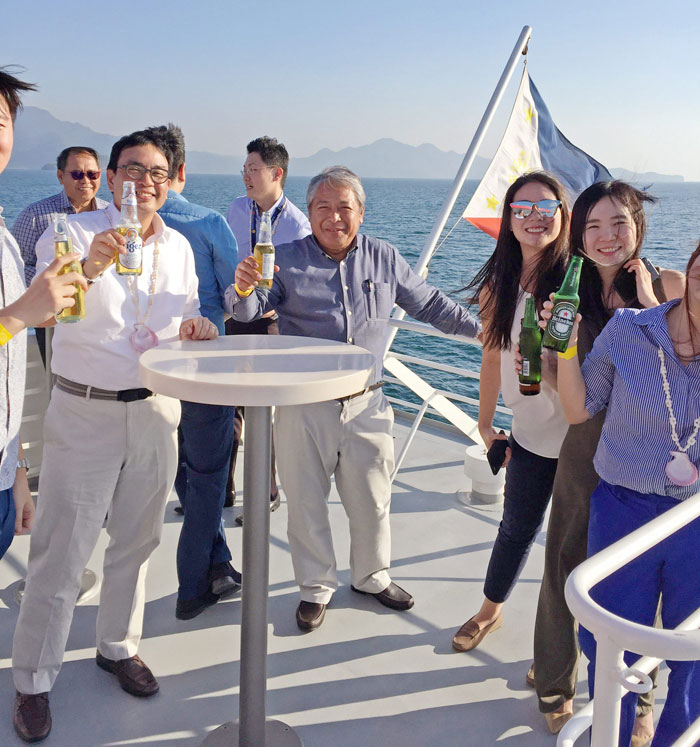 PAL president Jamie J. Bautista raises a toast to the launch of MME ferries.
Our cruise party continued at Pico de Loro Country Club, where, in the Baia Ballroom, PAL president Jaime Bautista offered a toast to the flag carrier's latest venture, which is likely to extend to other routes that PAL services, such as Siargao, Cebu, Bohol and others.
For its first routes, Mabuhay Maritime Express will build and operate its own ferry terminal in Kalibo, as well as improve the Cagban jetty port in Boracay. MME ferries will mostly serve PAL passengers, but also allow other airline customers and walk-in passengers.
In attendance for the official launch were PAL chairman Lucio Tan and wife Carmen (they helped "launch" the new ships at Seaside Esplanade Terminal, breaking a pair of champagne bottles) along with other Tan family members. "The whole Tan group is here to support what is basically their new baby," notes PAL corporate communications editorial consultant Jonathan Gesmundo. Bautista's plan for MME is to extend routes to other island destinations throughout the country where PAL flies. So PAL now officially extends its dominion to the seas. Time to island-hop in style.
* * *
You can book MME tickets through PAL ticket offices, the MME website (www.mabuhaymaritime.com) or MME ticket offices at the ports.