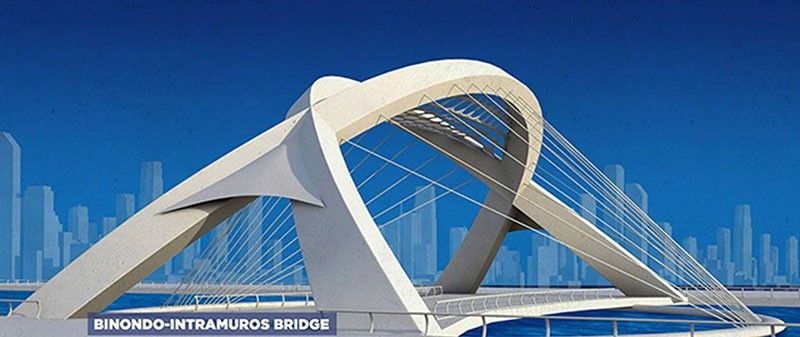 Artist's conception of Binondo-Intramuros bridge, projected to be completed in 2021
After two bridges gifted by China, how to bridge our territorial disputes?
The recent July 17 groundbreaking ceremony for Metro Manila's two new bridge projects of the Binondo-Intramuros Bridge in Manila and the Estrella-Pantaleon Bridge in Makati — P5.27 billion gifts by China to the Philippines — was led by President Rodrigo R. Duterte, China Ambassador Zhao Jianhua, Department of Public Works & Highways Secretary Mark Villar, Executive Secretary Salvador Medialdea, Presidential Assistant Bong Go and other officials.
These bridges are ideal symbols of both countries' over 1,000 years of uninterrupted friendship and commerce. In fact, the Philippines and China have been allies through the generations — such as in the Philippine Revolution against Spain (Chinese revolutionary leader Dr. Sun Yat Sen helped procure weapons in Japan and shipped them to General Emilio Aguinaldo's revolutionaries in the anti-colonial struggle against Spain). Both the Philippines and China were again allies in the World War II resistance against Japan's military invasion of Asia.
Set for completion in 2021, The 734-meter Binondo-Intramuros Bridge will connect the two historic Manila districts of Binondo, reputedly the world's oldest Chinatown, and the Spanish colonial walled citadel of Intramuros; while the 506-meter Estrella-Pantaleon bridge will replace the existing bridge connecting Estrella Street in Makati City and Barangka Drive in Mandaluyong City.
Bridges help improve traffic flow, economic progress
Apart from boosting the Philippines' economic development, President Duterte said the Binondo-Intramuros Bridge and Estrella-Pantaleon Bridge will help improve Metro Manila's transportation system by easing traffic and also enhance our national capital region's road network to cope with natural disasters.
Ambassador Zhao Jianhua pledged that the Chinese government will ensure the bridge projects are properly implemented; he also revealed that China hopes to grant the Philippines soft loans for at least five additional Pasig River bridges.
President Duterte said: "As an important part of the 'Build, Build, Build' Program, I expect you to fast-track the implementation and execution of these bridges, as well as all other infrastructure projects already in the pipeline," adding, "Through our combined efforts, we will be able to expedite our infrastructure programs (that) will improve connectivity and mobility around the country."
How to bridge territorial disputes?
Duterte then went off-script to speak of the Spratlys territorial dispute: "Personally I've been to China. I have talked to the leadership of the government and have had the honor of meeting President Xi and talked a lot about friendship and cooperation. In all of these discussions, China never asked for even one square (meter) of real estate in this country."
He contined: "Its geopolitical position is critical to China and the stand which we disagreed on as we filed the arbitration case. But in the meantime that … a concerted effort of both countries to develop is going on, we have promised to deal with the problem — from President Xi of the People's Republic of China himself — that we will discuss this at some other time, as China has to deal with individually bilateral relations and issues."
I believe the diplomatic approach of President Duterte, Foreign Affairs Secretary Alan Peter Cayetano and the Philippines' chief China expert, our envoy to Beijing Ambassador Chito Sta. Romana, is a win-win. Why?
The Philippines now has formal claims to 46 features in the West Philippine Sea/South China Sea, but we only occupy nine. Thirty-seven other features or islets we claim as our territories are today militarily occupied by these governments — Vietnam occupies 21; China has eight; Malaysia has seven; and Taiwan has one. All these Asian neighbors are economically and diplomatically our friends, despite honest disagreements with them on our overlapping territorial claims, plus huge and resource-rich Sabah state which we claim and which our ASEAN ally Malaysia also occupies.
According to Ambassador Chito Sta. Romana, through years of patient, bilateral negotiations, China's completely resolved territorial disputes with 12 of their 14 land neighbors. (China shares a staggering total of 22,000 kilometers borders with 14 countries.)
Duterte said: "I'm sure that in the end, China will be fair and the equity will be distributed."
* * *
Thanks for your feedback! Follow @wilsonleeflores on Instagram, Twitter, Facebook. Buy & read "Pilipino STAR Ngayon" every Friday for my column "Kuwentong Panadero" on inspiring stories.