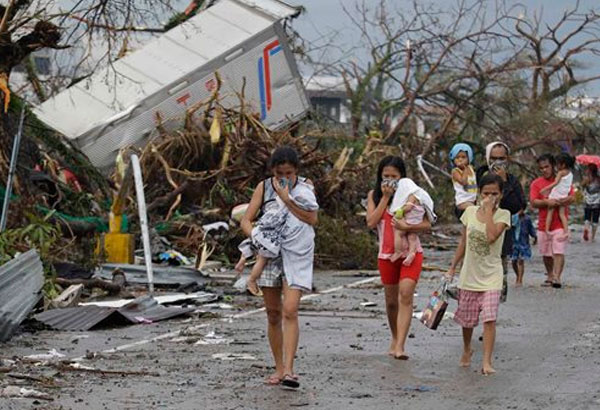 The resilience of livelihoods impacts not only the economy but the general population as well. When agricultural produce is threatened, so does the country's food security and its national development. Philstar.com/File
DTI: 5 tips for small businesses to survive disasters
MANILA, Philippines — Micro, small and medium enterprises (MSMEs) account for 99.5 percent of all enterprises in the Philippines.
According to the Department of Trade and Industry (DTI), MSMEs employ over 60 percent of the Philippines' labor force and contribute to about 36 percent of the country's total value. They also account for 25 percent of Philippine export revenue.
In the past 20 years, however, disasters have affected 80 percent of the local economy. Thus, this September is National Disaster Preparedness Month not only for individuals but also for businesses.
"In times of disasters and calamities, many MSMEs, especially micro and small entrepreneurs, suffer due to limited resources, inability to employ business continuity mechanisms, and lack of access to disaster resilience programs," DTI Undersecretary Zenaida Maglaya said during a recent disaster resilience forum organized by Cebuana Lhuiller Insurance Solutions.
According to the DTI, MSMEs are incapable of funding pre- and post-disaster activities. Their financial resources are often just enough to cover day-to-day operations. Revenues are volatile and cash flow is at times unstable. Many entrepreneurs also do not have the right knowledge and skills in terms of disaster preparedness, response and recovery.
During calamities, sari-sari store owners, wholesale and retail traders, market vendors, owners of "carinderias" and repair shops stop their operations. In the aftermath of typhoons, flooding, fire, or earthquake, some are unable to recover.
"After Yolanda, there are no stores and public markets, banks and power," Maglaya shared. "It took over six months for businesses to get back after Yolanda."
Disasters and calamities damage farmers' crops and potential harvests, agricultural equipment, livestock, supplies, storage and irrigation systems. Fishing communities suffer from loss of livelihood as they are restrained from sailing every time a typhoon comes. Their boats and other equipment from catch to market are damaged. In the long term, aquaculture players suffer from possible loss of the sea creatures' habitats, change in coastal ecosystems, and biodiversity loss.
Records from the National Disaster Risk Reduction Management Council (NDRRMC) show that in 2014 and 2015, the Philippine agricultural sector suffered from almost P60 billion worth of damages due to tropical cyclones. In 2016, super typhoon Lawin caused agricultural damages estimated at P18.4 billion.
The United Nations Food and Agriculture Office (FAO) reports that between 2006 and 2013, approximately six million hectares of crops were damaged by 78 natural disasters, costing the agricultural sector about US$3.8 billion.
The resilience of agricultural livelihoods impacts not only the farming and fishing communities but the general population as well. When agricultural produce is threatened, so does the country's entire food system and its national development, said Jimmy Loro, senior advisor of Regulatory Framework Promotion of Pro-poor Insurance Markets in Asia (GIZ-RFPI Asia).
The challenge, according to Maglaya, is how SMEs can become more resilient not only through supplies, but also by avoiding business closures.
Based on lessons from typhoon Yolanda and other disasters, the DTI and the private sector have come up with the following pieces of advice for small businesses to become more calamity-resilient:
1. Include continuity in your business plan.
According to DTI, most SMEs they surveyed are not aware of business continuity planning, which maps out how a business should continue or recover should disaster strikes.
2. Train your staff on business management to make sure they can handle your business during emergency situations.
3. When disaster strikes, know your workers' state first, then know where you can get raw materials.
4. Get your business insured.
"Because of Yolanda, insurance is becoming known in agriculture," said Maglaya.
According to Loro, agriculture is the most important lifeblood of Filipinos as 32 percent of the country is allotted for the agriculture of the country's main crops such as rice, corn, banana, coconut, sugarcane, mango and pineapple.
Due to global temperature rise, five to 25 percent of rice loss has been experienced in the Philippines, and this has resulted in an 89 percent price increase, 75 percent price increase in wheat and reduced fish catch, said Loro.
As a response to this, Loro recommends getting a remote insurance for crops.
5. Make resiliency a part of your daily life.
Loro said small steps like reducing one's carbon dioxide emissions could help prevent global warming from further damaging agriculture and small businesses ran by farmers and fishermen.
"Resilience is all about a collaboration to rebuild; it's not the job of the government alone," Adel Tamano, vice president for Public Affairs and Communications of Coca Cola Philippines, said during the forum.
"It's a collaboration between government, non-government organizations and big businesses to form a Golden Triangle and provide efforts such as loans, start up capitals, rebuild houses and stores."
Now, there is an association of sari-sari stores and canteen owners that provide start-up money to rebuild homes and businesses. Maglaya recommended joining such groups if you have a small business.
"Resilience means being able to stand up and earn as soon as possible," she opined. "Being able to get back on your feet as soon as possible – that's the essence of disaster resilience."