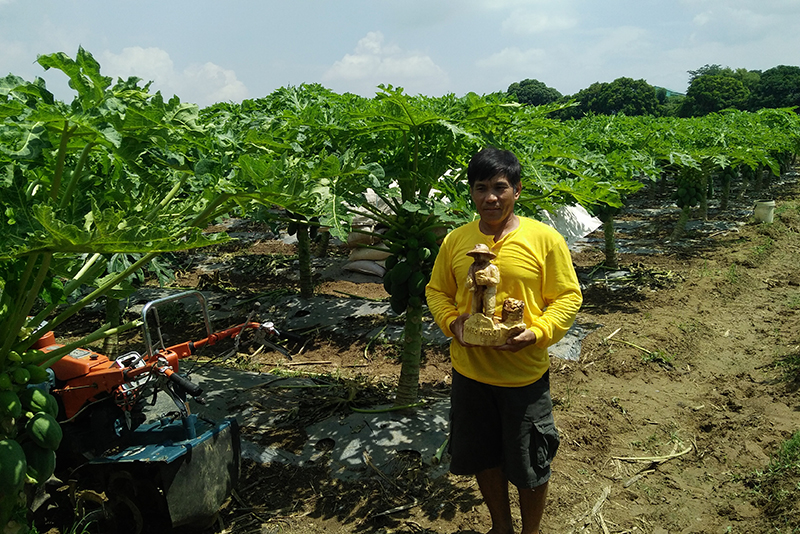 Johnny Gatuz from San Rafael, Bulacan has been able to buy hectares of land and equipment, thanks to farming. Philstar.com/Jan Milo Severo
Hope in farming: Filipino farmers who have earned millions via agriculture
(philstar.com) - August 8, 2017 - 4:43am
MANILA, Philippines — Filipinos were told as children not to waste the food on their plates because farmers' blood and sweat are the reason why Filipinos' stomachs are full. That is how valuable farmers are: they spend hours under the scorching sun and cold rains just to ease one's appetite and to finance only their basic daily needs.
Since farming is the second poorest work force in the country next to fishing, millenials are veering away from a career in agriculture, thinking it is a fruitless profession, pun intended. Vegetable farming, however, is a very profitable business in reality. The Asia-Pacific vegetable market is a valued at $2 billion and is expected to grow to $3 billion in 2021.
"There is a lot of potential in the Philippine vegetable sector. Annually, the country's vegetable production is increasing by almost two percent and the growth of the area being dedicated to planting vegetables is a 1.7 percent. The country's annual growth rate for vegetable production is close to two percent, not enough to meet even the local demands for vegetables. That is why we still need to import more than $3 million worth of vegetables, which could ideally be supplied by our local farmers," East-West Seed (EWS) general manager Mary Ann Sayoc said.
As one of the 10 largest seed companies in the world, EWS hopes to remedy this situation by influencing more farmers to earn more and get out of poverty by planting vegetables in addition to their existing crops.
As they celebrate the 35th year in the industry, the company is in search for "35 Farmer Heroes" which will serve as ambassadors and role models in vegetable farming industry.
In a journey to Bulacan, members of the media met two of the nominees with a lot of inspiring stories to share – Mang Johnny and Nanay Rowena.
Johnny Gatuz from San Rafael, Bulacan is a farmer's son. They, however, hardly made ends meet so he chooses to work in Saudi Arabia as a construction worker. After five years, he decided to fly back in the Philippines. He then found love, got married, and also fell in love again in farming.
"Nanghiram ako ng P50,000 para ma-rentahan ang lupa at sinimulan kong magtanim ng kalabasa, okra at sitaw," he recalled, adding, "Minsan kumikita ng kaunti, minsan break even lang."
Then he tried the products of EWS and his earnings allgedly increased by 80 percent. Today, Johnny owns three and a half hectares of land planted with a variety of vegetables. He now also has a water pump, a power spray, a grass cutter, a hand tractor, and a new motorcycle that he uses to transport his vegetables to markets.
He hopes Filipinos would realize that there is hope in farming and that there is a chance to get out of poverty by planting vegetables. "Mas malaki pa ang kinikita ko sa pagsasaka kaysa sa ibang professional kaya hindi na kailangan pang mag-abroad."
The other nominee is Rowena Manalo from San Ildefonso, Bulacan. She has first worked as a "biyahera" of the vegetable harvests. Then she fell in love with Jun, also a farmer. The young couple borrowed P5,000 to start up their farming business.
Just like any rookie, their journey is not a walk in the park. "Lagi kaming umiiyak noon. Kasi tuwing dumadaan kami sa mga taniman, nilalait, iniinsulto at pinagtatawanan kami ng mga beterano ng magsasaka at sinasabi nila na ano nga ba ang alam naming sa pagsasaka," Rowena recalled.
After years of dedication, they are now certified millionaires. Rowena attributes their success in their faith in God, the love in their marriage, and their love for the farm and hardwork.
"Araw-araw kaming nagtatanim, walang tigil, sa init man ng araw o sa gitna ng bagyo, mula noon hanggang ngayon. Ang sabi nga namin sa mga anak namin na pag kami ay nawala na, mahalin nila ang sakahan at huwag nilang ibenta ang lupa dahil hangga't masipag ka at mayrooan kang pananampalataya, ang pagtatanim ng gulay ang magbibigay sa inyo ng magandang buhay."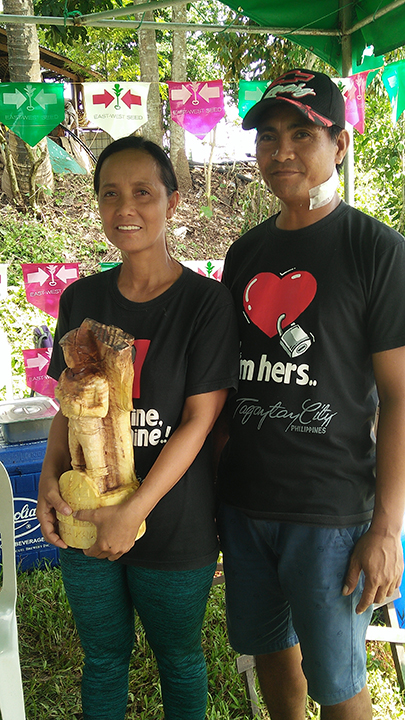 Rowena Manalo and her husband claim to have earned millions due to planting vegetables. Philstar.com/Jan Milo Severo