Victory Liner: Helping build communities in Northern Luzon
February 16, 2015 | 12:00am
MANILA, Philippines - For 70 years now, as one of the largest bus companies in the country that service Northern Luzon, Victory Liner has been keeping Filipino families connected, as well as spurring local tourism through convenient, reliable and affordable transportation.
However, more than ensuring a safe and convenient journey for all its passengers, what many Filipinos don't know is that Victory Liner's commitment to well-being extends to the very communities it operates in.
The company implements a number of corporate social responsibility (CSR) initiatives through the Doña Marta T. Hernandez Foundation (DMTHF). Named after the late Victory Liner matriarch, DMTHF was put up in 1997 to continue her philanthropic acts. A devout Catholic, Doña Marta had been supporting the education of priests and nuns in her lifetime, and helping out in the finances of their religious organizations.
Vernie J. Abcede, a granddaughter of Doña Marta who now heads the foundation, shares that one of the goals of the DMTHF is to help build self-empowered communities, particularly those in the Northern Luzon area, through programs that promote education, health and entrepreneurship.
"Primarily, the foundation gets funding for its projects from Victory Liner, but we also get occasional contributions from the family's other businesses and donations from friends," explains Abcede. "In the future, we also hope to collaborate with other organizations in the region and help further strengthen communities and transform lives by promoting social progress."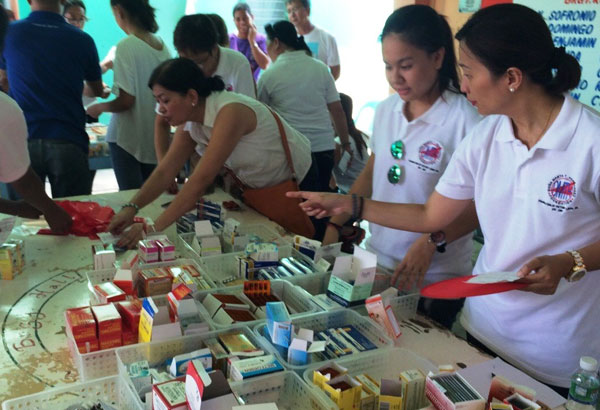 Victory Liner provides free vaccination for children and medicine for the residents of Alaminos and Binmaley in Pangasinan, through the Doña Marta T. Hernandez Foundation. STAR
Some of the foundation's recent efforts this year include dental and medical missions that benefitted over a thousand patients in Barangay San Isidro in Binmaley, Pangasinan, as well as in Barangay Talbang in Alaminos, Pangasinan. These missions were conducted in partnership with the MANGGYAN (Manggagamot ng Bayan) group of Makati Medical Center and the Malabon Navotas Dental Chapter.
The foundation is now also holding a series of feeding programs for grade school students from Sta. Monica Elementary School in Hagonoy, Bulacan, which is expected to continue until the end of the school year in March 2015.
DMTHF not only focuses on helping others, but their very own staff as well. It conducts values training and livelihood skills seminars, and extends financial assistance packages to employees.
The foundation has also been helping Victory Liner employees in the area of education for their dependents. "These are children of Victory Liner employees who have been with us for a long time. As long they meet the criteria, we give them financial assistance for their education," says Abcede. They help around 150 students every school year. However, unlike other scholarship programs, the foundation does not require the students to work for the company in the future nor choose what course the students can take in college.
Now on its 17th year, DMTHF continues on with its tradition of service, guided by Victory Liner's line of business — one that connects communities, moves people safely and comfortably, and improves the lives of its passengers and their families. Since its inception, the foundation has always focused on serving communities in need, offering programs that aim to create lasting, positive changes to people's lives in communities it serves.