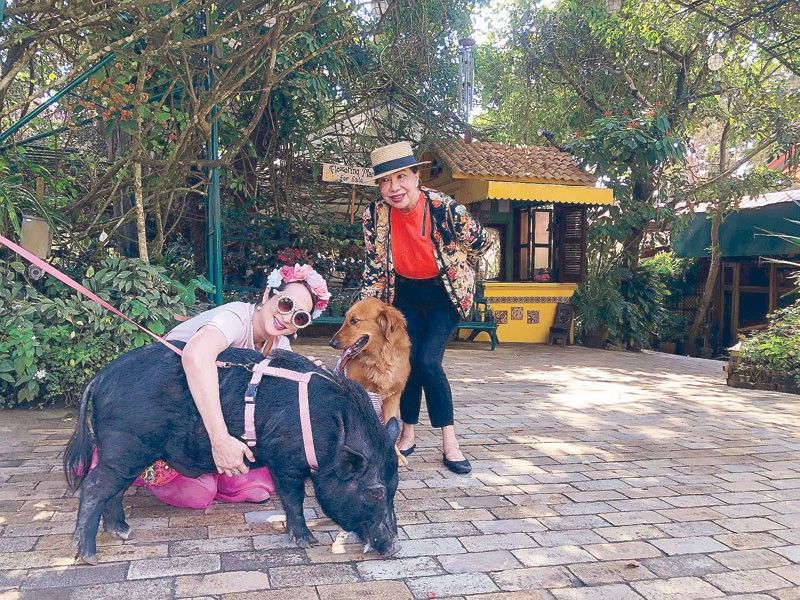 The author finds a new home for Cochi, her family's pet pig, at one of the secret gardens of Sonya's Garden in Alfonso, Cavite. Welcoming Cochi to his new environs are Sonya Garcia and her beloved Ooggoo, a Golden Retriever.
Büm Tenorio Jr.
FAMILY JEWELS
-
Michelle Dayrit-Soliven
(The Philippine Star) - February 16, 2020 - 12:00am
Our son Vincent yearned to have a pet pig. I could not fathom what it would be like to have a pig roaming around our home so it took years for this to happen. One day, my husband Benny conceded. So Cochi arrived. A tiny, little piglet wrapped up in a blue blanket. I held him in my arms and fell in love with this cute pot-bellied piggy.
Little Cochi, short for Cochinilio, immediately adapted to his home. Making friends and walking into the dog cage, rolling out his blanket with his snout to sleep with my husband's six black small Chihuahuas whom Cochi accepted as his brother and sisters. They were all the same size then. I learned that pigs are not only smart but also clean, loving and friendly pets. He quickly endeared himself to our family and household. His dedicated vet Paula, who brought him to us, instructed us to feed him only twice a day, keep him on a strict vegetarian diet to control him from growing too big.
We enjoyed playing with him every morning and kissing him good night. However, a year and a half later, he outgrew the dog cage and the Chihuahuas in size. He grew so big and heavy, started getting restless and we pitied him cooped up in a small area in the corner of our home. Deep in our hearts we all knew it was time to let him go but I was not ready.
Providentially, a week after Taal Volcano erupted, our very good friend Sonya Garcia invited us to her beautiful place Sonya's Garden Bed and Breakfast in Alfonso, Cavite. And that is when I realized this is where he could go. My sisters made arrangements with Sonya who is a pet lover and she was so excited to house Cochi.
We left Makati early at dawn with Cochi in the van and arrived at Sonya's Garden. We were met on that beautiful morning by Sonya herself with arms wide open, together with her warm staff and all her pets in a grand welcome for Cochi.
Cochi alighted the van and wagged his tail happily when he spotted Sonya's pet pigs Wilbur and Hotot, her dog Oooggoo, her English Bulldog, her Jack Russell Terrier. He played with them for a while.
Later, he was gently led to his new home in a beautiful clearing with palo santo trees right beside the lettuce gardens, the ducks and organic chickens. His new caregiver Mio swung open the gate and Cochi walked in to meet Pot Pot and Pat Pat, two medium-sized brown pigs, and they ran around together devouring a welcome treat of freshly picked butter lettuce. Instantly, Cochi felt at home and my heart healed at the sight of him joyfully playing with the two piggies.
The air at Cochi's newfound home smelled so sweet and fresh perfumed by Sonya's impeccable floral garden and greenhouses teeming with produce. We were so grateful to see Sonya's numerous gardens in pristine condition, preserved from ashfall and volcanic eruption. After all, Sonya's Garden is my sacred healing place, where I had received her special brand of nurturing through sumptuous breakfasts, freshest salads, baked breads and pastries from her panaderia, soothing four hands massage by her expert masseuses, and pampering in her spa.
Sonya's Garden is a popular venue for healing vacations, delightful afternoon tea daily in her garden with a delightful spread of home-made goodies, spa picnics by the natural spring pools, restful nights and days in her lovely cottages, the best bed and breakfast inn, the most delicious dinners with baked sea bass, steaks, callos and to-die-for tender squid in olive oil served by the sweetest staff.
Today, my heart is full of gratitude for my Cochi has the best, most beautiful home in the animal farm of Sonya's secret garden where my family and I can visit him as often as we can. In God's good time we look forward to seeing him start his very own family, too.
(Would love to hear from you at miladyjewels@yahoo.com.)