Padron me
November 3, 2019 | 12:00am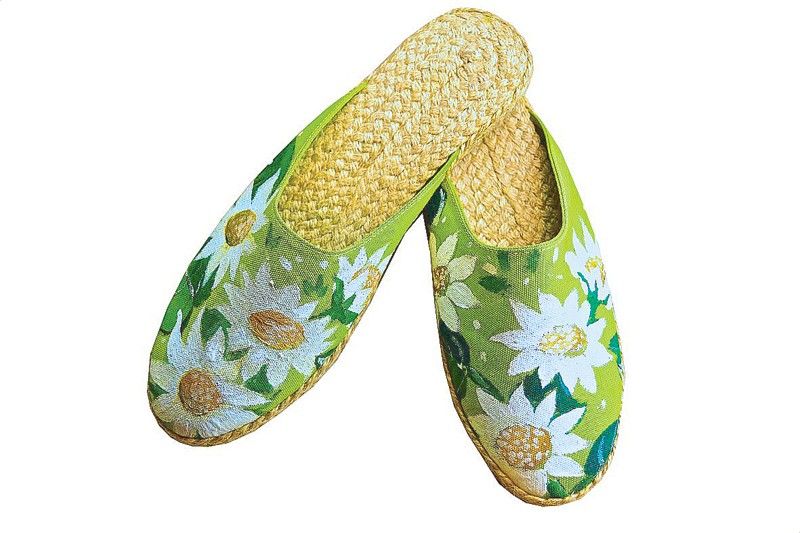 Cheryll Hombrebueno comes from a shoemaking family. Her father Erning and mother Nene started their shoe manufacturing and retail business based in Liliw, Laguna in 1963. She chose to join her sisters in continuing the family enterprise — Padron.
The word "padron" means "pattern." As a child, Cheryll would spend hours watching her father sketch designs and make patterns that would find their final incarnation in the form of beautiful footwear. Today, Cheryll enjoins hand-painting artisans to create unique accents to Padron's collection of slip-ons.
"All our artists come from the town of Liliw. Many of our design concepts come from collaborations with them. There are times, however, when the artist is moved to express himself or herself without consulting us. We also include beadwork in our line of shoes and hire women bearers from Liliw to embellish for us," Cheryll shares.
For Cheryll, shoemaking is not just about fashion but is also about the continuation of a town tradition. "The handicraft of shoemaking has been passed on from older generations. Most of the workers — from the ones who make the pattern up to the shoemakers — did not have formal training. Nevertheless, the footwear that they make is finely crafted, comfortable to wear and durable. Stitching, painting and beadwork of the straps are done mostly by women at their houses. Shoemakers are composed of men who pull together the strap and the inner and outer sole together. All of them are artistic and talented. Most importantly, they have patience."
Cheryll says creating a pair of handmade sandals is time consuming, especially if it is made of abaca. She shares that shoemakers constantly help each other when working on a certain design as footwear making is their main source of income. Cheryll sees joy and self-fulfillment in the shoemakers' faces every time a design or quota for production has been delivered suitable to a client. The small group of workers through their hard work, perseverance and dedication can produce dependable and fashionable shoes and sandals that are proudly Pinoy made.
"Padron makes it possible to eventually provide training programs for Liliweños, who aspire to develop and improve their skills in arts and shoe craftsmanship," Cheryll further narrates. "Liliw has been known for many years in the footwear industry and it is our responsibility to utilize all available resources in order to sustain it. Our aim is to increase the knowledge, develop skills and values in shoemaking especially amongst the youth. From simple to stylish designs, worthy quality and affordable cost of our products are known locally and internationally. Tourists are coming to Liliw all year round because of this. The demand increases yearly. It is because of these that we need the talent and interest of younger Liliweños to be part of this industry. We need to work together in order for us to progress continuously."
Padron's eye-catching footwear brings together the artistry, industry and history of the people of Liliw. And that's reason enough to snap up a pair, pronto! *
Photography by JOANNE ZAPANTA-ANDRADA • All footwear by PADRON (Located at Golden Zapatillas Corp., Mabini St., Liliw Laguna. For more information, visit @PadronLiliw on Instagram or call 0975-3315110.)