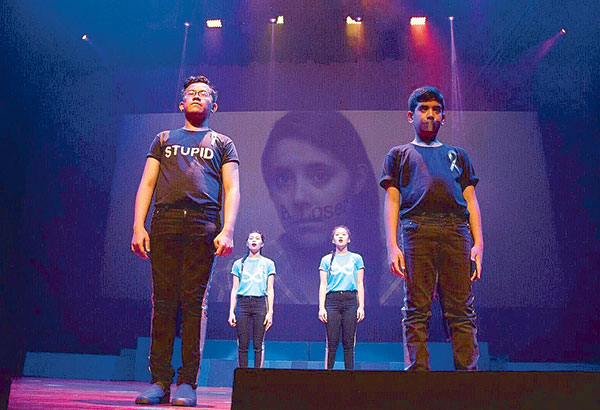 Performing Fix you are (front) Shaun Marcus Rodriguez and Sahil Jiandani; (back) Glaiza Ponferrada and Andrya Mori.
Students get their cape on
FAMILY JEWELS
-
Michelle Dayrit-Soliven
(The Philippine Star) - December 31, 2017 - 12:00am
One of the most meaningful Christmas shows I was very fortunate to have seen was a well-thought-of production called Get Your Cape On by the students of ChildStart International and Reach International School held at the Carlos P. Romulo Auditorium of RCBC Plaza in Makati City at the start of the Advent season.
School administrator Martha Cynthia Tinsay Gonzalez stood proudly on stage, applauding all the performers and profusely thanking show director Marites Bichara del Rosario, who began working with the students early in the year to prepare them for this much-awaited annual school event.
"Empowering students to make a positive influence in their own little ways is essentially what this year's Christmas show is all about. We began this empowerment by giving them the voice to share their ideas during the planning stage," Cynthia shared.
This show was very memorable because it was the first time that the students got involved in the show's conceptualization. Director Marites beautifully wove the students' thoughts into a show, as she carefully chose appropriate songs and choreographed the dance numbers.
During brainstorming, Marites discovered a recurring thought among the students: that at some point in their lives, they felt that they needed to step up and help. There was a time that someone stepped up to help them, similarly, the students realized that, consciously or unconsciously, they have hurt others while at times, they became a hero to another. This meaningful sharing gave birth to this year's Christmas Show theme "Get Your Cape On."
"Get Your Cape On is a song performed by Jordyn Kane for the DC Superhero Girls franchise. It's a title borrowed for this year's annual school show as we aim to empower students to be a hero to other people in their own little ways," Cynthia said.
(Would love to hear from you at miladayjewels@yahoo.com.)