Holiday hoedown
November 24, 2022 | 12:00am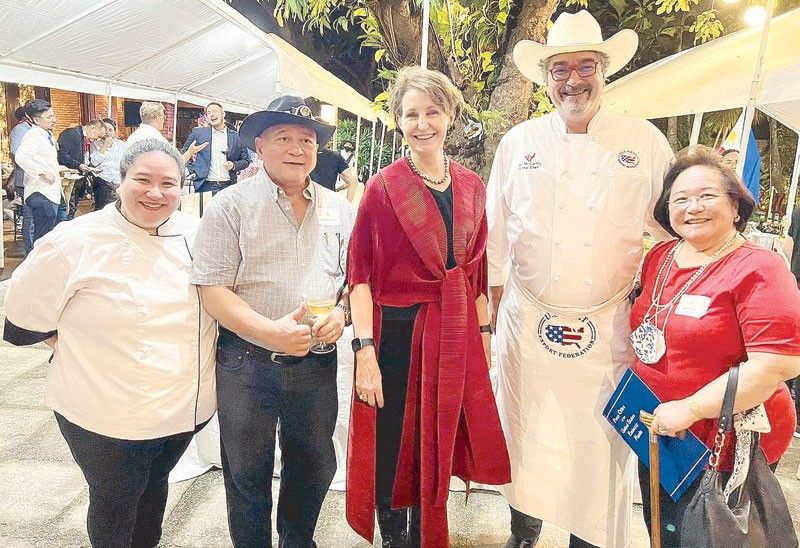 Millie: The Ambassador of the United States of America, Mary Kay L. Carlson, hosted a holiday hoedown party at her residence. It was an outdoor event and guests were requested to wear festive cowboy attire or red, white and blue and, in keeping with the theme, guests were provided with cowboy hats and scarves.
The Plaza catered the reception with American-style barbecue selections and prepared US agricultural products such as turkey, beef, pork and Maine lobsters!
To complete the festivity, California cheeses were served and US wines were free-flowing.
Chef Jay McCarthy was flown in for the occasion to show off his unique style inspired by the native flavors of Texas blended with the tropical flavors of Jamaica, where he was raised. It was good to see chef Jay again, this being our third barbecue event together.
Karla: Days before the Holiday Hoedown, the US Meat Export Federation or USMEF hosted a series of events at Enderun Colleges. Chef Jay McCarthy, consultant for USMEF, conducted a lecture to trade partners, chefs and Enderun students on how to use the different cuts of meat for BBQ. There were a lot of technical details and questions, which chef Jay was able to address effortlessly. It turns out that he was actually an aerospace engineer at one point in his life and had no problem explaining the science behind the meat, flavor, fat, and much more.
Millie: The holiday hoedown menu was a real feast and consisted of US chickpeas and quinoa salad tossed with cherry tomatoes, cucumbers, and lemon vinaigrette. The buffet spread included a salad bar with romaine lettuce and arugula with Point Reyes Original Blue cheese salad with candied US almonds, US cranberries and fresh seedless grapes.
Maine lobster mac and cheese with Point Reyes Toma cheese was one of the favorites that evening. The traditional Thanksgiving US turkey was served with US raisins, apples and chestnut stuffing with American cranberry jelly and red wine gravy.
Chef Jay McCarthy's recipes were US pork baby back ribs coated with his sugar-cure dry rub basted with Jack Daniel's barbecue sauce; coleslaw and elote salad, and slow-cooked US beef ribs using chef Jay's prime rib rub served with US potatoes, garlic mash and a thick mushroom sauce.
Karla: As an added attraction, we included The Plaza's New York-style Angus Hot Pastrami using US Angus brisket and served with sauerkraut, pickles, Russian dressing, horseradish cream and freshly baked dinner rolls.
A special feature was the grazing table by La Petite Fromagerie with a wide selection of California cheeses from the California Milk Advisory Board. Cheese lovers queued up to have a taste of the offerings! Our family favorite was the selection from Point Reyes, featuring Toma Provence and Toma Truffle, Fiscalini Farmstead's Old World Aged Cheddar, Purple Moon and Lionza, Sierra Nevada Jalapeno, Baby Bella, Smokehouse, Bellwether Farms Carmody, Central Coast Holey Cow and Valley Ford Estero Gold.
Sweet bites at the dessert station were mouthwatering S'mores tarts with Ghirardelli chocolates, US walnut and cream cheese brownies, and US cranberry cream puffs.
All the featured US agricultural products are available in the Philippines. The meats served were Kurobuta pork and Beef Back Ribs from Alternatives Food Corporation, Angus Beef Brisket from PTC Commercial Corporation, US turkey from Hightower and Maine lobsters form Mida Food.
Other ingredients such as potato dehy, almonds, walnuts, cranberry and raisins were from Dane International, beans and lentils from Century Pacific, and fresh vegetables from Basic Necessity.
US wines from Happy Living, The Wine Club and Bestworld Beverage Brands were free-flowing throughout the event.
This is our fourth Great American BBQ. I have always looked forward to the challenge of working with all these ingredients from different suppliers and importers. It brings out my creativity and pushes my team to learn more and we all go out of our comfort zones. These kinds of events are one of the perks of my job. Though it's all hard work during the planning stages, once executed properly, it gives my team a sense of fulfillment and pride.
* * *
Send email to [email protected] and [email protected] Find us on Facebook: Food for Thought by Millie & Karla Reyes and Instagram: @quichethecookph.