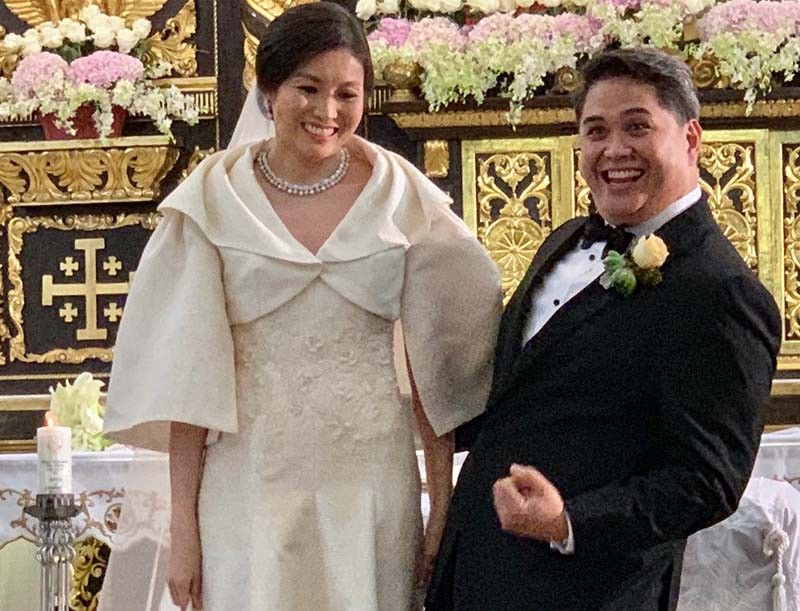 Retail executive Catherine Tantoco Huang and doctor-rock musician David Endriga
All photos by Millet M. Mananquil
Wedding of orthopedic doctor David Endriga to business scion Catherine Huang unites two families passionate about culture and Filipino first
MANILA, Philippines — Today's wedding of David Tablan Endriga and Catherine Tantoco Huang is a glorious parable of modern love : They first met at a New Year's Eve dinner hosted by the mother of the bride 14 years ago. Slowly and joyfully, their love blossomed over musical evenings at the Cultural Center of the Philippines which both their parents organized.
Thus this afternoon's nuptials unfolded amid towering white blossoms and the soaring music of the Philippine Madrigal Singers and cellist Renato Lucas. It also made official the making of one big, happy family of two large clans that have been friends for decades through their many shared passions. Witnessing the union were some 700 guests who filled the Santuario de San Antonio Church in Forbes Park.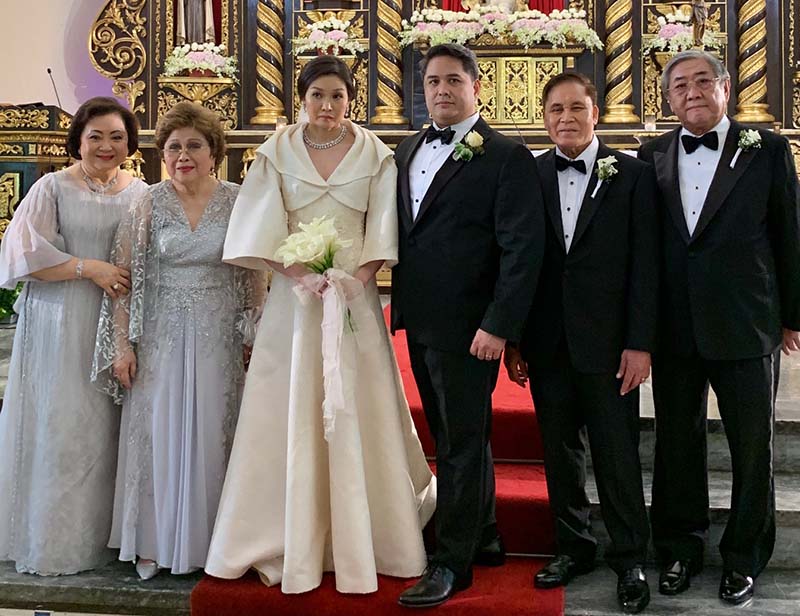 Newlyweds David Endriga and Catherine Huang with parents Nedy Tantoco, Tessie Endriga, Baltazar Endriga and Anthony Huang
Cat is the no-nonsense daughter of Zenaida "Nedy" Rustia Tantoco and Anthony Chen Huang, which makes her third-generation entrepreneur-royalty on both her mother's and father's side. Nedy is the eldest daughter of Ambassador Bienvenido "Benny" Tantoco, the affable patriarch of the Rustan's Department Store empire he co-founded with wife Gliceria "Glecy"Tantoco. Benny just recently marked his 98th birthday last month and it was exciting to see this grand old man witness another important family milestone. Anthony Huang is the coffee and cookies magnate behind the Filipino-first conglomerate Commonwealth Foods.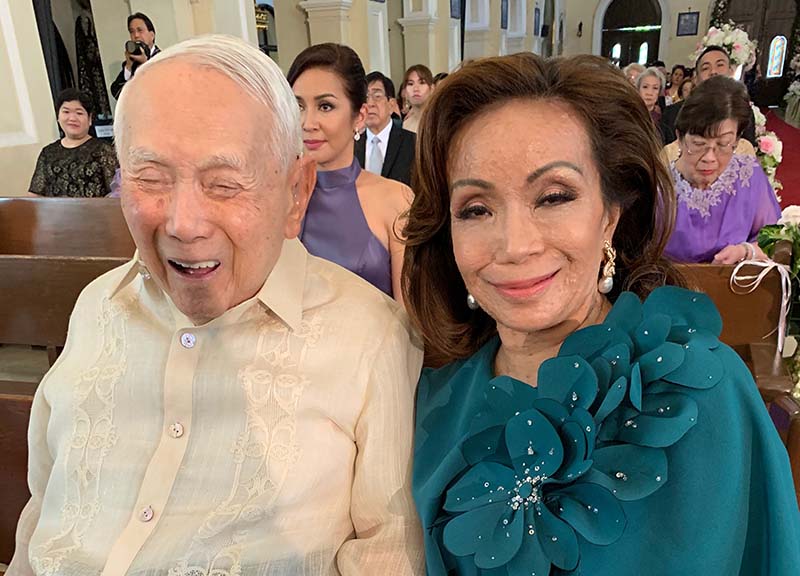 Ambassador Bienvenido Tantoco and daughter Maritess Tantoco-Enriquez
David is the son of Baltazar "Bal" Nacion Endriga and Teresita Tablan Endriga. Bal is the founder of MINT or Meridian International College and is an advocate of not just 21st-century technology and education but also the arts. He was president of Andersen Consulting Philippines, University of the East, as well as the Cultural Center of the Philippines.
That interest in art and culture is what created the strong bond between the families — and ultimately wove the fabric of this 21st-century love story. Nedy Tantoco is an avid and well-known supporter of the Cultural Center and regularly champions piano concertos and operatic performances.
As mother of the bride, Nedy brought the same hands-on attention to detail in helping Cat create a wedding that reflected her taste and temperament. Cat's doting aunts Marilou Pineda, Menchu Lopez, Marilen Tantoco and Marites Enriquez formed a wonderful support team.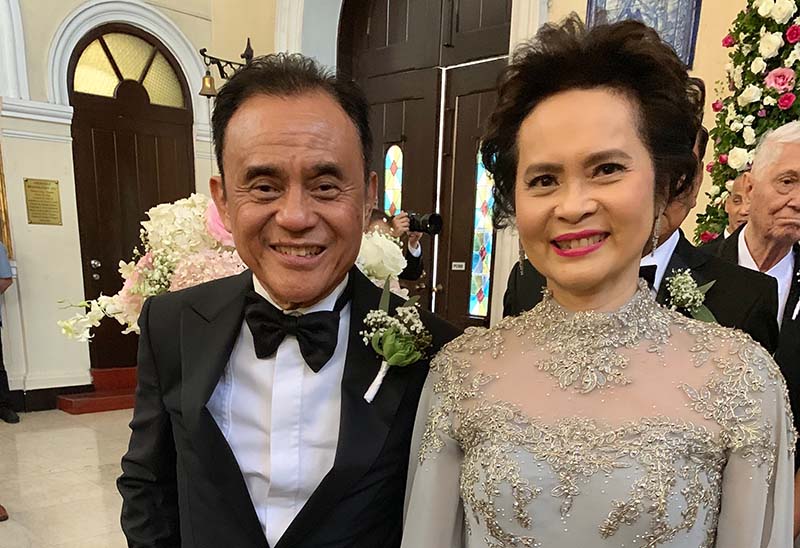 Principal sponsors Rico Tantoco and Marilou T. Pineda
As a tribute to Glecy Tantoco — who was the first to bring the concept of Filipino world-class style to luxury retail — the ceremonies also reflected the superlatives of Glecy's "Our Very Own" through the various creative minds that fill Rustan's elegant halls.
Thus, Paris syndicale-trained Jojie Lloren created a winsome "modern Filipina" for Cat and the bridal entourage. Classic off-white piña with callado embroidery was combined with French lace appliqué in his inimitable trademark fashion. A Maria-Clara-inspired overblouse was an intellectual refinement of the resplendent details that were only hinted at beneath the fabric. The entourage wore piña-silk ensembles that were custom-dyed to the precise shade of pink that the bride specified. Sage-colored accents completed the look.
Criselda Lontok of the eponymous legendary brand dressed the "ninangs"in glamorous silver gowns; while Mel Meer of Bergamo provided the tuxedos for David and the groomsmen.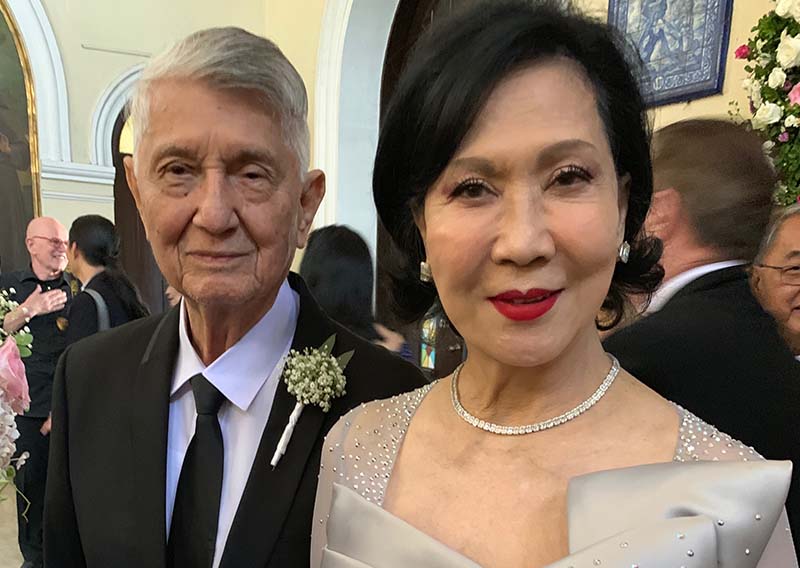 Principal sponsors Dr Richard Tiongco and Babette Aquino Benoit
The principal sponsors were Bienvenido "Rico'"Tantoco, Jr. and Marilou "Merl" T. Pineda ,Ricardo M. Tan and Mrs. Cathy H. Lee; Dr. Richard H. Tiongco and Babette Aquino Benoit; Dr. Florentino A. Aquino and Ping G. Valencia; Dr. Rolando M. Puno and Dr. Flor de Lys E. Soledad; and Dr. Jose Martin S. Paiso and Clara Ramona.
Not surprisingly, the choice of sponsors reflected the groom's successful practice as one of the country's brilliant orthopedic surgeons. Trained abroad, he made it a point of honor to return to the country — and the love of his life. Cat is the low-key, highly committed general manager of Marks & Spencer. She was educated at the Manchester Business School of the University of Manchester in the UK. She's been described as simple and humble but sharp, with absolutely no airs.
It's truly a celebration of the proverbial match made in heaven of two evolved beings in the prime of their lives.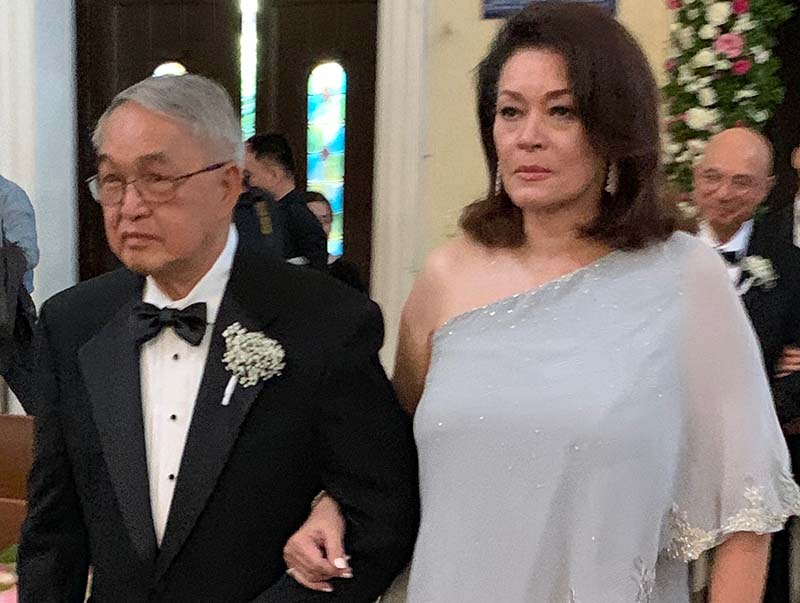 Principal sponsors Dr. Florentino Aquino and Ping Valencia