Workers protest continuing rise in prices of goods
September 12, 2023 | 12:00am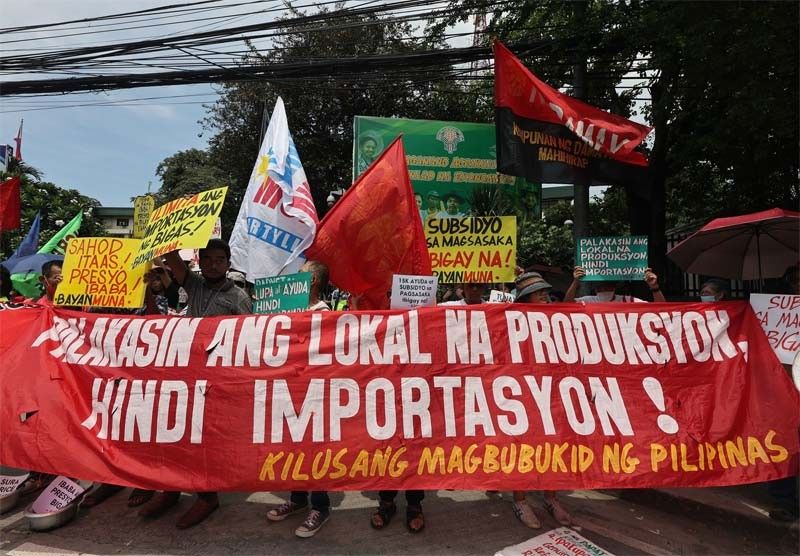 MANILA, Philippines — Workers from various labor groups led by the Kilusang Mayo Uno (KMU) yesterday took to the streets to protest the government's "inefficient and insufficient" measures to address the rising prices of rice and other basic commodities.
"The price ceiling of Marcos is artificial. At first glance, the rising prices are being controlled. But actually, the burden is being passed to small vendors and farmers," KMU secretary general Jerome Adonis said.
KMU said the government must allocate funds for an extensive rice production subsidy program to aid farmers and increase domestic rice supply; provide substantial wage increases to help consumers, particularly the workers.
So far, Adonis said, only two Regional Tripartite Wages and Productivity Boards have issued orders granting pay hikes for minimum wage earners in Metro Manila and CALABARZON.
Womens rights group Gabriela also gathered at the Department of Agriculture to express concerns about the escalating rice prices on Monday.
While an urgent price ceiling of P35 is a necessary immediate solution to the increase in rice prices, "it should go hand in hand with an investigation into the deeper causes of the rice crisis," Gabriela's deputy secretary general Rose Bihag said, noting that the price of rice could be brought down to P35.
Retailers are forced to sell at a deficit, Gabriela said, while nothing is said about taking down big traders that hoard rice supplies. "In the immediate term, we must investigate the modus operandi of large traders and rice cartels that hide large rice supplies and artificially manipulate its price," Bihag said in Filipino.
She added that confidential and intelligence funds should be reallocated towards subsidies for farmers and addressing rice-related issues.
"If we want to lower the price of rice without further burdening farmers and retailers, we should scrap the Rice Liberalization Law, return the NFA's mandate to buy directly from farmers, break the monopoly and lower rice prices," she explained. — Mark Ernest Villeza