Fidel V. Ramos cremated, inurnment at Libingan set August 9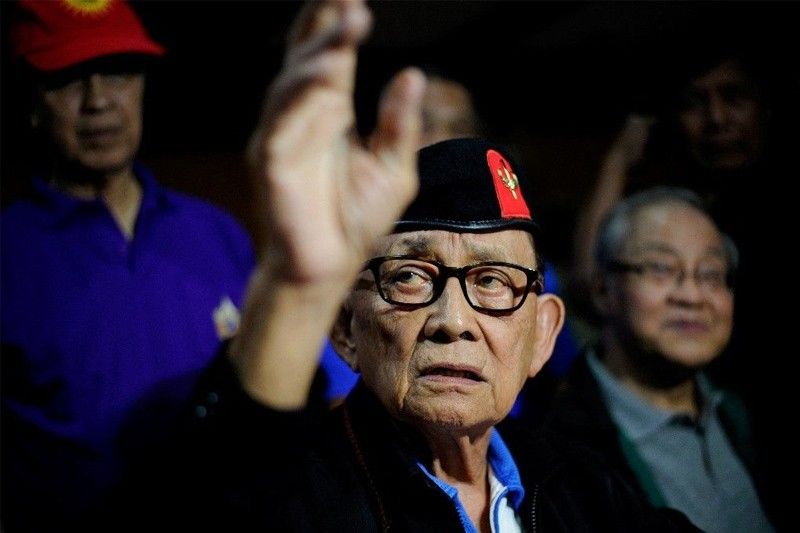 MANILA, Philippines — The inurnment of the cremated remains of former president Fidel Ramos at the Libingan ng Mga Bayani is set on Aug. 9 at 10 a.m., his grandson said yesterday.
Sam Ramos-Jones said the family "is truly grateful for the overwhelming outpouring of support and well wishes."
"As we grieve, let us also celebrate a rich life – dedicated in service to this nation and its people," Ramos-Jones said in a statement, announcing that the late president's wake will begin tomorrow at Heritage Park in Taguig City where all guests are encouraged to wear white.
The family also thanked the Office of the President, the Armed Forces, as well as friends and supporters for helping with the funeral arrangements.
To help manage the flow of guests and better adhere to COVID-19 precautions, the family has designated certain dates and times for groups and sectors wanting to visit the wake.
On Thursday, from 7 a.m. to 2:30 p.m., the schedule will be for government officials, 3 p.m. onwards will be for members of the Ramos Cabinet while evenings are reserved for tributes.
The following day, the same schedule will be followed, with the first batch allotted for government officials, followed by members of the diplomatic corps, the business community and civil society organizations.
It will be followed by former members of the Malacañang Press Corps, the Defense Press Corps, and the Foreign Correspondents Association of the Philippines.
On Saturday, the first batch will be for veterans, members of the military and law enforcement, and the West Point Society, followed by members of the Rotary Club in the afternoon. Sunday would be the start of the public viewing that will last until Monday.
Instead of flowers, the Ramos family is requesting contributions be made to any of the following charitable institutions: Veterans Memorial Medical Center, Philippine Red Cross, Hero Foundation, Inc., ABS-CBN Lingkod Kapamilya Foundation, Inc., Center for Health Improvement and Life Development (CHILD) Haus, JG Patnubay Foundation, and the Ramos Peace and Development Foundation, Inc. (RPDEV).
FVR strengthened democracy
It was late president Corazon Aquino who restored democracy 1986, but it was the late president Fidel V. Ramos (FVR) who strengthened it, former senator Franklin Drilon said.
Drilon, who served in various posts in the Cabinet of the two late leaders, said Ramos deserved the monikers "Steady Eddie" and "Stabilizer-in-Chief" given his ability to remain calm and not lose sight of the big picture in the face of daunting challenges and during tense situations.
"President Cory restored our democracy, but it was president Ramos who really strengthened the institutions of democracy. He maintained the principle that democracy is the best way of life for us," Drilon told "The Chiefs" on One News on Monday night.
"He defended these institutions of democracy when he was a member of the Cabinet. But when he became president, he strengthened them so that today there is no threat to our democratic system of government," Drilon added, referring to the seven attempts to overthrow Aquino by forces loyal to the late strongman Ferdinand Marcos. At that time, Ramos was Armed Forces chief, and later appointed as defense secretary.
Drilon also recalled that Aquino made a very difficult decision of endorsing Ramos as her successor, against the recommendation of her allies, friends, and her brother, Jose "Peping" Cojuangco, who was her closest political adviser.
"President Cory made that decision alone. It was her judgment that president Ramos would be the best person to succeed her and she was correct," Drilon said.
Ninong
Former tourism secretary and now Bangko Sentral ng Pilipinas (BSP) deputy governor Bernadette Romulo Puyat also shared her memories of FVR, who was among the principal sponsors (ninong) at her wedding.
"FVR was one of my Ninongs when I got married in 1994. My Dad chose him to be a Ninong. I remember telling my Dad that I would only agree for him to be Ninong, if he attends both the church ceremony and the wedding reception. Little did I know that my Dad extended my message to FVR," Romulo-Puyat posted on Instagram.
"Imagine my embarrassment when he assured me, while having our picture taken at the church, that he would attend our reception. He shared that he cannot always be present at receptions because of his busy schedule. But in our case, he made an exception. And not only did he attend but he stayed as well," she added.
"This episode affirmed that President Ramos was always a gentleman and an officer. He was a patriot that always believed in the Filipino, as a member of the international community. May his soul rest in peace, and let perpetual light shine upon him," her post concluded.
Pillar of the system
The Department of Justice (DOJ), in a statement, praised Ramos for his role in improving the justice system in the country. "He was a strong leader. One of his orders was to include, as an integral part of the continuing education and training of personnel in the Department, the study of human rights," the DOJ statement said.
The DOJ added that it would always remember FVR and honor him by adhering to his words: "Justice is a government project: Do not delay." Clark Development Corp.
President and CEO Manuel Gaerlan honored FVR for having transformed the former American military base into an economic hub for the country. Under Ramos' leadership, the CDC was established through EO No. 80 in 1993.
After the traditional flag-raising ceremony, Gaerlan requested for a one minute of silence and ordered the flag to be flown at half-mast in honor of the late president.
For his part, CDC chairman Edgardo Pamintuan conveyed his condolences in a statement posted on his Facebook page. He also acknowledged FVR's efforts to transform the Freeport into what it is now.
In Pampanga, members of the Sangguniang Panlalawigan also extended their condolences and recalled Ramos' legacy to the province, the FVR Megadike.
The megadike is considered the province's last defense against lahar when it was completed with a transverse dike in 1997. – Evelyn Macairan, Ric Sapnu