Ballots returned to Senate after record 2-day canvassing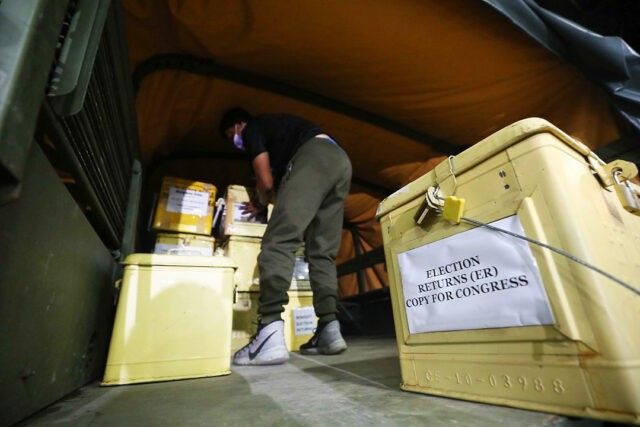 MANILA, Philippines — The House of Representatives has returned to the Senate all ballot boxes in the May 9 elections following the record two-day canvassing of votes and proclamation in the presidential and vice presidential polls.
A total of 630 ballot boxes consisting of 447 ballot boxes containing election returns (ERs) and 183 boxes containing certificates of canvass (COCs) were turned over last Friday morning by the House through plenary security unit chief Policarpio Acoba Jr. and perimeter security chief Juanito Tan Jr. to the Senate team led by Ronel Manalo of the Senate office of sergeant-at-arms security enforcement service.
Acoba said the turnover process was smooth and orderly, adding that the ballot boxes were loaded into four military trucks at 9:30 a.m.
"It was easy because the process of taking the ballot boxes is systematic and by number. It was also arranged per region. What's important is that the number of boxes brought in tallied with the number brought out," Acoba explained.
Acoba said the event was a joint effort of the House Engineering and Physical Facilities Department (EPFD), the Office of the Sergeant-at-Arms (OSAA), Legislative Security Bureau (LSB), the Inter-Parliamentary and Public Affairs Department (IPAD) and the Senate.
Acoba said they feel honored for being part of the canvassing process up to the proclamation of president-elect Ferdinand Marcos Jr. and vice president-elect Sara Duterte-Carpio.
"For us this is a memorable activity. We can proudly tell our descendants that we are part of this historic 2022 canvassing and proclamation of the president," he shared.
Manalo also said the turnover of the ballots was faster this time as compared with previous canvasses of votes by Congress.
"It's not as hard as before. Our counting is by ballot boxes and not by sequence. When we turned them over, we only counted the ballot boxes since they were in order already, and we didn't have to check the serial numbers and the number of padlocks," he revealed in Filipino.
The turnover was also witnessed by IPAD Deputy Secretary-General Gracelda Andres.
After the canvassing last Wednesday, Senate President Vicente Sotto III directed the Senate secretary to turn over the Consolidation and Canvassing System (CCS) machine and return all the ballot boxes, as well as the pouches containing the COCs and ERs to the Commission on Elections (Comelec).