Winning president, VP may be proclaimed by May 25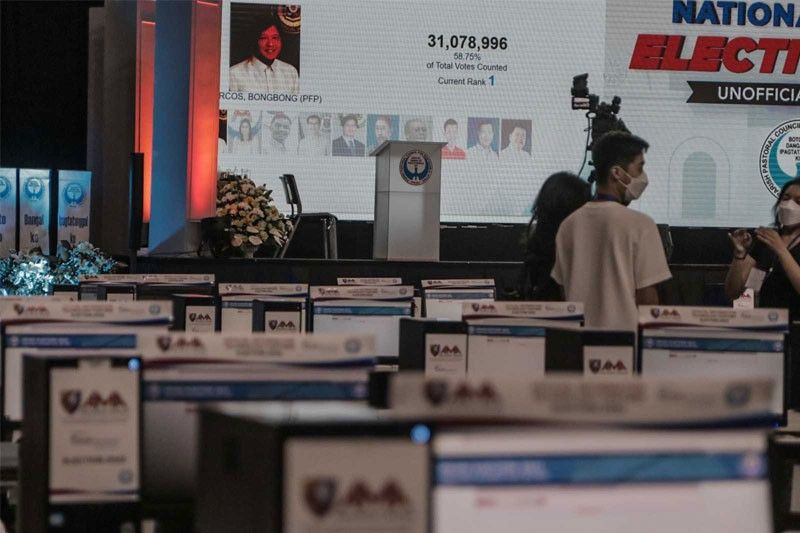 MANILA, Philippines — The proclamation of the winning president and vice presidential candidates can be done immediately or no later than May 25 as the Senate and the House of Representatives sitting jointly as the National Board of Canvassers see no major issues hampering the canvassing, Senate Majority Leader Juan Miguel Zubiri said yesterday.
In an interview over dwIZ, Zubiri said an early proclamation would allow the senators to continue their legislative work and pass some local bills under the 18th Congress.
"I feel the proclamation can be expedited. If I have my way, we will proclaim the new president and vice president in the afternoon. But we will allow time for our colleagues both in the majority and the minority to give their privilege speeches, and eventually we will proclaim. Maybe the latest is May 25," he said.
Zubiri expressed belief that there would be no major issues or motions to be raised during the canvassing, considering the wide leads of presumptive president Ferdinand Marcos Jr. and presumptive vice president Sara Duterte-Carpio over their rivals in the race.
As of yesterday afternoon, partial and unofficial counting of the Parish Pastoral Council for Responsible Voting (PPCRV) indicated that Marcos garnered more than 31 million votes as against the over 14.8 million votes for Vice President Leni Robredo.
In the vice presidential race, Duterte-Carpio got over 31.5 million votes as of yesterday afternoon, compared to Sen. Francis Pangilinan's more than 9.2 million votes.
Zubiri said session is set to resume on May 23 with the Senate's approval of the resolution convening the National Board of Canvassers with Senate President Vicente Sotto III and seven senators to represent the Senate.
To represent the chamber, aside from Zubiri, are Minority Leader Franklin Drilon, Grace Poe, Aquilino Pimentel III, Pia Cayetano, Imee Marcos and Francis Tolentino.
The two chambers will check the certificates of canvass submitted manually to the Senate and electronically to the House.
"We will convene by May 24…if they match and no other differences or erasure, we will canvas immediately and proclaim the elected president and vice president," Zubiri added.
"I'm confident that in this case, with the huge mandate given to the president and vice president, the margin from the second, third and fourth are so wide, no one will ask too many questions," he added.
He, however, stressed that motions would still be entertained during the canvassing.
Zubiri declined to comment on the possible choices for the next Senate president, saying they would rather focus on the tasks left for the current congress, which adjourns on June 3.
The reelectionist senator ranked eight in the Senate race, as of yesterday.
"In the meantime, there is still much work to be done. We are still in the middle of a pandemic and we must focus our energy on current challenges the country is facing," Zubiri pointed out.