Urging vigilance, Marcos claims victory at hand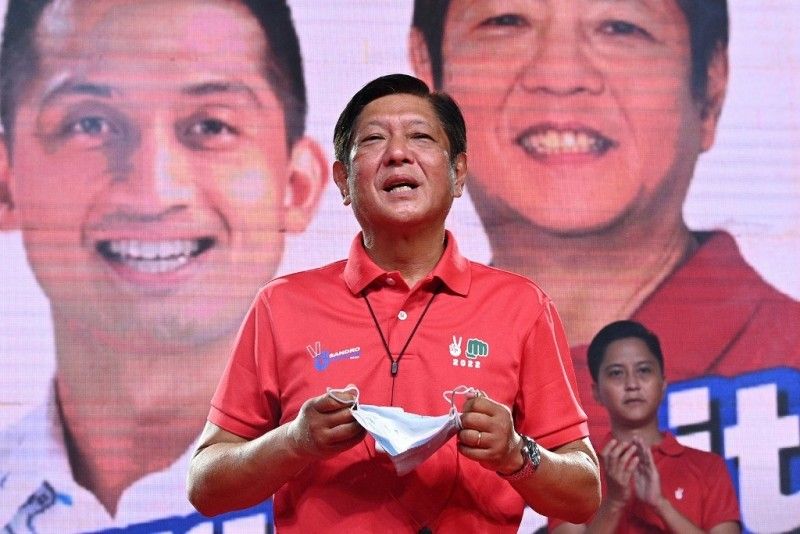 TAGUM CITY, Philippines – Presidential frontrunner Ferdinand "Bongbong" Marcos Jr. sees himself winning the election on Monday and called for vigilance among supporters to make this happen.
Speaking at the UniTeam's miting de avance here last Thursday night, Marcos said he has the unprecedented support of almost 65 percent of voters that could guarantee his election by a majority – a first under the country's multi-party system.
"We already won! Just make sure you guard your votes on Monday and don't sleep. I will ask all our friends for tons of coffee so we won't sleep because we all know that unwanted things could happen if we sleep," he told a mammoth crowd in Filipino.? "What I've noticed throughout the campaign is that the unity of the Filipino people has already started even before our expected victory in the election," he added.?Marcos again called on his supporters to go to precincts and exercise their right to vote on Monday to make sure that their support for him will translate into votes.?
"We're still in economic crisis brought by the pandemic. This election on Monday will be crucial as it will lead us to the direction that our beloved nation will take. This coming Monday, your vote for the Marcos-Duterte tandem and the UniTeam will be a voice of the Filipino masses for our future, for unity and for the love of the Philippines," he said. His call for vigilance was echoed by his spokesman, Vic Rodriguez.
"Victory is nigh, but it is not yet, till every vote is counted and the ultimate choice proclaimed. Until then, vigilance!" Rodriguez said in a statement.
"It is crucial that we go out and vote, and of equal importance is to make sure that our votes are counted accurately. History has taught us evil men will try to prevail up to the last minute. It takes firm goodness and bravery to thwart them," he appealed. Rodriguez said that while they remain vigilant coming into this final week of the campaign, they are confident that the consistent leader in pre-election surveys will win the presidency.
Marcos' running mate, Davao City Mayor Sara Duterte-Carpio, said they are opting not to be complacent even when the pre-election surveys show them consistently on top with dominating margins over their respective closest rivals.
Duterte-Carpio stressed that this lead does not guarantee their victory in Monday's elections.
"Usually, surveys are not really indicative of victory of a candidate. But we are grateful for the trust and confidence of the many of our countrymen to our UniTeam of Bongbong Marcos and Sara Duterte. There is no guarantee on everyone since we don't know what will happen. We are preparing for any eventuality. We are praying to God for favorable results and we will continue to guard the votes," she told reporters.
Marcos expressed gratitude for the broad popular support their team has received during the campaign period. "It's just now that we are seeing almost 65 percent of the people are with us and have joined forces with us," he said. The latest and final Laylo pre-election survey conducted from May 1 to 4 showed Marcos dominating the presidential race with 64 percent or a 40-point margin over the 24 percent of his closest rival, Vice President Leni Robredo. Marcos also received a preferential rating of 58 percent in the OCTA survey and 56 percent in the Pulse Asia survey, both released earlier this week.
Living a simple life
President Duterte, after calling Marcos Jr. a "weak leader" and "spoiled," defended yesterday the presidential frontrunner, saying the latter lives a simple life.
In an interview with controversial pastor Apollo Quiboloy, Duterte said he thinks Marcos did not benefit from his family's ill-gotten wealth.
"Then the money that was stolen, until now they haven't seen anything. If you believe, if not, it's OK. There is a little money left for Marcos, everything was sequestered, including in Switzerland," the President said in Filipino.
He added that Marcos Jr. was still young when his father rose to power.
"He cannot be trusted with billions. He was young then. Of course, they could inherit that, but that would be a very, very tedious process," Duterte noted.
To prove his point that Marcos Jr. lived a simple life, Duterte recalled that the former senator had to hitch a ride with him during a senatorial campaign.
"He just hitched a ride with me. Whether he had money then or not, we're the ones to say, he has no money. He is just living a simple life," he said, recalling a conversation with his former aide, Sen. Bong Go.
Duterte has repeatedly said he is not endorsing any presidential bet.
However, the PDP-Laban faction, which he chaired, had endorsed the tandem of Marcos and his daughter, vice presidential candidate Sara Duterte-Carpio.
No troll army
Meanwhile, Marcos' camp has maintained that it does not have an army of trolls amid allegations they were the ones behind attacks on social media against some journalists, including members of the Foreign Correspondents Association of the Philippines (FOCAP) who are covering the campaign trail of Marcos.
"Just show us one troll, just show us one troll and then we could begin talking. All of these are pure allegations," Rodriguez said in an interview with ANC's "Headstart" yesterday.
Rodriguez claimed that Marcos, on the contrary, is the top victim of "fake news, negative campaigning and hate campaigning."
A study by academe-based fact-checking organization Tsek.ph released last February, however, showed that Marcos benefitted the most from fake and misleading information on social media while his political rival, Robredo, was the "biggest victim" of fake news and disinformation. – Helen Flores, Elizabeth Marcelo