Contactless Clark terminal launched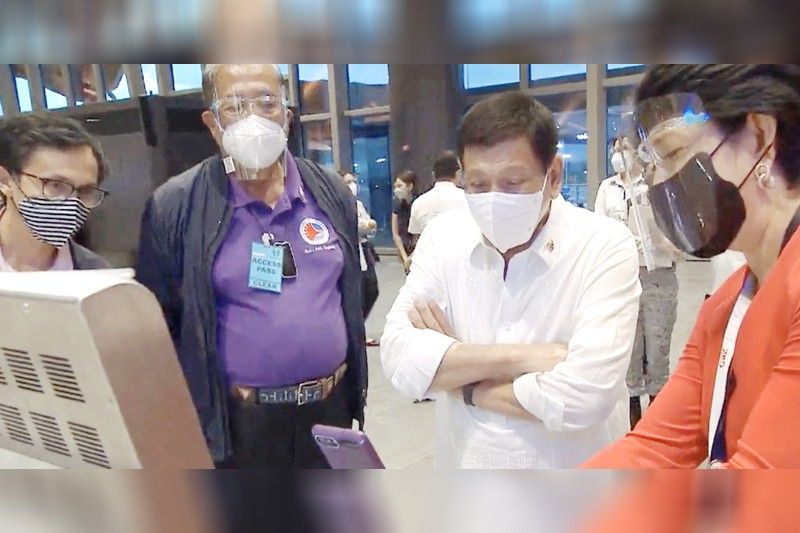 CLARK, Pampanga, Philippines — Impressed by such state-of-the-art features as contactless baggage handling and passenger check-ins and check-outs, President Duterte lauded last weekend the completion of the P12.5-billion passenger terminal of the Clark International Airport (CRK).
"We are thankful that another major component of this administration's 'Build, Build, Build' program is ready for the benefit of the people," said Duterte as he inspected the new building's features last Saturday.
Set to be fully operational by September, the CRK Terminal 2 was constructed not only to accommodate up to eight million passengers annually, but to make the air travel experience hassle-free and effortless at the airport dubbed as "Asia's Next Premier Gateway."
"This structure before us reflects the administration's unyielding commitment to improve the quality of life of every Filipino by providing big ticket infrastructure projects such as this that will improve connectivity, mobility, create jobs and spur economic activity in the regions," Duterte said.
The Philippine Information Agency (PIA) described it as "the first hybrid public-private partnership project completed under the Build, Build, Build program of the Duterte administration."
The President said the new terminal would decongest traffic at the busy Ninoy Aquino International Airport (NAIA) and make travel for Filipinos and tourists "safer, easier and more comfortable" as the country heads toward the "new normal" amid the COVID-19 pandemic.
Emphasizing these points, Transportation Secretary Arthur Tugade said "when we say we have a world-class passenger terminal, it is a facility that is filled with pioneering and really very historical features."
"It is a pioneer in being a contactless airport. These include contactless baggage handling, as well as contactless passenger check-in and check-out. Even contactless ordering of food in restaurants will be implemented," Tugade said.
He also boasted that "for the first time, this will be an airport that will be connected with a train express" that would reduce travel time between Makati and Clark from a drive of more than two hours to just 55 minutes.
"Like other airports, we have in this new terminal a heroes' lounge for the military, police and other uniformed personnel," added Tugade. "You have a lounge dedicated for the use of overseas Filipino workers for free."
It also features gender-inclusive and PWD-friendly restrooms, advanced docking guidance system, and implements a Silent Airport Policy in which the use of the public address (PA) system will be limited.
Duterte praised the Department of Transportation, Bases Conversion and Development Authority (BCDA) and their private sector partners for what he described as a "massive achievement."
For his part, BCDA president Vince Dizon lauded "more than 3,000 workers, engineers, architects and designers who built the world-class airport and has made it a reality for every Filipino." – Ramon Efren Lazaro, Alexis Romero