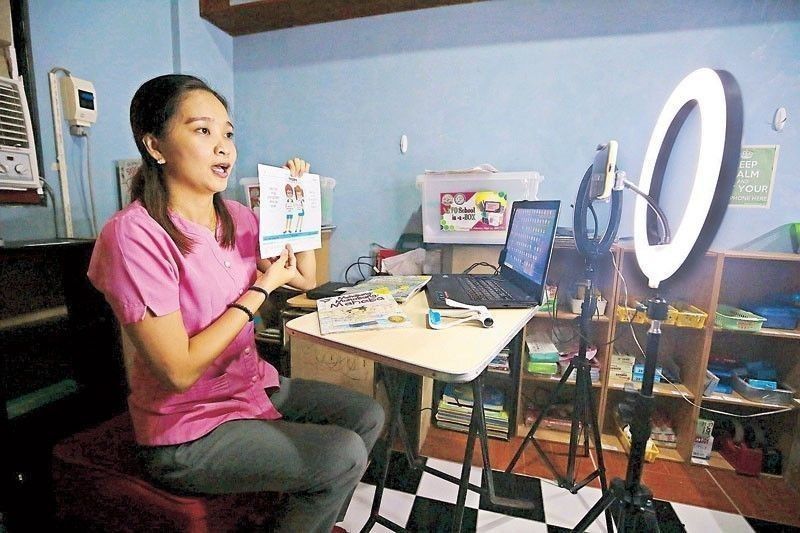 A public school teacher records a lesson for her class under DepEd's distance learning this school year due to the COVID-19 pandemic.
The STAR/Michael Varcas
1,700 provisional SHS teachers rehired for next academic year — DepEd
(Philstar.com) - June 23, 2021 - 3:40pm
MANILA, Philippines — The Department of Education on Wednesday said the Civil Service Commission has approved its appeal to rehire 1,700 provisional Senior High School teachers for the next academic year.
DepEd in a release said CSC granted its request in February for the reappointment of the teachers who were first hired in 2016 and whose appointment were set to expire this July. The move came after the licensure examination in September 2020 was suspended due to the threat of COVID-19.
"This will further ensure unhampered delivery of learning and continuous teaching services of our SHS provisional teachers to our learners," said Secretary Leonor Briones.
CSC's resolution "shall serve as standing policy" to extend SHS teachers' appointment, according to agency.
They would, however, need to show proof of a previous attempt to acquire a license in the last five years, and that there are no available applicants for the Licensure Exam for Professional Teachers (LEPT) in their division.
DepEd added that through the resolution, a provisional appointee can be terminated should a qualified LEPT eligible applicant be available to teach in the relevant subject.
Provisional hiring was first made in 2016 when the extra two years in the Philippine basic education system was added, now known as the K-12.
The agency said it hired non-LEPT graduates from science, mathematics, statistics, engineering, and other programs with the absence then of qualified professional teachers for specialized subjects in senior high school.
"Upon existing CSC rules and regulations, these appointees are hired under provisional appointment for a period allowable by law," DepEd added. — Christian Deiparine