What we know so far: Death of flight attendant Christine Dacera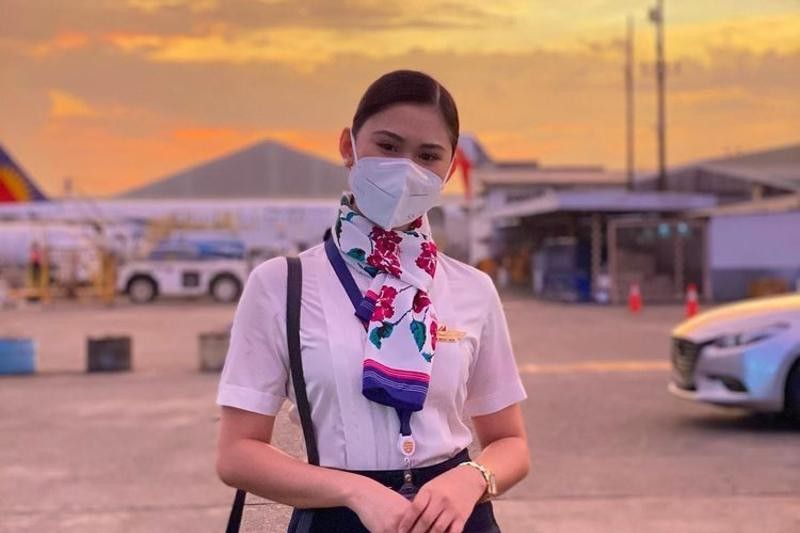 MANILA, Philippines (Update 3 Jan. 7, 2020, 4:48 p.m.) — The circumstances surrounding the tragic passing of flight attendant Christine Dacera left most of social media in shock in the hours following it.
Friends and hotel staff reportedly found her unconscious body in a hotel bathtub the night after a New Year's Eve party, and rushed her to a hospital, where she passed away.
She was only 23 years old.
The second of four siblings, Dacera graduated cum laude at the University of the Philippines Mindanao and had long dreamt of being a flight attendant growing up.
Her mother said that this was so she could allow the family to travel around the world with her.
Here's what we know so far about her grisly death.
READ: Flight attendant drugged, raped?
What happened?
According to Brick Reyes, a lawyer and the family's spokesperson, at a press conference on Tuesday afternoon, Dacera booked a room in the City Garden Grand Hotel Makati on the night of December 31.
At the time, she was with friends and fellow workers from Philippine Airlines where she worked. Her family believed she was going to usher in the New Year together with her workmates.
After this, they said, "a total of 9 males were present inside the room together with Christine by herself, the only girl in the group."
Posts on her social media channels show that she was in the company of 11 male friends before her death. She fondly referred to them as "my loves."
Makati City police confirm this, saying that the 11 were friends of Dacera's friends, said to be "a mix of gays and bisexuals" who were also invited to the New Year's Eve party.
Initial reports said Dacera checked into the hotel with Rommel Galida, Gregorio de Guzman and John dela Serna at around 12:30 a.m. on January 1.
READ: Lawmaker offers P100-K bounty for suspects in Christine Dacera death
"Between 6 to 10 in the morning of Jan. 1, Christine had already experienced intoxication and she complained more particularly that her drinks appeared to have been spiked. So subsequently, she already collapsed, and they tried to use CPR to try to revive her until finally they couldn't and brought her to the hospital. More or less the general facts occur like this," Reyes said.
Earlier police reports, though, say that Dacera's body was later found by hotel staff in a bathtub inside the hotel.
What are the findings?
"At past noontime of January 1, the victim was found unconscious in the bathtub of her hotel room. Hotel staff performed CPR on the victim to revive her but failed, and later rushed her to the hospital where she was pronounced dead by doctors," the PNP said in a statement.
The initial medico-legal report received by Makati police acknowledged that lacerations were found in Dacera's thighs as well as contusions on her knees.
But Makati City police chief Col. Harold Depositar in an earlier story by The STAR disclosed that they could not yet establish the rape angle without any testimony from witnesses.
READ: With 9 suspects still at large, Sinas says Makati rape-slay case already 'solved'
According to Reyes, Dacera only knew she would be with three people that night, and did not expect that the six others would join in.
Reacting to the findings that an aneurysm had caused Dacera's death, Reyes said: "They didn't factor in her hematoma. We want an independent post-mortem report from a different medico-legal."
"We have more than enough probable cause (for rape) for the fact she sustained these injuries in her legs and arms," he added.
What happens now?
Though nine suspects in the rape-slay of a flight attendant in a Makati hotel remained at large at the time, Police Gen. Debold Sinas, the chief of the Philippine National Police, said that the case was officially "solved" with three of the suspected perpetrators who were in police custody.
The three suspects were later on released on Wednesday following the order of state prosecutors.
Prosecutor General Benedicto Malcontento said that state prosecutors "resolved to refer the case for further investigation, and to release the arrested persons from detention.
According to the Reyes, the possibility that the incident is what caused her aneurism is still being considered. "Drugs were used on Christine and she was abused prior to her death. That is why we charged the respondents with rape and homicide," he said.
"We are disputing the findings that the death was caused by the aneurysm. They didn't cite the bruises found on her. We are seeking another post-mortem report from another medico," Paolo Tuliao, the family's legal counsel said, adding that the family had requested another autopsy.
Tuliao added that the claims that the men with her were gay were only "evidentiary in nature."
"They must submit to the jurisdiction of the prosecutor," he said.
The family is also considering filing a complaint against the hotel after it allowed nine people in a room despite general community quarantine rules set by the Inter-Agency Task Force on Emerging Infectious Diseases.
The tourism department has also issued a show-cause order against the hotel for the same violation, citing DOT Administrative Order No. 2020-002-C which states that an accommodation establishment in areas declared to be under a general community quarantine that is concurrently being used as a quarantine facility may not provide accommodation for leisure purposes.
READ: DOT issues show cause order vs Makati hotel after demise of flight attendant
The remaining eight suspects, according to the Philippine National Police, include:
Gregorio Angelo de Guzman;
Louie de Lima;
Clark Jezreel Rapinan;
Mark Anthony Rosales;
Jammyr Cunanan;
Valentine Rosales;
a certain Ed Madrid; and
a certain Paul
"While preliminary investigation by the Philippine National Police showed that the cause of death was due to ruptured aortic aneurysm, visible lacerations and other evidence based on the medico-legal report points to factors of abuse, which include forcible sexual misconduct," a separate statement issued by the Commission on Human Rights on the incident read.
"This case cannot be regarded as solved until justice has already taken its due course and that the perpetrators are held to account," it also said.
'Victim-blaming culture'
The family also slammed narratives online that Dacera herself was responsible for the incident.
"Don't ever blame a girl for waking up naked and being abused. Don't ever blame a girl for her own death...that's BS," the family's lawyers said.
"If those [claims that it was consensual] were all true, then why is Christine not here today to answer that?" they added.
For her part, Sharon Dacera, the victim's mother, said: "It hurts to accept what happened to my daughter. The only thing I can't do is I want to hug my daughter, but her life is no more."
"If you're innocent, then come out."
Narrative of suspect, police
Gregorio de Guzman, one of the 11 suspects in the case, told television reporters that he attempted to give her CPR upon discovering her body, which he said still looked "warm."
De Guzman's mother, Claire dela Fuente, also defended her son, saying: "My son is gay. It's hard to admit but I've known this since he was a child."
"We didn't leave her. We took care of her because we knew [she would do the same for us]," De Guzman said.
Speaking in another interview over CNN Philippines' New Day, PNP spokesperson, Police Brig. Gen. Ildebrandi Usana, said that the autopsy report of the case should remain confidential after alleged copies of this were circulated on social media.
"There was intoxication, and apparently based on the chief of police's narrative, someone probably might have placed something in the glass of wine of Ms. Christine," Usana said.
"What matters now is there is a body of crime, hostility so to speak, and this will serve as basis to say that there was indeed foul play based on the contusions and lacerations and all that. Although some would say that this was a result of the drunkenness," he added.
Pressed for the results of Dacera's toxicology report, though, Usana said: "We'd rather wait for information coming from no less than the chief of police or at the very least the investigators."
"All these will have to be considered, but at the end of the day, there were people there, and somebody died, so all these will have to be considered as suspects."
The PNP has also released a separate statement defending its designation of the case as "solved," citing Memorandum Circular No. 94-017 issued by the National Police Commission which holds that a case is solved when:
the offender has been identified
there is sufficient evidence to charge him
the offender has been taken into custody
the offender has been charged before the prosecutor's officer or court of appropriate injuction
"In the Dacera case, all four elements are present, thus the case is considered solved," the statement read.
Later Tuesday, though, Police Brig. Gen. Vicente Danao Jr., chief of Metro Manila police, said he rejected this classification, telling News5 that the whole picture of the case should first be established before police branded it as solved.
"If you say it has been solved, it should be clear as to who was raped, who did it and what had been the cause of her death," he said then.
"It could be too much alcohol intoxication. So we should be able to clear these things first. Maybe she was made to drink something unknowingly. So we have to identify these persons first," he added.
In a press release issued late Tuesday night, Sinas presented an ultimatum to the remaining suspects: turn yourself in, or we will hunt you down.
"This is a fair warning. Surrender within 72 hours or we will hunt you down using force if necessary."
Sinas added, "We know who you are. Your family must turn you over to the police. Those found to be abetting your escape will also be arrested."
'Reserve judgments until all facts are in'
Malacañang said the public should wait for the findings of the final investigation on Dacera's death before making assumptions.
"Speculations are freely aired that may not jibe with what the real cause of death is and the circumstances surrounding it. Since the investigation on Christine's death is ongoing, we advise those who are concerned with the case to reserve their judgments until all the facts are in," presidential legal council Salvador Panelo also said in a statement later Wednesday afternoon.
"It is best that we await the final result of a thorough investigation by our law enforcement authorities. The autopsy report on the deceased is a guide to determine the cause of death," he added.
In an interview aired over state-run Radyo Pilipinas and broadcasted by the People's Television Network, forensic pathologist Dr. Raquel Fortun highlighted the need to see first the results of the routine toxicology report.
"Let's not force the 'ruptured aeortic aneurysm.' But the question should be, can excessive alcohol and drugs or a combination of these things kill a person? The answer is yes, and that is something people take for granted," she said.
"She was 23 years old and healthy...the report didn't mention any sores or any clogging," she added.
Fortun, a professor at the College of Medicine of the University of the Philippines Manila, cast doubt on whether the activity could have initiated an aneurysm, saying "the connection is a little vague."
At a press briefing later Wednesday, Sinas asserted: "When we discussed this with the investigators and other senior officers, I think it's really rape."
"Look, the girl had bruises and confirmed lacerations and the fluids in her private parts. But I will leave it to the investigators," he added, but was apprehensive about touching on the findings.
"We have evidence but we cannot release it right now."
Evidence submitted
In a separate interview aired over CNN Philippines' "The Source", Prosecutor General Benedicto Malcontento disclosed that the national police has only submitted a medico-legal report and death certificate of Dacera thus far, days after her death was first reported.
"Based on the medico legal, there's no such thing saying that there was semen in her private parts. Number two, only her cousin is testifying that she has contusions and bruises. So we must have an independent medical exam on that, on what the cause of those injuries is," he said in mixed Filipino and English.
"There must be a scientific, medical basis na dapat masubmit ng PNP para mapaniwalaan namin yung allegation. As of now, there still aren't any medical findings like that, which is why, our decision was to convert this to a regular preliminary investigation," he added.
Malcontento disclosed that the national police has only submitted a medico-legal report and death certificate of Dacera thus far, days after her death was first reported.
According to the prosecutor general, the office still "cannot ascertain" whether a crime was actually committed or not at this point in time.
Danao said over dzMM TeleRadyo on Thursday that Metro Manila police was still open to the possibility that this may not be the case after all, despite Sinas claims of evidence proving rape that he still has not presented.
"It could be a cause, heavy drinking coupled with illegal drugs. It can also be caused by a party drug because based on what we saw, it is a rave party that took place that night. She really did have an aneurysm, that is what the doctors I know have said. That would be one of the causes, heavy drinking coupled with drugs, especially party drugs. A rupture of the blood vessels is possible," Danao also said in mixed Filipino and English.
"I was not really convinced when I read the documents but [Makati police] already filed it. They filed the case because police were eager to file it. But for me, honestly, speaking, the complaint was still half-baked, but that wasn't a reason for us to stop the investigation altogether," he also said.
— with reports from Kristine Joy Patag and The STAR/Ghio Ong
This is a developing story. Check back for updates.