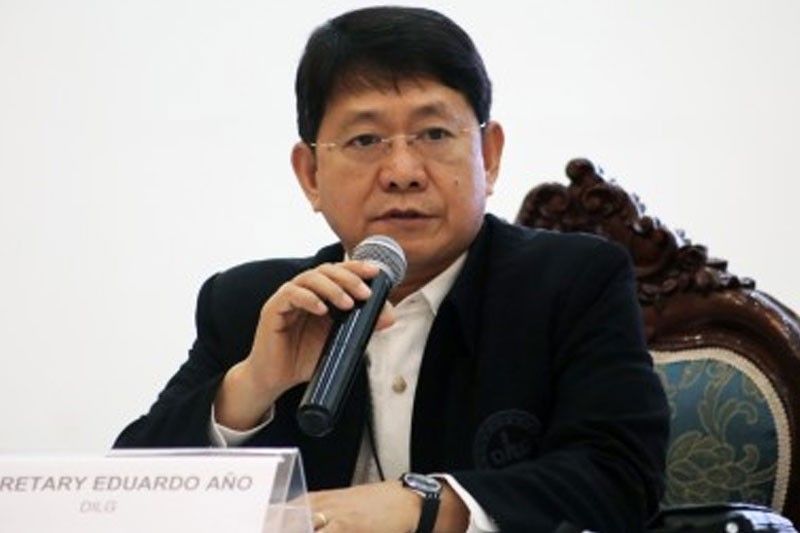 In an interview with dzMM, Interior Secretary Eduardo Año said with the easing of quarantine restrictions, strict localized lockdowns should be enforced in communities – even in specific streets – to stem community transmission.
pna.gov.ph
Año wants aggressive lockdown in streets
MANILA, Philippines — As cases of coronavirus disease 2019 (COVID-19) in the country continue to rise despite months-long quarantine, Interior Secretary Eduardo Año said he wants more aggressive but localized lockdowns in neighborhoods or barangays with even one confirmed case to check the spread of the contagion and give the economy some breathing space.
In an interview with dzMM, Año said with the easing of quarantine restrictions, strict localized lockdowns should be enforced in communities – even in specific streets – to stem community transmission.
The number of Filipinos infected with COVID-19 has reached more than 51,000 with more than 1,000 deaths.
"Our point here is – impose a lockdown, pull out the infected and have his companions tested. I mean, extracted and placed in our isolation facilities," he said in Filipino over dzMM.
The Department of Health (DOH) on Wednesday said community transmission is now primarily driving the increase in the number of positive cases in the country.
The DILG chief said anyone who may have come into contact with an infected person should immediately contact barangay or town officials and go into quarantine.
"So we're urging them to step forward. Don't wait to be traced," he added.
Año claimed the government has enough testing kits and that testing is even covered by insurance from Philippine Insurance Corp. if one is a member.
He noted that the National Task Force Against COVID-19 has met with mayors of the National Capital Region for consultation on ways to restart the economy and better implement localized lockdowns.
In a statement, he also appealed to local government units (LGUs) to keep watch over establishments, especially dental clinics, and ensure their compliance with health protocols and guidelines prepared by Philippine Dental Association (PDA) for preventing infection.
"Amid our country's efforts against the spread of COVID-19, we cannot ignore other serious concerns that need to be addressed, including dental health. The DILG recognizes that oral health is just as important and is part of overall health," he said.
Año noted that the nature of dental treatments and services makes dentists and patients vulnerable to infection.
The PDA guidelines require patient screening, preparation of dental facility team, wearing of protective personal equipment, as well as management of hazardous waste.
The PDA also recommends doing a two-phase triage for scheduling of appointments, as well as ensuring proper ventilation in clinics.
Patients who need to undergo aerosol-generating procedures should also be required to present a valid test result not more than five days old of RT-PCR (reverse transcription-polymerase chain reaction) for COVID-19, used and approved by the DOH.
Lead with compassion
In Cebu City, Vice President Leni Robredo said leaders must lead with compassion instead of fear to ensure that the public supports efforts to address the COVID-19 pandemic.
In an interview with Radio RMN in Cebu on Wednesday, Robredo said the people would be more cooperative if they understand the plan of the government to deal with the public health emergency.
"I think what we lack right now is compassionate leadership that understands poverty," she said in Filipino, citing reasons why many people violate quarantine restrictions.
"The best practices of countries – for example Taiwan, South Korea and New Zealand – are having compassionate leadership. It resulted in having a more cooperative constituency that is not afraid," she added.
Robredo said it is unacceptable for her to threaten people with arrest or call them pasaway (unruly), particularly those who are trying to find food or earn a living.
She said that based on reports she has received, there is a strong sense of frustration among Cebuanos, stemming from perception the government lacks a definite plan or framework to handle the health crisis.
"It is important to communicate the plans to the public so they would be hopeful," said the Vice President. "Because if the public does not see direction or plan, they would be more afraid."
The Office of the Vice President has rolled out projects in partnership with the private sector to support frontliners in Cebu City, which remains under the strictest enhanced community quarantine.
In addition to the free shuttle service launched last Monday, the OVP has also rolled out a free ferry service from Olango Island to the mainland.
It also opened three dorms to cater to medical workers and other frontliners in the city.
Meanwhile, Malacañang said Filipinos who will travel abroad whether for business or tourism must still undergo quarantine procedures upon their return to the country.
Returning Filipino travelers should also undergo PCR testing to ensure they are COVID-free, said presidential spokesman Harry Roque Jr.
The Inter-Agency Task Force for the Management of Emerging Infectious Diseases (IATF) had earlier lifted suspension of flights abroad, even for non-essential trips.
"I repeat, outbound Filipinos, upon your return you should follow the health protocols to stay in hotel quarantine (or) government quarantine facilities while waiting for test results. But you can choose which laboratory you want to get the PCR tests," Roque said.
As part of travel requirements, outbound Filipinos will be asked to present their return tickets and get health insurance for the duration of their trip, which will cover re-booking and accommodation expenses as well as medical expenses in case of sickness. They will also be asked to execute a declaration to acknowledge the risks involved in going abroad. Janvic Mateo, Christina Mendez