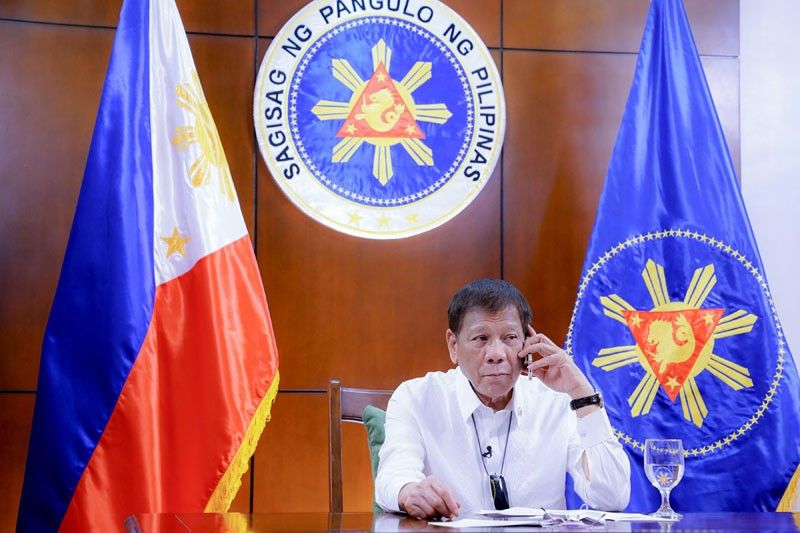 The Chinese President received Xi Jinping's call Thursday night at the Malacañang South Guest House here. Their conversation lasted for 38 minutes.
STAR/ File
Philippines to get vaccine priority, Xi tells Duterte
Helen Flores
(The Philippine Star) - June 13, 2020 - 12:00am
DAVAO CITY, Philippines – On the eve of the 122nd anniversary of Philippine Independence Day, Chinese President Xi Jinping called President Duterte to congratulate and assure him that Filipinos would be prioritized in the distribution of a vaccine for coronavirus disease 2019 (COVID-19) once it becomes available in China.
The President received Xi's call Thursday night at the Malacañang South Guest House here. Their conversation lasted for 38 minutes.
China is one of the countries developing a vaccine for COVID-19.
Xi's call came a few days after the two countries marked 45 years of diplomatic relations. It also came on the heels of
Duterte's suspension of his termination of the Visiting Forces Agreement (VFA) with the United States.
Duterte and Xi discussed their countries' progress in combating COVID as well as their strategies for restarting their respective economies.
Malacañang said Duterte also mentioned to Xi the need for cooperation in research trials for COVID-19 vaccine development and underscored the importance of making the vaccine accessible and affordable to all countries.
"President Duterte received President Xi's full support on ensuring supply chain connectivity, particularly in critical medical supplies and equipment, promoting the free flow of goods and resuming and completing priority infrastructure cooperation projects in the Philippines," Robert Borje, presidential assistant on foreign affairs and chief of presidential protocol, said.
In a related development, an "expert panel" led by the Department of Science and Technology (DOST) is negotiating with five Chinese and Taiwanese institutions for a possible collaboration on the development of a vaccine for COVID-19.
"We have been authorized by the IATF (Inter-Agency Task Force on Emerging Infectious Diseases) to negotiate vaccine trials collaboration with them," Science Secretary Fortunato dela Peña told The STAR. Three of the institutions are from China.
He identified the five groups as the Chinese Academy of Sciences, Sinopharm, Sinovac Biotech, Academia Sinica and AdImmune.
"What the IATF approved on June 10 was the inclusion of Sinovac in the list for negotiations on collaboration," Dela Peña said.
In an interview over dzMM, Dela Peña said the vaccine development effort of the Nasdaq-listed Sinovac was the most advanced. Christina Mendez, Rainier Allan Ronda
Duterte's