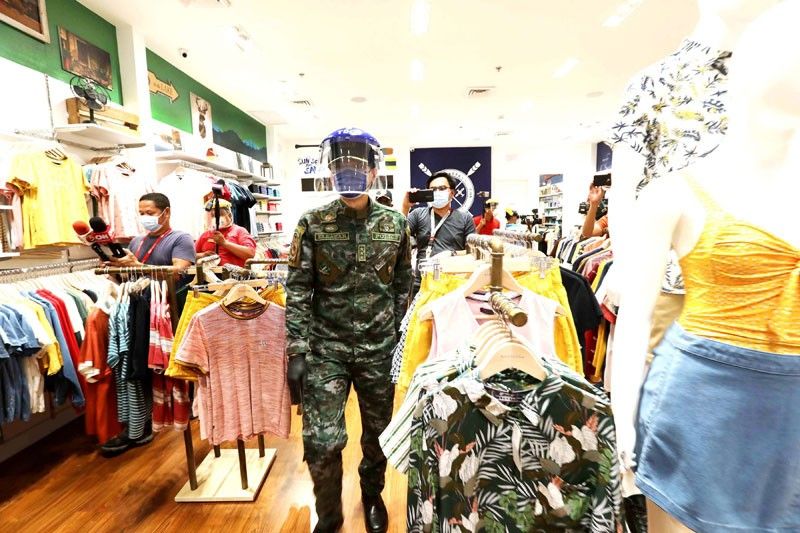 Lt. Gen. Guillermo Eleazar, commander of the Joint Task Force COVID Shield, inspects a clothing store which reopened at SM Masinag in Antipolo, Rizal yesterday.
Boy Santos
Malls allowed to partially open
MANILA, Philippines — Malls located in areas under modified enhanced community quarantine (MECQ) have been allowed to partially reopen but were reminded to implement strict protocols to ensure the safety of consumers.
In Quezon City, Mayor Joy Belmonte issued guidelines allowing limited operations of non-leisure establishments inside malls in line with the omnibus guidelines issued by the Inter-Agency Task Force for the Management of Emerging Infectious Diseases (IATF).
Allowed to operate with up to 50 percent of their workforce in Quezon City are businesses such as dining (take-out and delivery only); clothing and accessories (with no fitting of clothes and no return/no exchange policy) and mall-based government services.
Also allowed to partially reopen are hardware stores, bookstores, school and office supplies, baby care supplies, electronics, toy stores (with playgrounds and amusement areas closed) and flower, jewelry, novelty, antique, and perfume shops.
In her directive, Belmonte said high-risk persons such as the elderly, children and pregnant women shall not be allowed to enter malls except when indispensable, such as for obtaining essential goods and services or for work.
Not allowed to reopen under MECQ were leisure, entertainment, sports and personal care establishments such as gyms, fitness studios, cinemas, theaters, karaoke bars, amusement and outdoor parks, barbershops, salons, massage parlors, saunas and facial care centers.
Also not allowed are libraries, archives, museums and cultural centers, travel agencies and tour operators.
Memorial parks and cemeteries shall remain closed to the public except for burial rites.
According to Belmonte, home quarantine shall be strictly observed in all households during the MECQ period.
"For purposes of leaving home to buy essential goods or services, the resident should bring a quarantine pass issued by the barangay of residence. The quarantine pass should be honored even if it is in the name of another person, as long as that person belongs to the same household," she said.
Company identification card should be sufficient to allow persons working in a permitted establishment to pass through a checkpoint in Quezon City.
Belmonte said the city government may expand its "Libreng Sakay" program, given that there is still no public transportation except tricycles.
Safety precautions
Mall operators have committed to implement precautionary measures to ensure safety of everyone.
SM Supermalls said it would begin to operate essential and non-leisure services after the ECQ period. It said the gradual re-opening follows the decision of local government units to observe adjusted mall hours until further notice.
"All SM malls will continue to carry out strict safety and sanitation measures to assure shoppers that SM malls are safe and clean, complying with safety and sanitation protocols over and above government regulations," it said in a statement on Friday.
SM said all malls are being thoroughly cleaned and disinfected prior to the opening and throughout mall hours, especially in areas with heavy customer contact.
Entrances are equipped with temperature checks and disinfecting foot mats. Alcohol dispensers are provided at the mall entrances and restrooms.
The restrooms are sanitized every 30 minutes.
"Everyone will be required to wear face masks at all times. In observance of social distancing, SM lays emphasis on 'safe distancing' as this promotes the importance of physical distance with social connectivity," it said.
SM reminded consumers to limit malling activities to buying essentials and accessing non-leisure services.
It would disable free WiFi access and would place floor directional arrows to encourage one-way customer traffic.
Ayala Malls said all standard health and safety protocols recommended by the IATF would be implemented as select branches reopened yesterday. Most of its malls in Metro Manila would reopen on Monday.