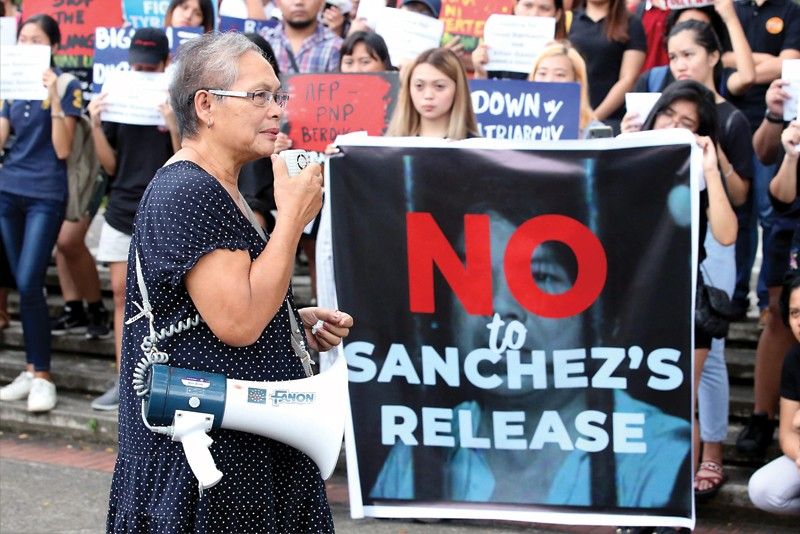 Iluminada Gomez, mother of murdered student Allan Gomez, speaking during a rally at UP-Los Baños in Laguna to protest the looming release of Antonio Sanchez.
Ernie Peñaredondo
MANILA, Philippines — If capital punishment had been in place when Antonio Sanchez raped Mary Eileen Sarmenta and killed her friend Allan Gomez, the convicted former Calauan, Laguna mayor could have been dead by now, senators said yesterday.
"Kung may death penalty noon, dapat binitay na siya (If there had been death penalty, Sanchez could have been hanged)," Sen. Ronald dela Rosa said, adding that capital punishment should be revived to prevent a similar situation from happening again.
For his part, Foreign Affairs Secretary Teodoro Locsin Jr. said Sanchez "deserves to die in his cell."
"It shows the weakness of the justice system. There are crimes which are really revolting in nature that would not merit a second chance," Sen. Francis Tolentino told reporters.
The impending release of Sanchez will further boost the effort to push for the reimposition of the death penalty,?according to the senators.
In the absence of death penalty, the law should be followed, according to Dela Rosa.
"Wala tayong magawa, what can we do? 'Wag ninyo akong sisihin… I am not the one na gumawa ng batas na 'yan. Nandiyan ang batas, sinusunod ng BuCor ang batas, so dapat sundin natin," he said, referring to the Bureau of Corrections, which is bound by the law.
"Bakit natin ie-exempt si Sanchez? Kung galit tayo lahat sa kanya, itong 11,000 na eligible na lumabas na ie-exempt mo si Sanchez dahil galit ang karamihan, pero kung eligible naman siya para maka-avail ng GCTA na 'yan, bakit hindi? Batas-batas lang tayo," he added, referring to the Good Conduct Time Allowance provision of Republic Act 10592.
Tolentino recommended that the BuCor and the New Bilibid Prison (NBP) set up a website that will contain the process of giving parole or reprieve so that the families of the victims are updated of the status of those serving sentences.
He added that to move a step further, the call for the death penalty should be strengthened "para 'yung maging ganitong incident, wala na itong reprieve or parole (to negate any possibility of parole for such crimes)."
Review of Sanchez's 'good behavior'
The Senate is poised to investigate Sanchez's impending release for being "questionable" and to review RA 10592.
Senate President Vicente Sotto III expressed belief that the computation made by BuCor and NBP officials New Bilibid Prison was wrong.
"I will agree (that the pending release) is questionable. I don't believe that the computation is correct. And I don't know what the definition of 'good behavior' (is). Is possession of P1.5 million worth of shabu 'good behavior'?" Sotto asked.
"I am filing today or tomorrow a resolution asking for a review of the law covering the GCTA, kasi mayroon doon allowance for good conduct," he added.
In a resolution introduced by Senate Minority Leader Franklin Drilon, the Senate resolved to direct the Senate committee on justice and human rights to conduct an inquiry, in aid of legislation, into the reported eligibility of Sanchez for an early release from prison with the view to ensuring proper implementation of, and enacting remedial legislation to, RA 10592.
The resolution stated that Justice Secretary Menardo Guevarra has publicly announced that some 11,000 inmates, including Sanchez, may be released from prison within the next two months pursuant to the provisions of RA 10592 and in accordance with the Supreme Court decision.
BuCor spokesman Sonny del Rosario has also publicly stated that Sanchez, who was convicted of seven counts of rape with homicide and sentenced to suffer the penalty of seven reclusion perpetua for the gruesome rape-slay of Sarmenta and killing of Gomez in June 1993 has "already served 49 years based on the computation of his good conduct time allowance," according to the resolution.
It added that RA 10592 provides that criminal liability is extinguished partially for good conduct allowances which the culprit may earn while he is undergoing preventive imprisonment or serving sentence.
"Whereas, Sanchez's alleged good behavior is questionable because in 2006, he was charged with possession of illegal drugs after a prison guard allegedly found him to be keeping a packet of shabu and marijuana, along with other illegal drugs paraphernalia," the resolution read.
It further stated that in 2010, then NBP director general Oscar Calderon told the media that Sanchez was suspected of selling P1.5 million worth of shabu to his fellow prisoners.
"RA 10592 states that the grant of credit for preventive imprisonment shall not apply to an accused who has been convicted previously twice or more times of any crime. In 1999, Antonio Sanchez was convicted of double murder for the deaths of Nelson and Rickson Peñalosa, thereby disqualifying him for credit under the law," the resolution read.
"The (BuCor), together with the Bureau of Jail Management, (which) is mandated under RA 10592 to compute and grant the time allowances for good conduct, must therefore do the same with utmost due diligence and in accordance with the law," it added.
For Sen. Sonny Angara, assuming that Sanchez is entitled to these good conduct allowances, there is a need to amend other portions of the law, like Section 3, to state that recidivists or repeat offenders should not be entitled to such benefits.
"The issue here is whether (former) mayor Sanchez is entitled to these good conduct allowances given his conviction for drug possession while imprisoned and given the gravity of his crimes," Angara said.
"It is a big blow to the justice system if he is allowed to be released after committing such heinous crimes. The law should apply to all, but it must also be seen to be able to do justice to the victims," he added.
'Sanchez deserves to die'
Locsin differed with Dela Rosa, himself a former BuCor chief, who said that the convicted former mayor "deserves a second chance."
"No, he deserves to die in his cell," Locsin tweeted on Wednesday evening.
The foreign affairs chief said Sanchez needs to serve all seven terms consecutively.
"And if a law favors you it applies to just one of the 7 consecutive terms of life imprisonment. So he has 6 to go. Otherwise why bother to impose more than one term of life imprisonment. Logic," he said on Twitter.
"The law is wrong; the Supreme Court was wrong. He got seven life sentences. True law favoring a convict has retrospective effect on his sentence. That spares him having to finish one of 7 life sentences. He has 6 to go or 200 years more. Period," he added.
BuCor director general Nicanor Faeldon yesterday said Sanchez might not walk free yet despite a potential reduction in his time in prison for good conduct.
Faeldon said illegal drugs were seized in Sanchez's "kubol" at the NBP, a factor in the bureau's computation of the GCTA of a person deprived of liberty.
'Changed man'
Earlier yesterday also, Dela Rosa said Sanchez is a changed man, even seen wearing skirts and lipstick, and carrying a Bible.
Dela Rosa said when he was BuCor chief, he received information that Sanchez had dropped his "siga" (toughie) image.
"Just to emphasize, that (is) according to the corrections officers sa Bilibid, although hindi ko siya nakikita personally. I never met him, hindi ko siya nakausap. Tinanong ko mga guwardya dun, nandyan pa ba 'yung mayor, sabi, 'Nandyan pa, sir. Mabait na sir, hindi na siga, malumanay na, changed man na, nakapalda at naka-lipstick.' So 'yun lang ang sabi nila," the senator said.
"Changed man, in the sense, na 'pag nasa loob ka, killer ka, siga ka, 'di ba? Ngayon, the mere fact na nakapalda ka, naka-lipstick ka, mabait ka na. May hawak na Bibliya palagi… bagay ba siyang magsiga-siga roon kung nakapalda ka, naka-lipstick?" he added. – With Pia Lee-Brago, Delon Porcalla