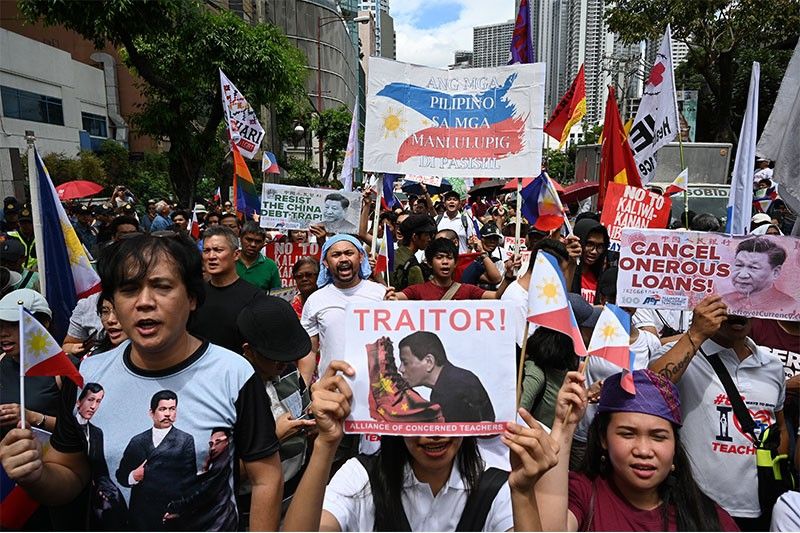 Anti-China protesters raise placards with a portrait of Philippine President Rodrigo Duterte, kissing a boot decorated with Chinese emblem, during a protest in front of the Chinese consular office in the financial district of Manila on April 9, 2019. Protesters decended on the Chinese consulate in Manila on April 9, to oppose the Asian superpower's growing sway in the Philippines and as tensions rise over Beijing's presence in the disputed South China sea.
AFP/Ted Aljibe
What triggered Duterte's change in tune on West Philippine Sea
MANILA, Philippines — The Duterte administration has recently been uttering stronger statements on Beijing's recent actions in the West Philippine Sea.
Contrary to President Rodrigo Duterte's previous pronouncements that he would invoke the July 2016 arbitral ruling on the South China Sea "at a proper time," the administration has been insisting that its position never changed.
READ: South China Sea ruling useless 'as of now' — Palace
The arbitral award invalidated Beijing's nine-dash line claim over the South China Sea, part of which is the West Philippine Sea, and concluded that the country violated its commitment under the United Nations Convention on the Law of the Sea upon constructing artificial islands in the Philippines' exclusive economic zone.
The Hague-based tribunal, however, does not have an enforcement mechanism.
China asked to 'lay off' Pag-asa
Duterte first changed his tone on China earlier this month when he asked Beijing to stay away from Pag-asa Island, one of the biggest features in the Spratly chain in the West Philippine Sea.
This statement was made following reports that hundreds of Chinese fishing vessels, which seem to be part of China's maritime militia, have been operating near Pag-asa Island. Philippine efforts to repair facilities on the island, including a dilapidated runway, are underway.
"This is not a warning, this is just a word of advice to my friends, since we are friends, China. I will not plead or beg, but I'm just telling you – lay off Pag-asa because I have my soldiers there," Duterte told reporters in Palawan a few weeks ago.
Duterte 'never shelved' arbitral ruling
More than a week after Duterte asked China not to touch Pag-asa Island, Malacañang released a statement insisting that the administration "never shelved" the arbitral ruling on the South China Sea.
Presidential spokesperson Salvador Panelo issued this statement in response to former Foreign Affairs Secretary Albert del Rosario, who appealed to the government to "unshelve" the arbitral award in the midst of China's "aggression and aggressive moves."
"In the first place, this administration never shelved the arbitral ruling. It only remains unenforceable because no foreign force seems persuaded to help us enforce it," Panelo said.
Panelo further explained that the Philippines does not have the capability of enforcing the ruling alone by force.
"It (ruling) has the stamp of permanence. We urge the Chinese government to respect it, and we hope the mechanism of bilateral negotiations between the countries forge a mutually satisfactory solution to the conflict based on internationally accepted principles of justice and reciprocity, as well as anchored on the dictates of each national security and aspirations of their people," Panelo said.
READ: Palace: Duterte invoked arbitral ruling in asking China to lay off Pag-asa
'Salvo' of diplomatic notes filed against China
While Panelo has made remarks that the Departent of Foreign Affairs was protesting China's actions on Philippine waters, Foreign Affairs Secretary Teodoro Locsin Jr. refuses to make public any document on such protests.
Locsin only said he had "fired off salvo of diplomatic notes" over the presence of Chinese vessels near Pag-asa Islands. He also tweeted that the West Philippine Sea "is ours" and that China "took it."
"World's highest court ruled that. Period. Now the question is how to take it back," Locsin said on Twitter.
'Jet Ski-dding!'
The string of strong statements on China from the Duterte administration coincidentally comes as the 2019 midterm elections come near, reminiscent of his campaign promise to ride a jet ski to the contested waters.
On one of the Comelec-sanctioned debates at the height of his presidential campaign in 2016, Duterte promised to ride a jet ski to a China-occupied island in the West Philippine Sea to plant a Philippine flag and assert the country's claims.
When Duterte assumed office in June 2016, his administration sought to forge closer ties with Beijing in a bid to court more Chinese investments into the Philippines.
The Duterte administration has refused to bring up the arbitral ruling with China and opted to hold a bilateral consultation mechanism instead. The Philippines, along with other Southeast Asian nations, and China opened negotiations on a legally-binding Code of Conduct in the South China Sea.
In March 2018, two years after making his jet ski promise, Duterte said it was only a joke.
"When I said I would go to China on a jet ski, that's nonsense. I don't even have… It's just talk. I'm surprised you believed it," Duterte said.
Filipinos oppose government inaction on sea row
As the Duterte government seeks stronger ties with China, majority of Filipinos are not pleased with the administration's policy on the West Philippine Sea.
A Social Weather Stations (SWS) survey released November 2018 showed that an overwhelming majority of Filipinos oppose the government's supposed inaction on China's incursion in the West Philippine Sea.
The poll found that 84% of 1,200 adult respondents said it is "not right" for the Philippine government to leave China lone with its infrastructures and military presence in the disputed area.
The same survey also showed that 86% of Filipinos believe it is necessary for the government to strengthen its military capability, particularly the Navy.