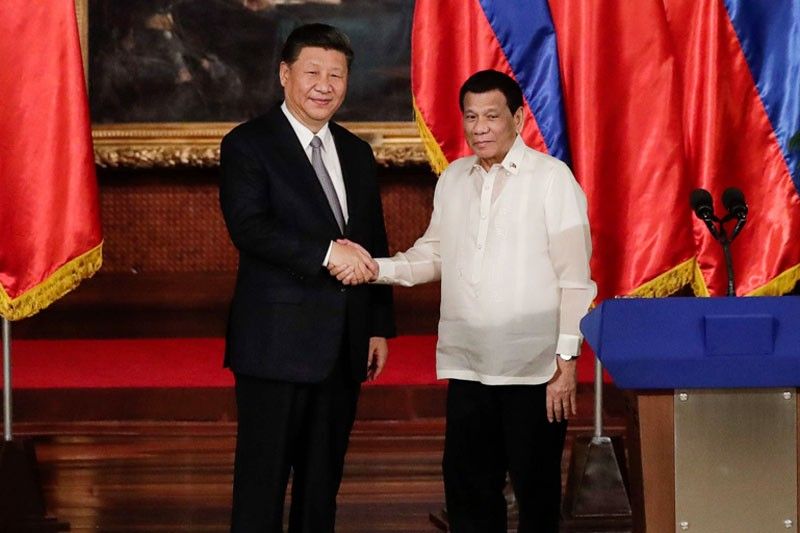 Presidential spokesman Salvador Panelo said it would be up to Duterte to decide whether to assert the ruling during his meeting with Xi on the sidelines of the Belt and Road Forum in Beijing. But Panelo expressed belief that the issue would be raised because it is "hot."
AFP
Duterte might tell Xi Jinping: China must leave West Philippine Sea
MANILA, Philippines — The presence of Chinese ships near Pag-asa island may be discussed during President Duterte's meeting with Chinese President Xi Jinping later this month, Malacañang said yesterday, as it claimed that the Philippine leader had "effectively" invoked the arbitral ruling on the South China Sea when he asked Beijing to lay off the Philippine-occupied island.
Presidential spokesman Salvador Panelo said it would be up to Duterte to decide whether to assert the ruling during his meeting with Xi on the sidelines of the Belt and Road Forum in Beijing. But Panelo expressed belief that the issue would be raised because it is "hot."
"That will be the President's call. Usually, in a bilateral meeting, the host makes an opening statement. And in that opening statement, the host can raise whatever issue he wants. And then, the invited visiting head of state responds. In that response, he can raise an issue he wants," Panelo said at a press briefing.
While it remains unsure whether Duterte would mention the arbitral decision during his meeting with Xi, Panelo claimed the President had "effectively" invoked the ruling when he asked China not to touch Pag-asa.
"Effectively his previous statement, earlier, when he said 'do not touch our property and if you do any harm to our soldiers, we will respond in kind.' That effectively has already made a very strong assertion of sovereignty and statement relative to the arbitral ruling," Panelo said.
Reports said hundreds of Chinese vessels have been swarming Pag-asa since January. The island community is within the Kalayaan Island Group and is well within the Philippines' exclusive economic zone.
Earlier this month, Duterte said he would not allow China to occupy Pag-asa island, the largest of the nine islets controlled by the Philippines in the disputed Spratlys region.
"The Pag-asa island belongs to us. Is that our base? China would never do that, I assure you unless China wants a war with us," the President said in an interview last April 4.
"I assure you that if they kill or arrest people there who are Filipinos, then that would be the time that we will have to decide on what to do," he added. – With Pia Lee-Brago, Cecille Suerte Felipe, Jose Rodel Clapano