Duterte asks China: Don't touch Pag-asa Island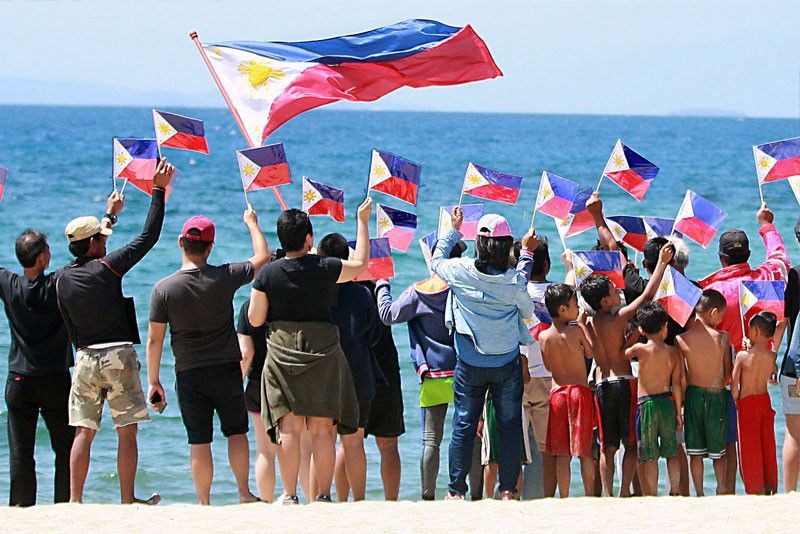 MANILA, Philippines — Deviating from his usual tone of appeasement, President Duterte has asked the Chinese not to occupy Pag-asa Island or risk starting a war.
While the Philippines remains friends with China, Duterte stressed he would not allow the Chinese to occupy Pag-asa in the Kalayaan Island Group (KIG).
"This is not a warning, this is just a word of advice to my friends, since we are friends, China. I will not plead or beg, but I'm just telling you – lay off Pag-asa because I have my soldiers there," the President told reporters in Palawan where he campaigned for PDP-Laban candidates.
"The Pag-asa Island belongs to us. Is that our base? China would never do that, I assure you, unless China wants a war with us. Di ako papayag kung pati yung Pag-asa i-occupy nila (I will not allow them to also occupy Pag-asa). No, of course not," the President told reporters in Palawan late Thursday.
"I assure you that if they kill or arrest people there who are Filipinos, then that would be the time that we will have to decide what to do," he added.
Duterte maintained that the developments in the West Philippine Sea are part of a "greater game of geopolitics."
"Well, I said that's part of the conflict, because they have gobbled up the whole of (South) China Sea, for them, it's theirs, they felt free to roam around but they never harmed or arrested any Filipino. I am sure it has something to do with the greater game of geopolitics. And it is not directed to us," he said.
Duterte reiterated that an armed conflict would only lead to a massacre of Filipino soldiers and policemen.
"We go into a compromise for the time being because if we go to war or there is a violent conflict, we would never win and I would suffer beyond imagination. I would just go there, send my soldiers and policemen to be slaughtered. I am not prepared to do that," he added.
The Department of Foreign Affairs (DFA) earlier called Beijing's attention to the presence of hundreds of Chinese vessels around Pag-asa Island in Palawan, saying their activities are "illegal" and a violation of Philippine sovereignty. The vessels – believed to be militia disguised as fishing boats – have been stationed around Pag-asa since January.
He said he would ask the military to "prepare for suicide missions" if the Chinese dare venture into Pag-asa."
"No, I'm trying to tell China, Pag-asa is ours. We have been there since 1974. If it is yours, why did you not ask us to leave? So, let us be friends but do not touch Pag-asa Island and the rest. Otherwise – otherwise things would be different," Duterte said.
He could be referring to the 1974 "ceding" of the KIG to the Philippines then under the Marcos regime by fishing businessman and adventurer Tomas Cloma, who claimed to have "discovered" them in the 1950s.
Duterte said if there were doubts on the Philippines' sovereignty over Pag-asa, then the Chinese would have made it an issue right after he became president.
The issue cropped up just as Duterte was preparing to visit Beijing later this month to attend the China-led Belt and Road forum.
'China activities near Pag-asa alarming'
A senior US defense official said yesterday the presence of large numbers of Chinese vessels near islands and islets occupied by the Philippines is "a concern."
The government protested the Chinese ship movements Thursday after its military monitored more than 200 Chinese vessels from January-March in a disputed area named Sandy Cay, which is near the Philippine-occupied island of Pag-asa.
Asked about the situation while on a visit to Bangkok, Joseph Felter, deputy assistant secretary of defense for South and Southeast Asia, told reporters that the US is troubled "by any aggressive activity by any country in the South China Sea, in this case China. We see that as of concern."
Defend Pag-asa
Liberal Party senatorial candidate Mar Roxas said Pag-asa is indisputably Philippine territory and should be defended by the administration.
Roxas is part of the Otso Diretso opposition Senate slate.
"It's simple, it's (Pag-asa Island) ours. We won our case on that," the former senator said, referring to the arbitration case won by the Philippines in July 2016 against Beijing.
Former solicitor general Florin Hilbay, also a candidate of Otso Diretso, challenged the government to make public the diplomatic protests filed by the Duterte administration against China. – With Christina Mendez, Jess Diaz, Helen Flores, AP