'Jet Ski-dding!' Duterte says campaign comment just a joke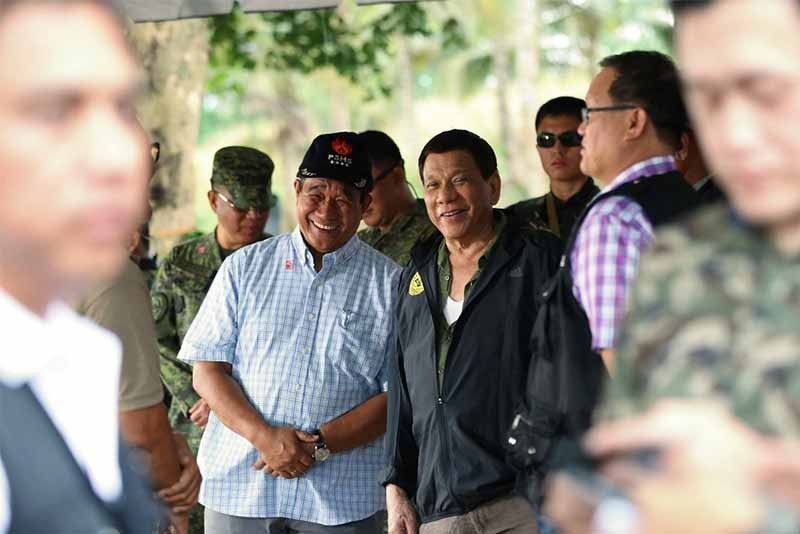 MANILA, Philippines — President Rodrigo Duterte on Thursday said that his promise to go to the disputed West Philippine Sea on a jet ski to assert Manila's claim was just talk.
At the height of the campaign for the Philippine presidency in 2016, Duterte said that he would ride a jet ski and go to a disputed island occupied by China in the West Philippine Sea to plant the Philippine flag and stake the country's claims.
Duterte, then a candidate, reiterated that he would defend Philippine claims in the contested waters despite expressing openness to dealing with China on a bilateral basis.
Since he was elected president in 2016, Duterte has tried to forge closer ties with Beijing in an effort to court Chinese money and investments into the Philippine economy. The Duterte administration has also played down a 2016 United Nations-backed tribunal ruling that invalidated most of China's expansive claim to the disputed waters.
This has led some analysts to label his pronouncements on the issue as pure bluster.
Then, on Thursday, the president admitted that indeed it was.
"When I said I would go to China on a jet ski, that's nonsense. I don't even have… It's just talk. I'm surprised you believed it," the firebrand Philippine leader said before members of the Philippine National Police's elite SWAT units.
The Philippines, China, Malaysia, Vietnam, Brunei and Taiwan have overlapping claims over the waters where around $5 trillion worth of trade annually passes.
China has been aggressive in staking its claims to the region in recent years and transformed features into islands capable of holding naval and air bases despite the 2016 UN-backed tribunal ruling.
'Philippine Rise threats not meant for China'
On Thursday night, presidential spokesperson Harry Roque clarified that the president's statement that incursions into the Philippine (Benham) Rise could spark a war was not directed at China, which recently sent a survey ship through the area.
"China has already recognized that we have sovereign rights over the area," Roque said in a statement.
He also stressed the stance of the president that any country that would like to conduct studies in the region should secure the approval of the Philippine government through the Department of Foreign Affairs and National Security Adviser Hermogenes Esperon first.
On Wednesday, the president said that the Philippines was eying an agreement with China to jointly explore natural gas and oil reserves in the West Philippine Sea, equating this to "joint ownership."
He also warned foreign nations against intrusions into the Philippine Rise, a 13-million-hectare undersea plateau off the coast of eastern Luzon believed to hold vast deposits of natural resources.
He said that he had sent a battalion of the Philippine Marines to guard the region, just days after he cancelled foreign research activities in the area.