Duterte: Still no to war with China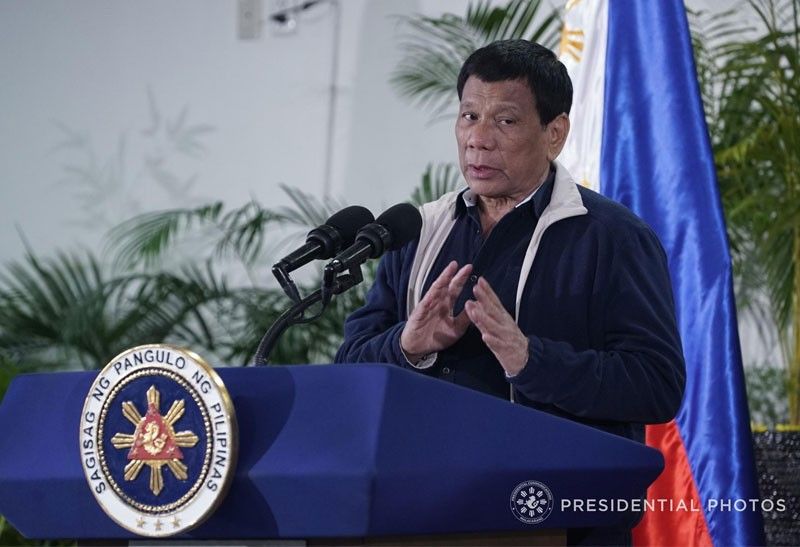 DAVAO CITY, Philippines — President Duterte stands firm on his position that the country cannot not afford a war with China despite its victory before the Permanent Court of Arbitration (PCA) in The Hague.
"What do you want me to do, we'll go to war tomorrow? If you want, then I will go for it. I have many firearms. We can go to war tomorrow if you want, but we can just probably go as far as Palawan. They can already hit us at that place," the President said in Cebuano during the Partido ng Demokratikong Pilipino-Laban ng Bayan rally in Cagayan de Oro City the other night.
He reiterated his stand following the "crime against humanity" complaint that former foreign secretary Alberto del Rosario and former ombudsman Conchita Carpio-Morales filed against Chinese President Xi Jinping before the International Criminal Court.
Both complainants wanted to hold Xi accountable for destroying some marine areas in the South China Sea, especially those parts that are also claimed by the Philippines.
"Manila can be reached by the cruise missile of the Chinese in seven minutes. It will be devastated. So, when the time comes for us to retreat, where will we go? We can go to Palawan but that place has plenty of mosquitoes," Duterte said.
China, where Duterte is scheduled to attend the 2nd Belt and Road Forum next month, remains among the top source of funds for the Philippine government's "Build, Build, Build" infrastructure projects.
Malacañang expressed doubt yesterday on the motive behind the complaint, saying this may be more "political in nature" on the part of Del Rosario and "righteous indignation" on the part of Morales.?"They may know that China is not a member state party. Philippines is not also a state party so how can ICC assume jurisdiction?" presidential spokesman Salvador Panelo said as he echoed a professor's view that the complaint might even strengthen China's stance on the South China Sea.
He also turned the tables on Del Rosario, who he accused of not bringing up the issue when he was still foreign affairs secretary.
Panelo, who is also the chief presidential counsel, said he is gathering evidence to prove that Del Rosario was reluctant to "rock the boat" when he was still at the helm of the Department of Foreign Affairs (DFA).
If he would be able to gather the evidence, he said this would prove that Del Rosario was also to blame.
"That's why I told my source, I need documents; I need communications from your group to DFA; I need pictures that you have given them; I need official response coming from Del Rosario. Because if that is true, then… that is wrong," he added.
While it was during Del Rosario's time that the Philippines pushed for the filing of claim before the PCA, Panelo questioned why the government then allowed the structures to be put up before the arbitration complaint.
"Why did you not act back then? Why are you moving now that you are no longer in the (government) when (back then) you could have made protests, made noise?" he asked.
Del Rosario belied this claim in a statement sent to The STAR yesterday.
"For the information of the good secretary, we officially protested as many times as possible the building of unlawful structures (the DFA records would evidence this). We also voiced out our objections at multilateral meetings battling for inclusion in final statements. We furthermore sought the assistance of our treaty ally," the statement said.
It added: "We resorted to a legal track in search of a durable and peaceful solution resulting in an overwhelming victory for the Phl and our people, which our government decided to set aside."
For Senate President Pro Tempore Ralph Recto, Malacañang should not oppose the complaint, given the country's stake over the West Philippine Sea.
"All Filipinos must support this move. After all, we already won in the arbitral tribunal," Recto said, referring to the case won by the Philippines before the Permanent Court of Arbitration disputing China's nine-dash line claim that covers the entire South China Sea. – With Christina Mendez, Paolo Romero, Cecille Suerte Felipe