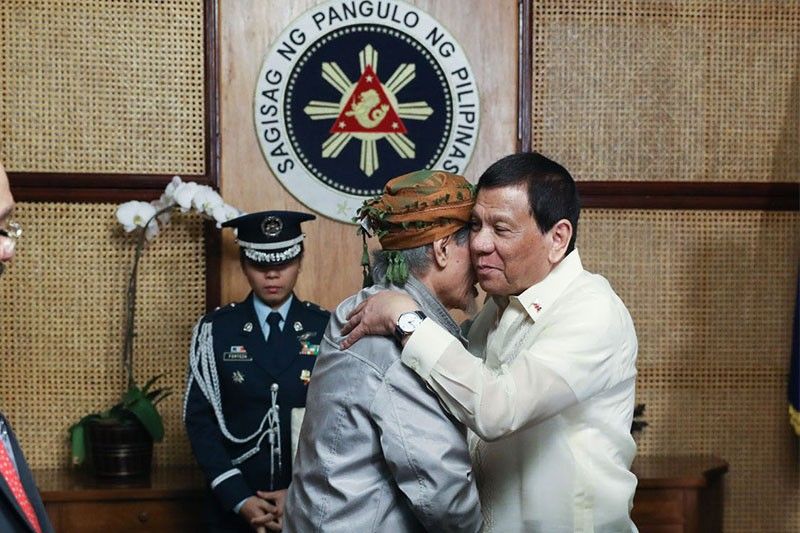 President Rodrigo Duterte gives a warm welcome to Moro National Liberation Front Founding Chairman Nur Misuari at a meeting at the Malacañan Palace on March 19, 2019.
Presidential Photo/Ace Morandante
Duterte told Misuari they would 'die together' if federalism talks fail, Palace says
MANILA, Philippines — President Rodrigo Duterte's response to the threat of Moro National Liberation Front founding chair Nur Misuari that he would go to war if federalism will not happen was also a threat, Malacañang said.
Presidential spokesperson Salvador Panelo echoed the remarks of the president that he understands the sentiments of Misuari on the proposed shift to a federal form of government but it would be up to Congress.
The president suggested forming a panel composed of five members each from the MNLF and government sides to discuss the matter.
"They will have a one-on-ome meeting and then he said after which we will celebrate for its success and if it fails we will die together. That's the response of the president," Panelo told reporters.
Panelo said Duterte was also ready to go to war following the threat of Misuari, leader of one faction of the MNLF.
"What he is saying is because the chairman said 'I will go to war,' which means if he goes to war then he will be fighting the government so if he's fighting the government then the head of the government is the president, they would be fighting with each other. That was what he meant," Panelo said.
Asked if Misuari's threat was a cause of concern for the government, Panelo noted that the MNLF was at its strongest during the 70s and the 80s but the government prevailed over them.
The Malacañang mouthpiece added that the Moro group has splintered into several factions since then.
"The Muslim rebellion has been there for so many decades and we have confronted it. We have fought with them and the republic remains as it is now. We have won over them," Panelo said.
Asked if Misuari's pronouncements should be considered as blackmail, Panelo said the MNLF leader was only expressing his disappointment.
Panelo, however, clarified that the government considers any threat publicly made was considered a serious concern.
"Any rebellious group that is armed and has asserted itself to be wanting independence is a serious concern with respect to us," he said.
Malacañang expressed confidence that despite the threat of war, the government and the MNLF would reach a peaceful solution to the conflict in Mindanao.
"Knowing the chairman (Misuari), who has been fighting for a peaceful solution in Mindanao and knowing the deep friendly relationship between the two leaders, I'm confident that there will be an agreement modus vivendi between two sides and we will have peace in Mindanao," Panelo said.