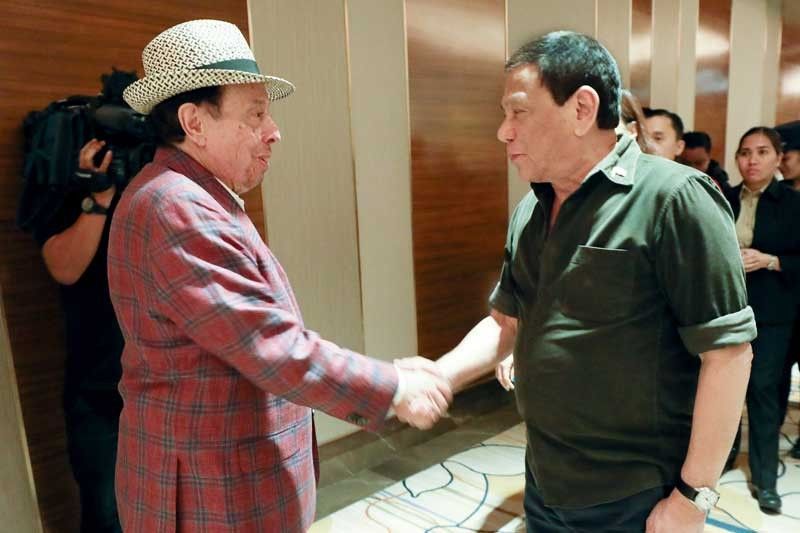 President Duterte and Sergio Mendes exchange pleasantries after the Brazilian musician's Valentine's Day concert at the Solaire Resort and Casino in Parañaque City the other night.
Duterte, Cabinet members, partners enjoy Sergio Mendes concert
MANILA, Philippines — It was business as usual for members of President Duterte's official family on Valentine's Day after they were summoned to Malacañang for a meeting to reorient them on Cabinet processes.
Not only that, Duterte and some Cabinet members and their wives were also treated to a night of music by singer Sergio Mendes – known for his classic hits such as Look of Love, The Girl from Ipanema, Going Out of My Head and Never Gonna Let You Go – at the Grand Ballroom of the Solaire Resort and Casino in Parañaque City.
Earlier at Malacañang, Medialdea and Cabinet Secretary Karlo Nograles led the "retooling seminar" for members of the Cabinet.
According to Andanar, the Cabinet meeting was an "organization retooling" to give an update on recent developments and ensure they will have one voice as regards the dissemination of information related to the administration's programs.
"We talked about the Cabinet process," he said, explaining that this included issues on how to make the respective departments compliant with standard input-throughout-output-outcome measurement as well as the handling of national security documents.
Among those who attended the seminar were Secretaries Menardo Guevarra of justice, Silvestre Bello of labor, Ramon Lopez of trade, Carlos Dominguez of finance, Delfin Lorenzana of defense, Eduardo Año of the interior, Eliseo Rio Jr. of information and communication and Arthur Tugade of transportation.
Also present were Solicitor General Jose Calida, Economic Adviser Ernesto Pernia, Customs chief Reynaldo Guerrero and National Security Adviser Hermogenes Esperon.
For Duterte, Valentine's Day will not pass without a bouquet of flowers sent to his first wife Elizabeth, daughters Sara and Veronica, and partner Cielito Avanceña who is celebrating her birthday today in Davao City.
The President—a known music lover—exchanged pleasantries with the Brazilian singer after the concert and praised him for his performances.