Historian says 'Maharlika' as nobility a misconception
February 12, 2019 | 9:27pm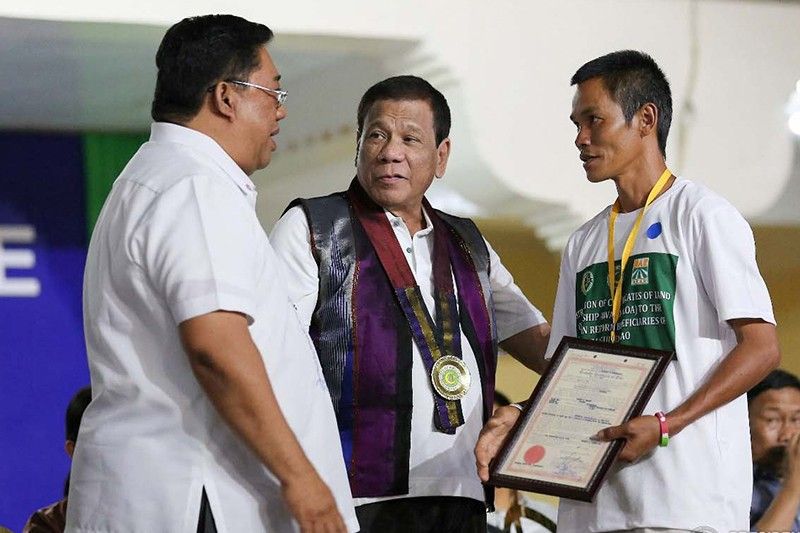 MANILA, Philippines — A Filipino historian corrected mistranslations of "Maharlika" after President Rodrigo Duterte said he wants it as the Philippines' new name.
Duterte said Monday evening that he was in favor of changing the name of the Philippines to "Maharlika" as it would bring the country back to its pre-Hispanic roots.
"Actually, tama si Marcos. Panahon ni Marcos, tama talaga si Marcos. Gusto niya palitan [ng] Maharlika, the Republic of Maharlika because Maharlika is a Malay word and it means more of a concept of serenity and peace (Actually, Marcos is right. This was during the time of Marcos, he is really right. He wanted to change the name to Maharlika, the Republic of Maharlika because Maharlika is a Malay word and it means more of a concept of serenity and peace)," Duterte said in front of an audience of mostly Muslim Filipinos in Maguindanao.
Presidential spokesperson Salvador Panelo also offered his own definition when asked about the matter at a press briefing on Tuesday.
"His reason is, the word Maharlika is a Malay word and marami ng nag-criticize (many have criticized) that the Philippines was named after King Philip (II)," Panelo said.
"Royalty, sa Filipino language, maharlika means royalty," he said.
"Let's see how it evolves, he's just expressing an idea again. There are views on this, but it's not that clear," he added.
'Mistranslated'
According to De La Salle University assistant professorial lecturer and historian Xiao Chua, however, neither of these definitions of "Maharlika" are exactly correct.
But the understanding of "Maharlika" as nobility, he said, is a common misconception due to a "mistranslation" of historical texts.
"In Blair and Robertson, Maharlika was mistranslated to noblemen," Chua told Philstar.com in an interview. "When we read the English, we thought noblemen means royal blooded," he added.
Blair and Robertson is a 55-volume series of Philippine historical documents translated from Spanish to English by American historians Emma Helen Blair and James Alexander Robertson published from 1903 to 1909.
"But William Henry Scott, anthropologist and historian said this is wrong because what happened was, the Americans who translated the Spanish documents, which were eventually corrected, were found to be mistranslated," Chua explained.
Scott, who died in 1993, studied history and pre-Hispanic society in the Philippines up to his death.
"When you say noble person, you say 'dugong bughaw,' you even have songs created during Martial Law that says ' ako ay Pilipino, may dugong Maharlika,'" Chua said.
He explained that all Maharlika means is someone who was free.
"People were thinking, we want that name, it's a romanticized named, kasi royal. Hindi, it's just an ordinary person who is free," Chua said.
He explained that the highest rank in the social strata were the "datus."
"The highest, you have the datu class, then you have the alipin (slaves) which is the lowest," Chua said.
The Maharlika were also known as the "timawa" in the Visayas, who were also free persons.
Marcos' unit
Maharlika was supposedly the name of Marcos' WWII guerilla unit.

But a 1986 New York Times report revealed that petitions by Marcos to request recognition of "Ang Mga Maharlika" as an official unit between 1945 and 1948 were denied. The US Army rejected Marcos' requests, saying these were "distorted, exaggerated, fraudulent, contradictory and absurd."
INTERAKSYON: Duterte's 'Maharlika' proposal is from Ferdinand Marcos' fictitious guerrilla unit

But Chua said he understands the aspiration to return to a more native name.
"Another theory, since we're named as Philippines that could be our English name, but have a different name in Tagalog," Chua said.
"For example in Germany they call themselves 'deutschland' China doesn't call themselves China," he added. "That can be adapted, but then you have to change the Constitution."
A bill with similar thought was proposed in 2017 by senatorial aspirant Rep. Gary Alejano in the House of Representatives. House Bill 5867 creates a geographic renaming commission to look into new potential names of the country.
Panelo clarified, however, that the president would not actively push Congress to change the name.

"It's not the style of the president," the spokesperson said. "He floats [the] idea and someone gets it."