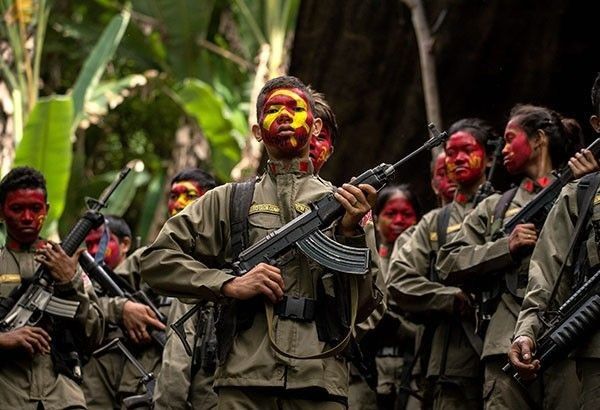 This photo taken on July 30, 2017 shows guerrillas of the New People's Army (NPA) in formation in the Sierra Madre mountain range, located east of Manila.
AFP/Noel Celis
Joma Sison named as party in government's bid for 'terrorist' tag vs CPP-NPA
(Philstar.com) - February 12, 2019 - 5:08pm
MANILA, Philippines — Communist Party of the Philippines founding chairman Jose Maria "Joma" Sison has been named as a party in the government's bid to declare the alleged communists as terrorists pending before a Manila court.
In an eight-page order, Judge Marlo Magdoza-Malagar declared Sison as a party to the Department of Justice's proscription case that seeks to declare the CPP and its armed wing as terrorist groups.
"With respect to Jose Maria Sison, his stature as head of the CPP, as well as the fact that he is currently, for some time, residing at an undisclosed address in the Netherlands, is information which is public knowledge and therefore, can be taken judicial notice of, by this court," read the ruling Malagar dated February 1.
Sison is currently National Democratic Front of the Philippines consultant.
State prosecutors earlier asked a Manila court to declare more than 600 individuals as terrorists.
The government suffered a setback after the court dropped United Nations special rapporteur on the rights of indigenous peoples Victoria Tauli-Corpuz and three others from the "terror list."
Following this, state prosecutors cut down their extensive list to include only eight names:
Jose Maria Sison, now chief political consultant of the NDFP
Jorge Madlos of the NPA National Operations Command
Jaime Padilla, a supposed leader of the Melito Glor Command
Francisco Fernandez, an alleged secretary of the Negros Region Committee
Cleofe Lagtapon, a Southeast Front head of the same committee
Antonio Cabanatan, secretary of the Mindanao Commission
Leonido Nabong, head of the Western Mindanao Regional Party Military Commission
Myrna Sularte, secretary of the Northeastern Mindanao Regional Committee
The court, in its ruling dated February 1, only allowed Sison and Cabanatan to be admitted as parties to the case.
The court, however, declared the six others as non-parties to the case as it found "nothing therein to establish that they...are connected to, or associated with, respondent CPP-NPA."
READ: People on DOJ's amended 'terror' list not rebels, NDFP claims
Peace talks between the government and the communist group collapsed in November 2017. The government has since decided that it will conduct "localized" peace talks instead of with the NDFP. — Kristine Joy Patag