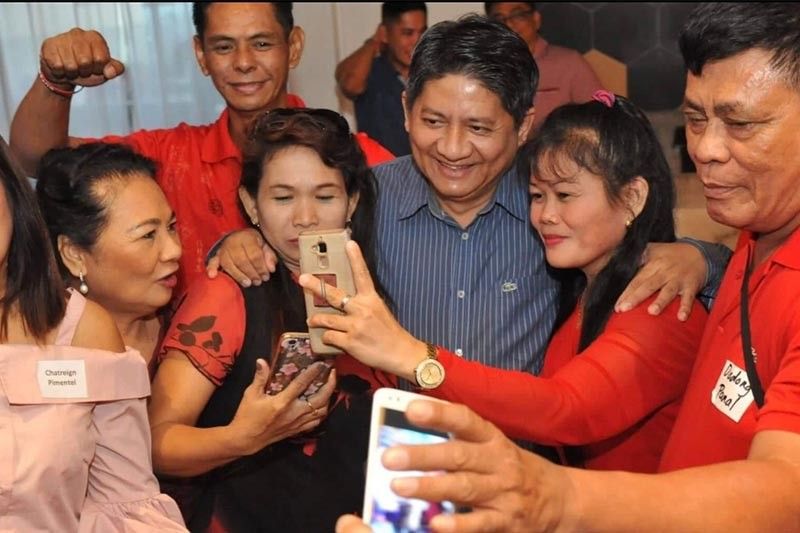 Lawyer Larry Gadon with his supporters.
Larry Gadon/released
Gadon asks Comelec to bar release of SWS, Pulse Asia surveys
MANILA, Philippines — Lawyer Larry Gadon, a candidate for senator, on Monday asked the Commission on Elections to stop polling firms Pulse Asia and Social Weather Stations from releasing poll surveys from the campaign period to election day.
Gadon and Katipunan ng Demokratikong Pilipino filed a petition asking the Comelec to stop the polling firms "from publishing bogus survey results calculated to mislead voters."
READ: Oops! Gadon's Senate dream hits a snag after filing wrong form
He claimed that Pulse Asia and SWS surveys are "biased", saying other surveys "conducted through other means, by other entities and not by any of the respondents" would show different survey results. As proof, he said, he was in the Top 12 in a "social media 2019 senatorial survey." This, despite being a laggard in pre-election surveys.
Gadon also questioned the "exact method" of the Pulse Asia and SWS surveys. Both survey firms include their medthodology in the releases of their survey findings.
READ: NewsLab Specials: Why the hate for pre-election surveys
Gadon ran for senator in 2016 but lost.
During the election campaign, he said in a televised GMA News interview in 2016 that he would kill the entire Moro International Liberation Front, a rebel group that had by then signed a peace agreement with the government, if they refuse his pleas not to launch attacks.
He also called the late Sen. Benigno Aquino Jr. a traitor and further claimed that the former lawmaker faked the Jadibah Massacre,a killing that left deep wounds among the Bangsamoro, to thwart the plan of the ousted dictator Ferdinand Marcos to invade Sabah.
Senatorial aspirant Larry Gadon asks Comelec to stop election surveys; says he should be included in top 12. | @shecrisostomo pic.twitter.com/AyEFfjHLLo

— The Philippine Star (@PhilippineStar) January 21, 2019
Gadon is facing at least four disbarment cases for violating his oath as a lawyer when he hurled expletives at some supporters of former Chief Justice Maria Lourdes Sereno who were holding a protest at the Supreme Court in Baguio City in April last year.
Similar petitions from past elections
In 2010, Sen. Richard Gordon, who was then running for president, also asked a local court to stop Pulse Asia and SWS from releasing pre-election surveys.
A Quezon City court rejected the plea citing lack of jurisdiction. The court also pointed out that SC jurisprudence already ruled on ban on election surveys.
The Supreme Court earlier ruled on a petition involving "election surveys."
SWS asked the high court to stop the Comelec from enforcing a provision of the Fair Election Act that held: "Surveys affecting national candidates shall not be published 15 days before an election and surveys affecting local candidates shall not be published seven days before an election."
It held that a provision "imposes a prior restraint on the freedom of expression, a direct and total suppression of a category of expression even though such suppression is only for a limited period, and government interest sought to be promoted can be achieved by other means other than the suppression of freedom of expression."