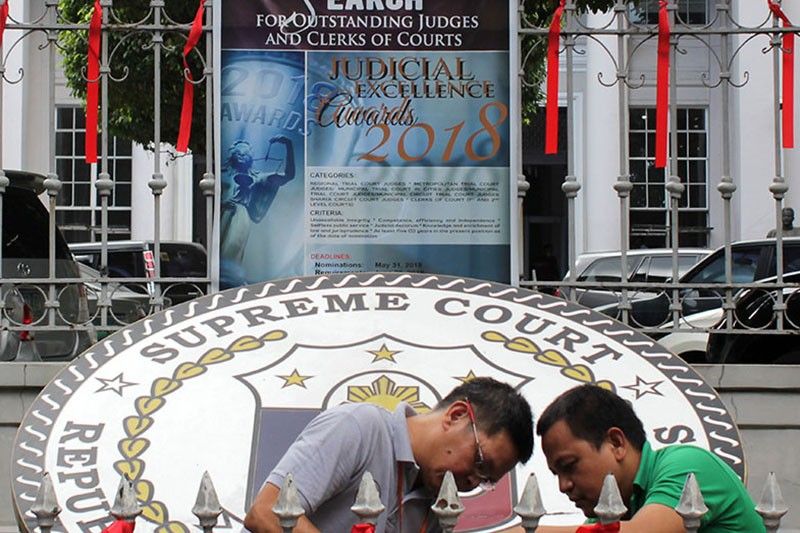 The Integrated Bar of the Philippines urged the Supreme Court to conduct an independent investigation into all killings of lawyers since President Rodrigo Duterte assumed office in June 30, 2016.
The STAR/Miguel de Guzman, File
IBP urges SC to look into killings of lawyers
MANILA, Philippines — The Integrated Bar of the Philippines called on the Supreme Court to conduct an independent investigation into the killings of lawyers, the latest of which is of Rep. Rodel Batocabe (Ako Bicol Party-list).
Batocabe and his escort SPO1 Orlando Diaz were shot dead by still unknown assassins in Albay over the weekend. The slain lawmaker was a member of the IBP Albay chapter.
"We join other sectors in condemning his daylight assassination, even as we remain shocked by the audacity of the concerned action that can only find success in an environment that fosters impunity," IBP president Abdiel Dan Elijah Fajardo said in a statement.
At least 78 lawyers have signed a petition urging the SC, through Chief Justice Lucas Bersamin, to take action to protect Filipino lawyers as they perform their function.
The IBP asked the SC to ensure a "thorough, prompt, impartial and independent investigation" into killings of lawyers since June 30, 2016, the day that President Rodrigo Duterte assumed office.
The group also suggested holding a dialogue between the SC, the IBP, the Philippine National Police, the Armed Forces of the Philippines, relevant government agencies, civil society organizations and other lawyer groups to discuss ensuring the safety and security of lawyers.
The lawyers' group noted that a day before Batocabe was gunned down, lawyer Erfe del Castillo was ambushed in Talisay, Negros Occidental. He survived the rain of bullets, according to the IBP.
Last month, human rights lawyer Benjamin Ramos, the counsel of the families of the "Sagay 9" massacre, was shot dead in public in Kabankalan City, Negros Occidental.
"Prior to his death, Atty. Ramos reportedly received death threats intended to make him stop assisting the families of the Sagay 9 victims," the IBP said.
Ramos was just taking a break from work for his pro bono clients when he was shot dead by men aboard a motorcycle in Kabankalan on November 6. He was secretary general of the Negros Occidental chapter of the National Union of Peoples' Lawyers.