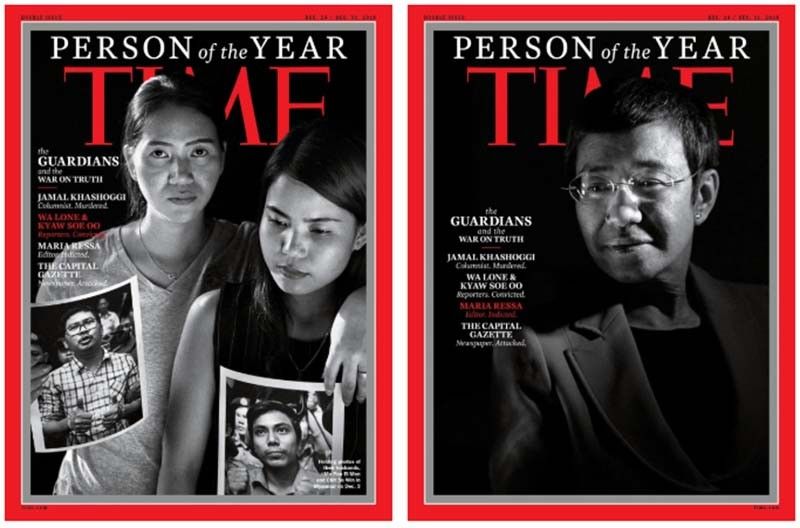 This screenshot from TIME magazine shows Rappler CEO Maria Ressa, who is one of the journalists whom the magazine has picked as Person of the Year.
Screenshot
Rappler's Ressa among journalists named TIME Person of the Year
MANILA, Philippines — Rappler CEO Maria Ressa, who is facing a string of tax evasion cases that she and her supporters believe are meant to cow the media, is among the journalists whom TIME Magazine has named Person of the Year.
Ressa, who posted bail of P204,000 at the Court of Tax Appeals on Tuesday for four of the five tax cases that the government filed against her, joins jailed Burmese journalists Wa Lone and Kyaw Soe Oo, murdered Saudi Arabian journalist Jamal Ahmad Khashoggi, and the Capital Gazette—an Annapolis, Md. newspaper that lost five members of its staff to a mass shooting in June—on variant covers of the magazine.
TIME, in a piece on its website, referred to them as the "Guardians" and commended them "for taking great risks in pursuit of greater truths, for the imperfect but essential quest for facts that are central to civil discourse, for speaking up and for speaking out."
TIME notes that Ressa, and Rappler, are "known for ... fearless reporting on President Rodrigo Duterte's propaganda machine and extrajudicial killings."
"In return, she has faced a barrage of government lawsuits aimed at the site, and violent hate messages on social media—at one point, 90 of them an hour," it also notes.
"In its highest forms, influence—the measure that has for nine decades been the focus of TIME's Person of the Year—derives from courage. Like all human gifts, courage comes to us at varying levels and at varying moments. This year we are recognizing four journalists and one news organization who have paid a terrible price to seize the challenge of this moment: Jamal Khashoggi, Maria Ressa, Wa Lone and Kyaw Soe Oo, and the Capital Gazette of Annapolis, Md.," TIME also said.
"They are representative of a broader fight by countless others around the world—as of December 10, at least 52 journalists have been murdered in 2018—who risk all to tell the story of our time."
'Not the time to be afraid'
Ressa, on Monday, said: "I think the government wants me to feel afraid. I've been through a lot of these things before and now is certainly not the time to be afraid."
The Palace has insisted that the cases against her and Rappler—prompted by a Securities and Exchange Commission investigation that was helped along by a letter from Solicitor General Jose Calida and tirades from President Rodrigo Duterte—are a matter of enforcing the law.
?? "TIME Person of the Year 2018: The Guardians"https://t.co/iNBTzMi22b pic.twitter.com/CjUFYAxc5i

— TIME (@TIME) December 11, 2018
On Sunday, presidential spokesperson Salvador Panelo rebuffed David Kaye—UN special rapporteur on the promotion and protection of the right to freedom of opinion and expression—for urging the government to drop the charges against Ressa.
"Without the benefit of factual information, Mr. Kaye, UN Special Rapporteur on freedom of expression, has called on the government to drop the tax evasion charges against Rappler and its head, Maria Ressa, contending falsely that the same constitutes censorship," Panelo said then, adding the statement was an intrusion on Philippine sovereignty.
Rappler's tax cases
Ressa is accused of failing to supply correct information in the VAT returns for the 3rd and 4th quarters of 2015 and failure to file an Income Tax Return for 2015. A bail bond of P60,000 is set for each of the charges.
She is also facing an attempt to evade tax charge for 2015, where a cash bond of P24,000 is set.
The charges stemmed from a P133.84-million complaint filed by the Bureau of Internal Revenue against Rappler. The complaint said that the online news site, described as a "dealer in securities," did not pay income tax and VAT for Philippine Depository Receipts (PDRs) it issued.
Rappler has argued that it is not a dealer in securities.
It has also said that the SEC's revocation of its business registration in January over a finding that PDRs issued to Omidyar network violated restrictions on foreign ownership of media was overly harsh. Omidyar has since donated the PDRs to Rappler staff and the Court of Appeals has remanded the case to the SEC for it to evaluate the legal effect of the donation.
'Chilling effect'
Media watchdog Center for Media Freedom and Responsibility said last week that the cases against Rappler are meant "to demonstrate that [government] will not tolerate the unfettered exercise of free expression and press freedom as provided by the Constitution."
"Already, the free-wheeling style of the Philippine press has been tamed. Critical reports are limited to a few news organizations. In others, these have been junked or restrained and sanitized," it said as it pointed out that a newspaper and a TV station have also been threatened.
"The chilling effect has been obvious. Never has an administration been given such broad latitude by the press, with reports that merely record the statements of government officials, without correction as needed, without question or analysis," it also said.
"This president has succeeded into bullying a press that had in the past proven its courage and capacity to speak truth to power, exposing with world-class investigative reports corruption and other wrongdoing in high places. The president has succeeded to instill fear in the press community, especially among the owners of the media."
Earlier this month, as Ressa was set to return to the Philippines from Paris and as her lawyer confirmed that a warrant had been issued for her arrest, the National Union of Journalists of the Philippines warned that her arrest would "send a clear signal that the country's democracy is fast receding under a feckless administration that cannot abide criticism and free expression and will go to ridiculous lengths to muzzle all those it does not agree with."
RELATED: Duterte among 'strongmen' in TIME cover story
— with reports from Kristine Joy Patag