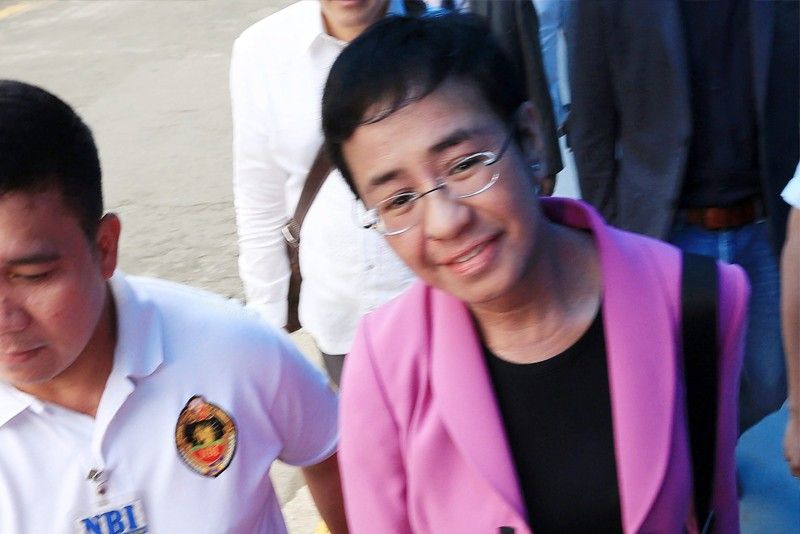 In this January 23, 2018 file photo, Rappler chief executive officer Maria Ressa arrives at the NBI headquarters in Manila for a separate cyberlibel case.
Edd Gumban, file
Rappler's Ressa posts bail before CTA
(Philstar.com) - December 11, 2018 - 3:01pm
MANILA, Philippines — Ahead of the issuance of a warrant for her arrest, Rappler CEO Maria Ressa on Tuesday posted bail at the Court of Tax Appeals for the four tax evasion cases against her.
Ressa paid a 204,000-peso bail bond for her temporary liberty over four tax-related cases pending before the CTA.
CTA's First Division, on Wednesday, noted Ressa's voluntary surrender and approved the case bond.
The tax court set her arraignment on the morning of January 23.
Ressa is facing a total of five tax-related cases. Four are filed before the CTA and one before Pasig Regional Trial Court Branch 265.
The Pasig court issued a warrant against Ressa and recommended P60,000 for bail. Ressa posted the bail bond the morning after she returned to the country.
The Department of Justice also filed tax-related cases against Ressa before the CTA.
Rappler tax cases
Ressa is accused of failing to supply correct information in the VAT returns for the 3rd and 4th quarters of 2015 and failure to file an Income Tax Return for 2015. A bail bond of P60,000 is set for each of the charges.
She is also facing an attempt to evade tax charge for 2015, where a cash bond of P24,000 is set.
The charges stemmed from a P133.84-million complaint filed by the Bureau of Internal Revenue against Rappler. The complaint said that the online news site, described as a "dealer in securities," did not pay income tax and VAT for Philippine Depository Receipts (PDRs) it issued.
Rappler has argued that it is not a dealer in securities.
Ressa, after posting bail before the Pasig court, said: "I think the government wants me to feel afraid. I've been through a lot of these things before and now is certainly not the time to be afraid."
Media watchdog Center for Media Freedom and Responsibility said last week that the cases against Rappler are meant "to demonstrate that [government] will not tolerate the unfettered exercise of free expression and press freedom as provided by the Constitution."
"Already, the free-wheeling style of the Philippine press has been tamed. Critical reports are limited to a few news organizations. In others, these have been junked or restrained and sanitized," it said as it pointed out that a newspaper and a TV station have also been threatened.
"The chilling effect has been obvious. Never has an administration been given such broad latitude by the press, with reports that merely record the statements of government officials, without correction as needed, without question or analysis," it also said.
"This president has succeeded into bullying a press that had in the past proven its courage and capacity to speak truth to power, exposing with world-class investigative reports corruption and other wrongdoing in high places. The president has succeeded to instill fear in the press community, especially among the owners of the media."
But presidential spokesperson Salvador Panelo earlier denied persecution. He stressed that "it is a question of tax evasion."
"You violate laws, then you will be prosecuted," he added. — Kristine Joy Patag