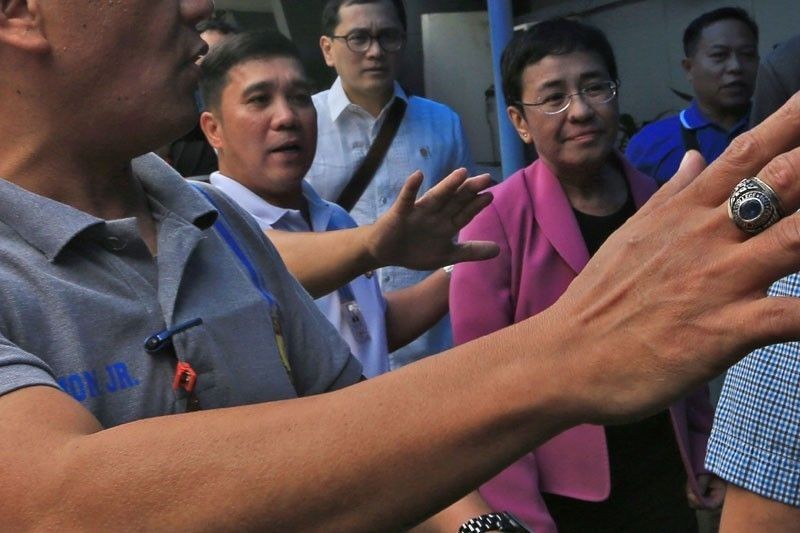 In this January 2018 file photo, Rappler chief executive officer Maria Ressa arrives at the NBI headquarters in Manila.
The STAR/Edd Gumban, File
Court releases Ressa's arrest warrant as media group warns of receding democracy
MANILA, Philippines (Updated 1:12 p.m.) — The Pasig City Regional Trial Court 265 released the warrant of arrest against veteran journalist and Rappler CEO Maria Ressa who has been charged with tax evasion.
Ressa paid her P60,000 bail past noon.
The court set her arraignment on Friday.
A media group said her arrest would send the message that the government is muzzling criticism.
Ressa was set to return to the country on Sunday evening from Paris, France, where she attended a meeting of the Commission on Information and Democracy initiated by the Reporters Sans Frontières or Reporters Without Borders.
"Arresting Maria will send a clear signal that the country's democracy is fast receding under a feckless administration that cannot abide criticism and free expression and will go to ridiculous lengths to muzzle all those it does not agree with," the National Union of Journalists of the Philippines said in a statement.
"Government can surely pursue its case without needing to arrest Maria and haul her off to jail – unless, of course, the intention is really to humiliate and intimidate her," it added.
On Thursday, the Department of Justice filed the fifth tax case against Rappler and Ressa.
READ: DOJ files fifth tax evasion case vs Rappler
The DOJ accused Rappler of "failing to supply correct and accurate information in the quarterly value-added tax return of RHC (Rappler Holdings Inc) for the second quarter tax year of 2015."
The Justice department also alleged the online news firm acted as a dealer in securities when it sold the Philippine Depository Receipts worth P2.4 Million.
For this, Ressa may face two separate warrants of arrest due to cases filed separately at the Regional Trial Court and Court of Tax Appeals. She was recommended a bail of P60,000.
International non-profit press freedom organizations Committee and Reporters without Borders earlier asked the DOJ and Prosecutor General Richard Fadullon to "end the politicized persecution" of Rappler.
"We urge you to cease this campaign of intimidation and harassment against Rappler, both for the sake of respecting press freedom and for your government's international credibility," the groups said in a letter dated November 26.
The international press freedom groups cited that the DOJ planned to file tax evasion charges against Rappler. They defended the online news site and Ressa.
"Ressa has denied the allegation and said that Rappler is compliant with all Philippine tax laws, including the transaction in question. She said she believes the legal threat is an attempt to silence her news outlet's critical reporting on President Rodrigo Duterte's government. CPJ has documented in the past year how authorities have retaliated against Rappler's coverage, including by banning its reporters from the presidential palace and referring to the site as "fake news" and "biased," the organizations said.
"We view the tax evasion charges, which carry potential 10-year prison penalties under local law, as a clear and present threat to press freedom. As Ressa has pointed out, the charges could potentially threaten foreign investors who use similar mechanisms, and could thus damage the Philippine economy," it added.
Meanwhile, NUJP also slammed President Rodrigo Duterte for publicly displaying his hatred for Rappler and media with critical views against his administration.
"President Rodrigo Duterte has never bothered to disguise his loathing for Rappler and critical media in general, repeatedly threatening to shut down news outfits he dislikes and insulting individual journalists, particularly those that doggedly document his brutal war on drugs and the growing number of corruption scandals hounding him and his administration," NUJP said.
"More than his inability to tolerate dissent, Duterte's relentless persecution of media appears to be part of the increasingly authoritarian direction his presidency has taken, as seen in the recent expansion of coverage of the state of national emergency he declared in September 2016 and his even more recent suggestion to create "death squads" to hunt down "prospective" – not even actual – rebels," it added.
NUJP said that late dictator Ferdinand Marcos "learned the lesson" of the public standing up to winning back their rights and liberties such as the freedom of the press and of expression "bitterly." It said people stand only so much abuse and fear.
"Ferdinand Marcos learned that lesson bitterly. We hope Mr. Duterte does not need to," it concluded.
In February, NUJP also criticized Duterte for banning Rappler reporter Pia Ranada from Malacañang premises for her alleged spreading of "fake news." The group said Duterte was like "a petulant child" for doing so.
The Palace has not yet lifted the ban since.
RELATED: NUJP: Palace ban on Rappler reporter shows 'extreme pettiness'