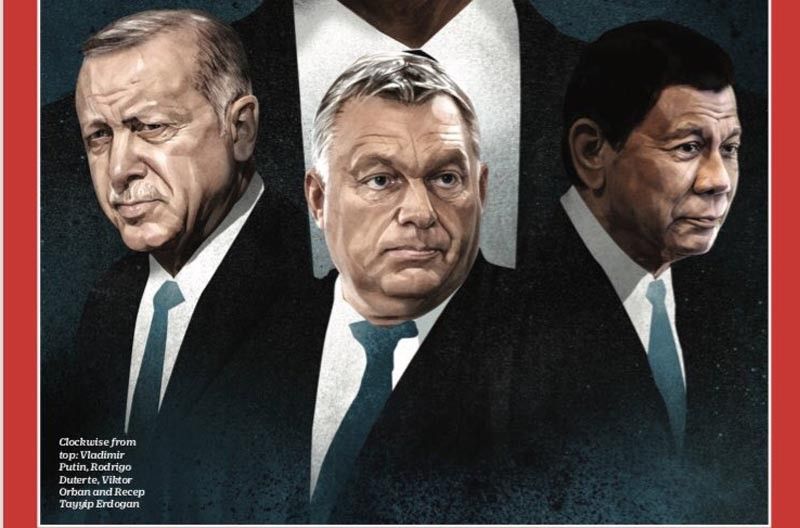 Detail from the cover of the May 14, 2018 issue of TIME magazine's international edition.
Duterte among 'strongmen' in TIME cover story
(Philstar.com) - May 3, 2018 - 8:57pm
This article was published in 2018.
MANILA, Philippines — President Rodrigo Duterte has been included on the cover — and in the cover story — of the May 14 issue of TIME magazine international edition.
The article, "Rise of the Strongman" is on a global trend in favor of "more muscular, assertive leadership" embodied by US President Donald Trump and Russian President Vladimir Putin.
Trump isn't included in my new @TIME cover on the Rise of the Strongmen. But he'd like to be. pic.twitter.com/2GJKRp2Xsp

— ian bremmer (@ianbremmer) May 3, 2018
"In every region of the world, changing times have boosted public demand for more muscular, assertive leadership. These tough-talking populists promise to protect 'us' from 'them.' Depending on who's talking, 'them' can mean the corrupt elite or the grasping poor; foreigners or members of racial, ethnic or religious minorities. Or disloyal politicians, bureaucrats, bankers or judges. Or lying reporters," the TIME article reads.
"Out of this divide, a new archetype of leader has emerged. We're now in the strongman era."
The article, written by American political scientist Ian Bremmer, describes Duterte as a "former mayor who talked more like a mob boss than a president" and who was elected into power in response to rising street crime and because of his promise to wipe out the drug trade.
Aside from Putin, whom Duterte has admitted to admiring, the article also features Chinese President Xi Jinping, who is described as having "used an anticorruption campaign to sideline potential rivals while consolidating power on a historic scale" and whom President Duterte has professed love for.
Widely popular leader
Duterte remains popular in the Philippines, where many seem to agree with the government's heavy-handed campaign against illegal drugs.
In a Social Weather Stations poll released late April 2018, Duterte had a "very good" net trust rating of +65. This was down from an "excellent" +75 in December 2017.
SWS defines net trust rating as the rounded off difference between respondents who said they have "much trust" in the president and those who said they have "little trust."
Three in every four Filipinos or 76 percent of the 1,200 adult respondents said they have "much trust" in Duterte, down from 83 percent recorded in December. Ten percent of the respondents said they have "little trust" in the president while 14 percent were undecided.
Opposition to the government drug war as well as to other government policies are often explained away as done by criminals, paid trolls, or corrupt politicians who want to return to power.
Duterte has also railed against criticism and concern from foreign countries and international organizations, telling them to stop meddling in Philippine affairs.
In March, the Philippines announced it is withdrawing from the International Criminal Court because of supposed meddling by the court's prosecutor, who had announced a preliminary examination into alleged crimes against humanity in the war on drugs.
The Palace had, until then, welcomed the opportunity to address the allegations and had taken pains to explain that a preliminary examination is not an investigation.
READ: Palace thanks Duterte supporters despite drop in trust ratings
Bremmer writes that advances in information and communication technologies that seemed able to empower the individual against the state has been reversed.
"[T]he world's autocrats drew a different lesson. They saw an opportunity for government to try to become the dominant player in how information is shared and how the state can use data to tighten political control."
In the Philippines, the government has repeatedly denied employing so-called cyber armies to spread propaganda and to create "an artificial sense of popularity, momentum or relevance."
The Palace also last month denied having dealings with Strategic Communications Laboratories as first reported by the South China Morning Post.
SCL is the parent company of Cambridge Analytica, a data marketing firm that was involved in a data breach that may have affected 1.1 million Filipino Facebook users.
The TIME article was posted online as the Philippines marked World Press Freedom Day. Earlier Thursday, media groups said there had been at least 85 instances of attacks against the press since Duterte came to power in 2016 — these attacks range from murder to online harassment.
A separate group also raised concerns that freedom of opinion and expression in the Philippines are under threat.
Socio-civic group "Let's Organize for Democracy and Integrity" on Thursday sent a six-page petition to David Kaye, UN special rapporteur on the promotion of the right to freedom of opinion and expression.
"We appeal for quick action from your end as President Duterte's government rapidly constricts democratic space, especially that reserved by the constitution," the alliance said.
The group stressed that the Philippine press is facing the "most serious challenges since the downfall of the late dictator Ferdinand Marcos" citing attacks against journalists under the Duterte administration.