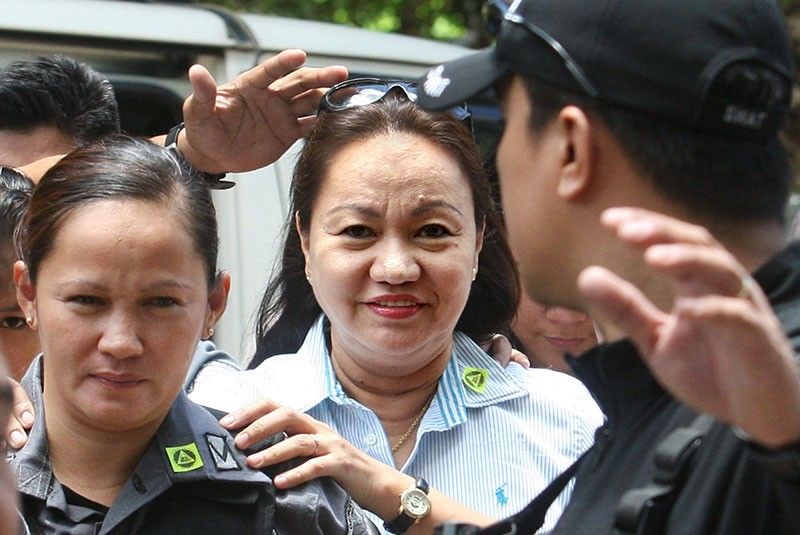 Janet Lim-Napoles, alleged pork scam mastermind, and Richard Cambe were found guilty of plunder Friday over the misuse of more than P224.5 million worth of public funds.
Philstar.com/File photo
Court convicts Napoles, Revilla's aide in plunder case while boss goes free
(Philstar.com) - December 7, 2018 - 10:14am
MANILA, Philippines (Update 2, 11:08 a.m.) — While the Sandiganbayan acquitted former Sen. Ramon "Bong" Revilla from plunder charges, the anti-graft court convicted his former staff and businesswoman Janet Lim Napoles.
Revilla's co-accused Richard Cambe and Napoles, dubbed as the pork barrel scam mastermind, were found guilty of plunder Friday over amassing P224.5 million worth of public funds.
Both are sentenced to reclusion perpetua or up to 40 years in prison.
Cambe will head to the New Bilibid Prison. He was previously detained at the Philippine National Police Custodial Center.
Napoles, meanwhile, will head to the Correctional Institute for Women in Mandaluyong City from Bureau of Jail Management and Penology female dormitory in Camp Bagong Diwa, Taguig City.
But while Cambe gets jail time, his former boss has been acquitted of plunder by the anti-graft court.
Voting 3-2, Sandiganbayan's Special Division ruled that Revilla is not guilty of plunder in connection with the pork barrel scam.
This marks the first ever-decision in what is believed to be the biggest corruption controversy in the country.
Ombudsman prosecutors accused Revilla and former chief of staff Cambe of conspiring to pocket P225.5 million worth of kickbacks for funnelling the former senator's Priority Development Assistance Fund or pork barrel to bogus organizations linked with Napoles.