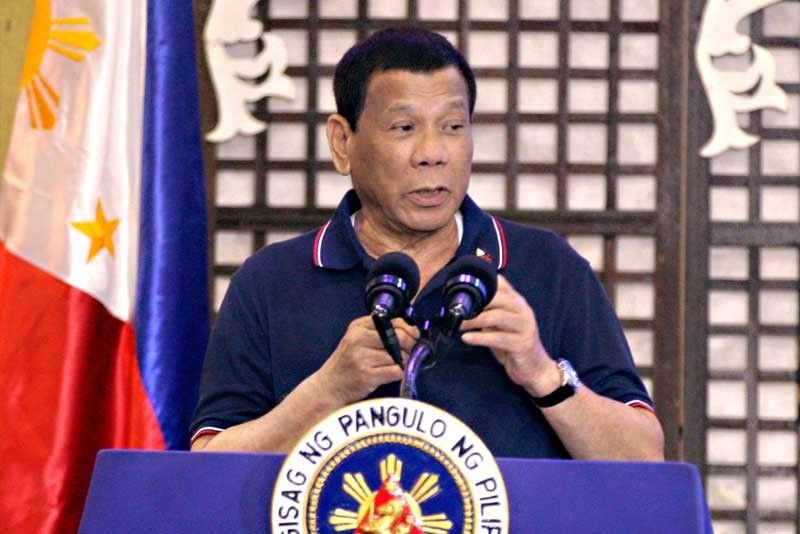 President Duterte speaks during the Department of Labor and Employment's 85th anniversary celebration at the Philippine International Convention Center in Pasay City yesterday.
Krizjohn Rosales
Duterte: 90% of priests are gay
MANILA, Philippines — He cursed Pope Francis in 2015 and openly attacked Catholic priests for criticizing the war against illegal drugs, but President Duterte for once recognized the pope's teaching against priests who violate the vow of celibacy.
"What is really the gridlock is the Catholic Church. It's the most hypocritical institution. You see, the pope said, 'If you cannot be celibate, get out.' Most of them, 90 percent of the priests (are gay)," Duterte said, referring to the recent news reports quoting passages in Pope Francis' book stating that men with deep-rooted homosexual tendencies should not be admitted to the Catholic clergy.
This view, according to Catholic Bishops' Conference of the Philippines (CBCP) Episcopal Commission on Laity chairman and Manila Auxiliary Bishop Broderick Pabillo, is only intended to malign the reputation of priests.
"That irresponsible accusation does not make his actions and immoralities right. The sins of others do not make his own sins right," Pabillo said as he stressed that the Catholic Church does not condone erring priests.
"She (Catholic church) corrects them, appeals for their change of life and lifestyle to the point of suspending them and dismissing them from priestly ministries. The Catholic Church follows and adapts since then, what the Holy Father openly stated to 'remain celibate or leave priesthood'," Pabillo added.
The pope said it would be better for priests who are actively gay to leave their ministry rather than lead a double life.
He got the ire of Duterte in 2015 when his visit to the country caused gridlock in major thoroughfares in Manila. The former Davao City mayor then cussed the pope for the traffic jams that left many stranded on the road for hours.
But now, Duterte shares Pope Francis' views that priests who cannot keep their vow of celibacy should leave the Church – a statement the pope made in the book titled "The Strength of Vocation" where he discussed the challenges of being a priest or nun in current times.
Reports said Pope Francis has written that homosexuality in the Church "is something that worries me." The Church teaches that homosexual tendencies are not sinful in itself, but homosexual acts are.
Murderous mad man
Sorsogon Bishop Arturo Bastes, CBCP-Episcopal Commission on Missions (ECM) chairman, yesterday called President Duterte a "megalomaniac" and a "murderous mad man" for saying that bishops should be killed for criticizing him.
"This is worrisome coming from a psychotic mind! He is sick and a megalomaniac… He is really a murderous madman! No Filipino should take his statements lightly from this time on," Bastes said.
Last Wednesday, Duterte minced no words against bishops who criticized him, telling his audience composed of local officials from municipalities and cities to "kill" the bishops in their respective areas as they reportedly are no good and do nothing but criticize.
Bastes believes that those close to the President should advise him not to issue such statements. "This should no longer be taken as joke! His advisers must already give him (advise) never to utter such kinds of statements!"
For Pabillo, Duterte could either be joking or going crazy for saying statements that are against the law.
"I hope he is joking or he is really out of his mind. Any leader who asks that others be killed, even bishops, is no leader at all. He is instigating people to go against the law," Pabillo said. "Is this not the work of a destabilizer against the social order?"
CBCP Episcopal Commission on Migrants and Itinerant People chairman and Bataan Bishop Ruperto Santos said that the Chief Executive's statement has repercussions since it would only widen the division among Filipinos.
"This is a very heartless statement, very harmful to all. Not only attacking the Church but dividing our country and showing that there is only hatred in his heart. His statement disgraced himself and was a disappointment to all God-fearing citizens of our country," he said.
Santos added, "It is pitiful that our President, with his careless and uncharitable statements, has lost his moral authority. I have no fear with his threat. Let us just pray for him."
Malacañang downplayed the reactions, saying the President was just frustrated over the Church's continuous attacks against his administration.
Presidential spokesman Salvador Panelo said it was also the Chief Executive's way of showing frustration on why the Church had looked the other way on the good things he had done for the country.
"You know, the President, just like any ordinary human being, is upset when the good things that he does for this country is not even appreciated by people who were supposed to support, like the Church," Panelo said.
During the anniversary of the Department of Labor and Employment (DOLE) yesterday, he urged the employees to "stay with God" but not with the religion.
"When he said that the Church is a hypocritical institution, he is actually making a statement that requires a response from the Church, in the same manner that the Church criticizes this President, he responded to the same criticism," Panelo said.
"They say, there are so many extrajudicial killings, the President says excuse me. It's not state-initiated. There are killings because they resist arrest, in the process there are killings," he added. "And so when the President says, your institution is hypocritical, then you tell us why, because the President has basis."
Commission on Human Rights (CHR) spokesperson Jacqueline de Guia also slammed Duterte, saying the President's statements could embolden violence against priests and other religious persons.
She added that this is gravely alarming in the face of continuing attacks against those deemed as critics of the government.
"Being a critic is not enough reason for someone to be killed. We live in a democracy, therefore having opposing views and difference in perspectives are a sign of a healthy democracy," she said.
De Guia noted that churches and priests work directly with communities and families, including those who continue to suffer human rights violations in relation to the government's campaign against illegal drugs.?"Instead of calling them useless, the government must take their concerns as valid challenges from the ground and as means to improve, rather than degrade, protection of human rights of all," she added.
Ellecer Carlos, spokesman for human rights movement iDefend, noted the impact of Duterte's violent and anti-human rights rhetoric.
"The sustained incitement of violence, incitement of hate of the President, has actually redounded to the dehumanization of drug dependents, defining them as an inconvenient sector worthy for slaughter," he said.
"The attacks on the bishops, the Catholic Church and all those standing up to raise concerns, the cursing – these are unacceptable and have to be condemned," Carlos added in Filipino.
Detained Sen. Leila de Lima said there is a need for the public to continue fighting for the defenseless and not be defeated by fear.
She claimed that Duterte wants to instill fear among the citizenry by creating a violent society where no one is spared from the killings, regardless of his or her societal position.
"We must act now and continue to fight Duterte's attacks on human rights defenders and critics. Duterte wants to instill fear among us by creating a violent society where anyone can be killed anytime," she said. "The threat is already pervasive, especially among those who continue to resist and oppose him. There is nothing sacred to him, not even a bishop whose only fault is to care for the families of the victims of extrajudicial killings."
De Lima also said that she stands with Caloocan Bishop Pablo David in the fight for the poor and powerless. "He is a symbol of hope in these despairing times. He is a light in the darkness of Duterte's reign of murder and bloodshed. He embodies the prayer for a future that is free from the clutches of a murderous tyrant." – With Evelyn Macairan, Janvic Mateo, Cecille Suerte Felipe, Sheila Crisostomo